How to build a high-quality broiler chicken and pig combined feed pellet production line?
Recently, a customer asked us about this question: "Our company is now preparing to make pig feed and broiler feed. The annual output is the same. The output will reach 10 tons for complete feed. How can we build a broiler chicken pig combined feed pellet production line?"
According to the customer's question, we recommend a 420 combinded feed production line (8-12t/h) or two 350 feed production lines (5-7 tons per hour) to him.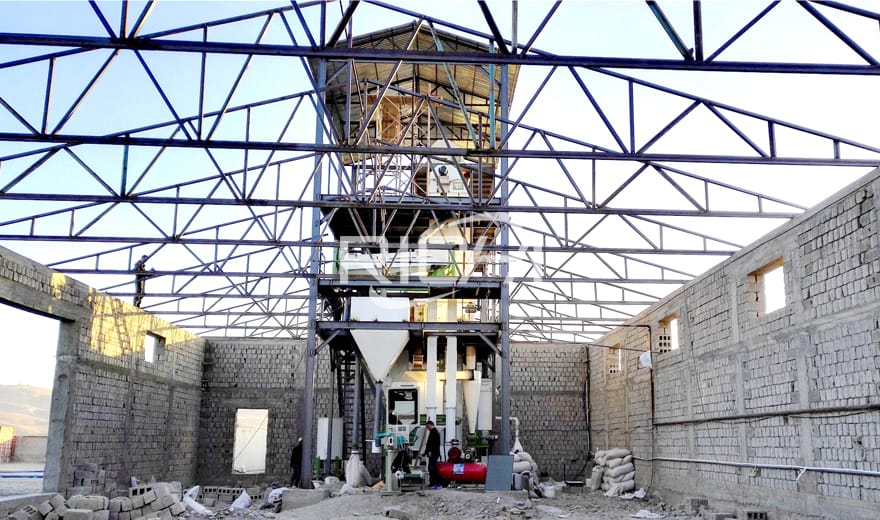 1. The difference between a 8-12t/h chicken pig feed pellet processing line(420 feed line) and two 5-7 tons per hour broiler pig combinded production lines(350 feed lines) :
(1) If there are two 350 feed pellet producing lines, while the machine is running, the two pellet mills can work at the same time, can make different feeds, and meet the production needs of broiler feed and pig feed at the same time, and the output is also higher than that of a single 420 production line. The output is slightly higher.
(2) A single 8-12 ton per hour feed manufacturing line can only process one kind of feed. If the feed is changed, the ring die must be changed, which increases labor intensity and the work efficiency is not high.
(3) From the cost point of view, the price of two 350 feed pelletizing production lines is about 30,000-50,000 US dollars higher than a 420 animal feed pellet making line. Therefore, we suggest that if funds permit, try to use double 350 chicken pig feed manufacturing lines, a 110kw chicken pig feed grinder machine, a 1 ton feed mixer and two ring die szlh350 ring die feed pellet making machine, one for chicken feed pellet processing, one for pig feed pellet production.
2. 10 tons per hour broiler feed and pig feed pellets combined production line process
Section A: RECEIVING AND STORAGE RAW MATERIAL
In this initial phase the supply of substances for the desired recipe is determined. Normally a reception pit is foreseen where the raw materials are delivered. Through extraction screws and elevators the substances are loaded in the storage silo.
Main Machine:SCY Series Drum Pellet Pre-Cleaner,
Section B: DOSING COMPONENTS
The raw materials are conveyed by a screw to the scale where they are weighed and dosed for the creation of the requested recipe.
Main Machine:Proportioning System,Screw Conveyor
Section C: GRINDING
The material that needs to be smaller, passes through a hammer mill, in order to reach the desiderable dimension.
Main Machine:animal broiler chicken pig feed grinding machine
Section D: MIXING AND ADDING MICRO-COMPONENTS
The product is loaded in a horizontal mixer where it will be mixed and homogenized for a certain period; in this phase other micro-components can be added, like integrators or additives, necessary to the recipe.
Main Machine:Animal Livestock Poultry Feed Mixing Machine,Intermittent Liquid Adding Machine
Section E: STORAGE FLOUR AND PELLETING
The product is now ready and could be stored for delivery or sent to the pelleting line. The material is entering in the pellet mill passing through the conditioner. Here other ingredients like steam, molasses and grease could be added, before the material goes into the pellet pressure chamber to be transformed into pellets by the die. On the outside of the holes some knives cut the pellets at the desired length.
Main Machine:pelletizer of ring die to making animal feed
Section F: COOLING, SIEVING, DUST RECOVERY
After pelleting, the product is very hot, therefore it's necessary to cool the product at approximately +5°C in respect to the room temperature, in order to give it the right hardness and the best consistence to store and handle it.
In the sieving phase the product is cleaned from the dust, which is brought back into the production cycle.
Main Machine:Pulse Dust Collector,SKLN Series Counterflow Cooler,Rota-shake Sifter
Section G: STORAGE END PRODUCT
The pelleted product is conveyed to the silo for storage before delivery. It can be loaded in a truck in bulk or conveyed to the packaging line.
Section H: PACKAGING
The pelleted product is conveyed to the silo for storage before delivery. It can be delivered in bulk, loaded on trucks or packed in sacks or big-bag. The machines for packaging could be manual, semi-automatic or automatic, based on the requested production.
Main Machine:Automatic Packing Scale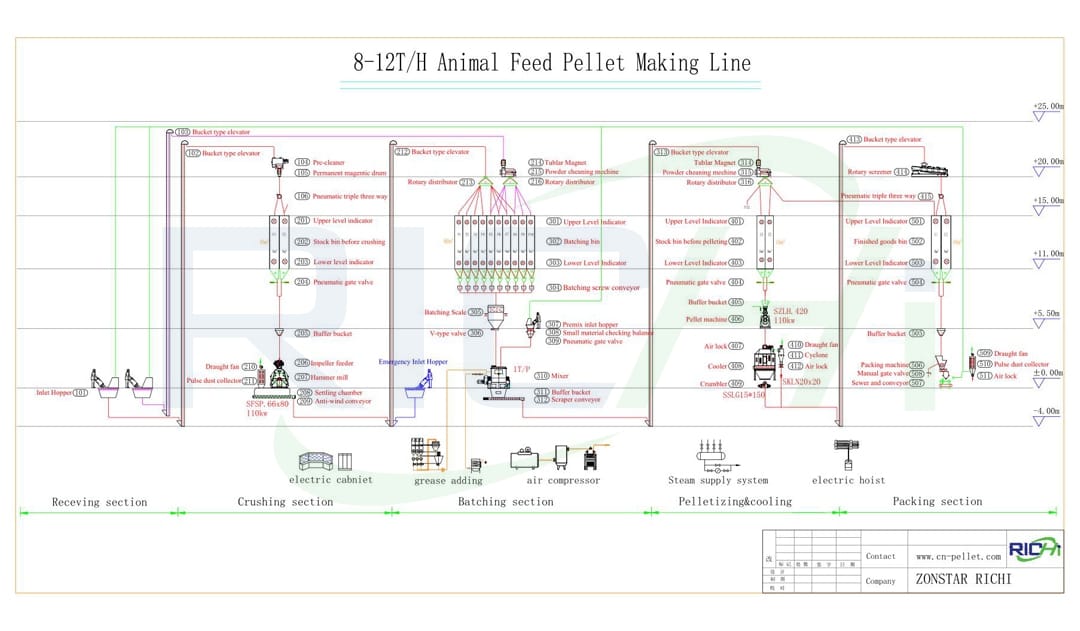 3.Cost of setting up a 10 ton per hour chicken pig combined animal feed processing plant
The first thing we know is that the price of two 350 production lines is about 30,000-50,000 US dollars higher than a 420 line.But no matter which solution you choose, the poultry chicken broiler pig animal feed pellet making plant requires a lot of equipment, the main equipment is feed hammer mill machine, poultry chicken pig feed pellet mill, mixer, pellet cooler, bagging machine, etc. In addition, a silo is needed. , Transmission equipment, storage warehouse, etc., which need to be customized according to the actual situation of the customer. Generally speaking,cost of 10t/h animal feed pellet production machine line for chicken pig feed is around 100000—500000USD.
4. The typical combined feed pellet production line we have done:
(1)Saudi Arabia 15-16T/H Chicken Cattle Feed Pellet Production Line
(2)Uzbekistan 15T/H Chicken Feed Pellet Line+Pre-mixing Feed Line
(3)Qatar 1-1.2T/H Pigeon+Camel Feed Pellet Production Line
If you want to built one complete pellet production line in your country, pls send the inquiry to us. We will customized design according to your requirement.
Get The Quotation and Video.