Compact Structure
Accurate Positioning
Stabilization and Reliability
Convenient to Operate
LCS Series Rotary Distributor
The rotary distributor is based on the industrial control computer, through the data transmission between the industrial control computer and the batching instrument, and the fast signal, slow feeding, stop feeding, and switching to another kind of batching process are realized through the weight signal of the sensor. The batching of materials can realize the complex process of batching fully automatically.
Mode:
LCS
Capacity:

Main Power:

Applicable Working Conditions:Chicken feed pellet line,cattle feed pellet line,pig feed pellet line,poultry feed pellet line,livestock feed pellet line,Sheep feed pellet line,etc
Applicable scale:1-72T/H animal feed production line,0.5-20T/H aquafeed pellet plant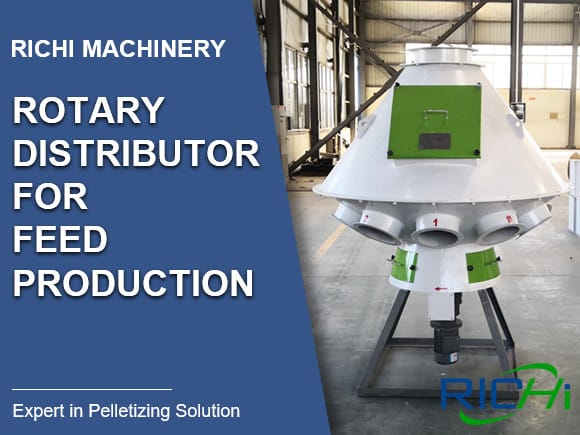 Technical Features
Accurate Batching

The motor has the power-off braking performance, and the speed reducer can realize mechanical self-locking, which makes the positioning accurate and reliable.
Widely Used

It can be used to control the mixing process of ingredients in feed, grain, cement, chemical, building materials, food and other industries.
Easy Maintenance

Conical structure with inspection door, easy maintenance.
Sealing Design

The key components, electrical appliances, transmission mechanism, etc. are all equipped with sealing devices,good for improving production capacity and operation reliability.
Self-Cleaning Function

The blanking pipe inlet and the suction pipe inlet are equipped with a cleaning brush, which can automatically clean the dust accumulated in the machine and keep the dispenser clean.
Flexible Structure

Reasonable structure, possible of including 1-4 scales, flexible combination if required.flexible and convenient adjustment, and small occupation space.
Product Display
Whether you are in poultry feed, livestock and poultry feed, ruminant feed, premix or in the field of biomass pellets, Richi Machinery will certainly be able to meet any of your needs.
→ Please contact us if you are interested
CONTACT US
You can enter your detailed information and needs in the following forms ,such as your name, phone NO, Email address, feed kind,raw materials, capacity and so on. Once received your message we will contact you as soon as possible.
Corn

Soybean

Wheat

Soybean Meal

Maize Protein Meal

Cottonseed Cake

Rice Husk

Straw
Leave Message
If you have any questions,please leave us a message.