Wide Application
Ease of Labor
High Efficiency
Low Air Leakage Rate
Pulse Dust Remover
The Pulse dust collector is a dry dust filtering device, suitable for collecting fine and dry dust. The filter bag is generally made of non-woven needle felt. The dust collector relies on the induced draft fan to suck the dust into the box, and the dust is settled and blocked by the filter bag, and then falls into the ash hopper through pulse spray, thereby purifying the air.
Mode:
TBLM
Capacity:

Main Power:
1.5KW
Applicable Working Conditions:Poultry Feed Pellet Line, Livestock Feed Pellet Line, Ruminant Feed Pellet Line, Premix Feed Production Line, Wood Pellet Line,etc.
Applicable scale:1-72TPH Feed Production Line,1-30T Biomass Pellet Line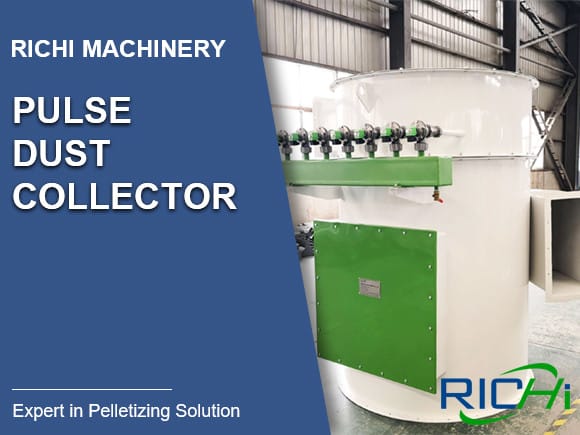 Technical Features
Wide Application

Can be used in feed, light industry, food, food, mining, building materials, woodworking and other industries.
Compact Process

Double air inlet, flexible process layout, small area.
High Dust Removal Efficiency

The average scraper ash discharge method reduces the height of the equipment, improves the effect, efficiency is as high as 99.9%.
Various Filter Bags

Ultra-fine, temperature, moisture, anti-static and other filter bags for customers to choose.
Long Service Life

Cyclone principle adopted for dust separation and settlement, prolonged service life of filtering bags.
Special Design

The air inlet is placed on the ash hopper, which prevents the dusty air from directly washing the filter bag.
Product Display
Richi Machinery is committed to providing customers with a complete set of safe and environmentally friendly feed processing solutions. With minimal investment, produce good quality feed pellets.
→ Please contact us if you are interested
CONTACT US
You can enter your detailed information and needs in the following forms ,such as your name, phone NO, Email address, feed kind,raw materials, capacity and so on. Once received your message we will contact you as soon as possible.
Corn

Soybean

Wheat

Soybean Meal

Maize Protein Meal

Cottonseed Cake

Rice Husk

Straw
Leave Message
If you have any questions,please leave us a message.