What equipments are needed to set up a poultry livestock chicken duck pig feed processing plant?
Recently, a customer asked us this question: "I want to open a complete animal feed production line that mainly produces feed for pigs, chickens and ducks. What equipment is needed? What technical requirements are needed? It is best to provide a feed production line production process, thank you."
Many customers who want to get involved in the feed processing industry will ask this question at the initial stage. Today, I will give you a brief introduction so that you can understand the animal feed processing machines. Because the actual needs of each customer will be different, each animal feed pellet processing line provided by Richi Machinery is customized. So if you want to build a customizable easy to use animal feed plant to meet your needs, please direct online consultation for detailed technical support.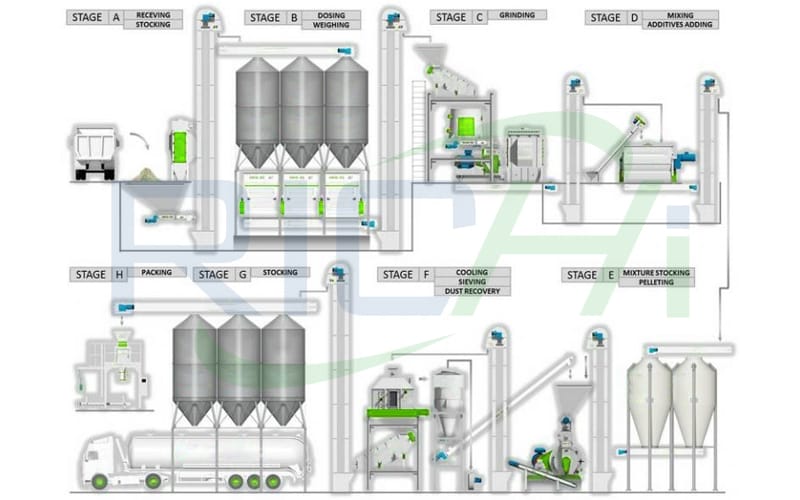 The equipment needed to set up a poultry livestock feed processing plant includes crushing equipment, mixing equipment, pelleting equipment, cooling equipment, packaging equipment, conveying equipment, etc.
1. Crusher: According to your output, you can choose a water drop crusher or a grinding head crusher or a toothed disk crusher. The water drop mill is suitable for production lines with an output of more than 1 ton. View all poultry livestock feed crusher
2. Mixer: According to your output, you can choose single shaft ribbon mixer, double shaft ribbon mixer, etc. See all animal livestock poultry feed mixing machine
3. Granulator: The most commonly used ring die pellet machine at present, including SZLH250 animal feed processing pellet machine (1-2 tons per hour), SZLH320 animal poultry livestock feed pellet machine (3-4 tons per hour), SZLH350 Poultry Livestock Chicken Feed Pellet machine (per hour 5-7), SZLH420 animal feed pellet mill (8-12 tons per hour), SZLH508 Poultry Livestock Feed Pellet Making Machine (10-18 tons/hour), etc. See all ce certificate animal feed pellet mills
4. Cooler: It is matched according to the output of the pelletizing machine, including cooler, fan, cyclone, air shutter, etc.
5. Packaging equipment: mainly refers to the automatic packaging scale, and can also be equipped with an automatic sewing machine.
What needs to be explained here is that the processing technology of the chicken feed production line, duck feed production line, and pig feed production line are similar, but the actual equipment configuration is still determined according to the formula. For example, a chicken feed processing plant requires a crumbler. The plant for manufacturing duck feed can refer to the chicken feed line to configure feed equipments.
Regarding the production process of the feed manufacturing plant, we can provide 1-100 tons/hour of chicken duck pig feed production lines, with different output and different configurations. On this page :https://www.richimachinery.com/solution/1-100tph-animal-feed-pellet-line, we have shown some of the production line flow charts that we have designed and completed. You can clearly see the feed production lines of different output process and equipment configuration. In addition, about cost of setting up a poultry livestock feed plant, please directly consult Richi Machinery.
1-2TPH small scale animal feed plant
3-4T/H Animal Feed Pellet Line
5-7T/H China manufacturer poultry livestock feed plant
8-12T/H computer control feed plant for processing animal feed
13-18T/H feed manufacturing line
16-24T/H animal feed producing line
20-30T/H customized feed mill plant
30-35T/H animal feed pellet making plant
35-40T/H Animal Feed Pellet Production Plant Line
40-50T/H animal feed processing plant
50-60T/H manufacturing plant for animal feed
60-72T/H large capacity animal feed processing line
If you want to built one complete pellet production line in your country, pls send the inquiry to us. We will customized design according to your requirement.
Get The Quotation and Video.