Qatar 1-1.2T/H Pigeon+Camel Feed Pellet Production Line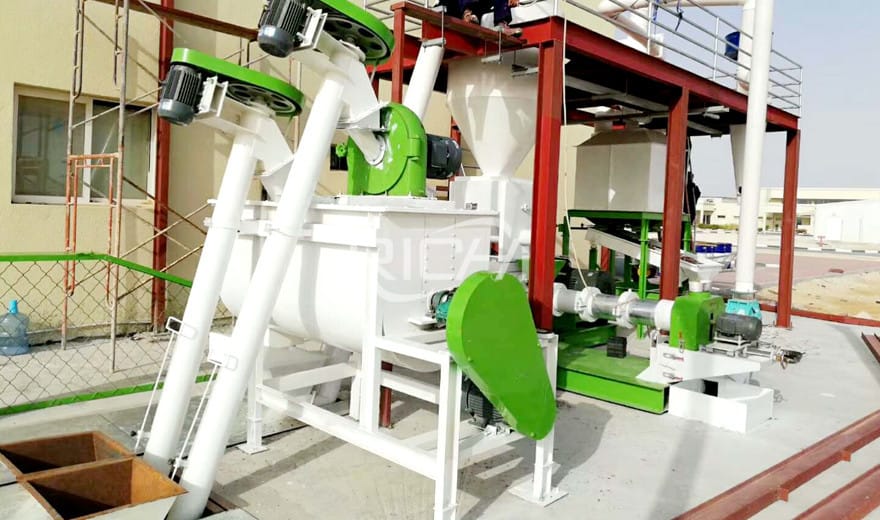 Although the Middle East is the smallest feed production region in the world, the growth of feed production and variety is stable. Among them, Qatar's feed production scale is small, but the growth is strong. At present, the annual feed production can reach more than 500,000 tons. What is the most special feed production line you can imagine? Although all the production lines of Richi are customized, this 1-1.2t / h bird and camel pellet feed line project from Qatar is absolutely special.
The special features of this project are as follows: 1. The category is special, part is for feeding birds such as pigeons, and the other part is for feeding ruminants such as camels; 2. The process is special, customers make bird feed and camels with extruder Feed, which is based on the customer's special feed formula; 3. Variety of pellet sizes, 2mm, 3mm, 4mm, 6mm, to meet the feeding of various production stages. According to the customer's raw materials (corn, wheat, Soybean Meal, oil, premix and other grain), production process and plant area (6m*3m*7m), we finally customized a production line for pigeon feed and camel feed processing, including small animal feed crusher machine for grinding feed powder*11KW,drum powder mixer*250kg/batch,small feed pellet machine*22kw,pellet cooler,packing machine and other auxiliary equipment.
In this project, customers want to complete the civil construction and installation by themselves, so we provide customers with a series of drawings and installation instructions such as foundation drawing, steel structure list, installation drawing of steel structure, installation drawing of equipment.
On August 8, 2017, the Qatar 1-1.2 ton feed pellet production line project began, and 30 days later, the project was successfully completed. According to customer feedback, he is very satisfied with the online installation guidance of Richi, and emphasizes that Richi service from the beginning to the end of the project is attentive. He is looking forward to the next cooperation.