Analysis of 3 tph poultry chicken feed pellet mill large vibration,big noise and operation abnormity
The 3 tph simple operation poultry chicken feed pellet mill is also suitable for the following 3 tons per hour animal feed pellet production line:
1.3 tph small rabbit feed pellet production making line
2.3 tph complete set cattle feeding plant
3.3t/h pig feed pellet making plant
4.3t/h turn-key chicken feed manufacturing line
5.3t/h fish feed production plant
6.3 tons per hour aquatic shrimp feed processing line
7.3t/h sheep feed pellet making line
8.3t/h camel feed processing plant
9.3t/h complete feed premix feed production line
10.3 tons ring die horse feed pellet production line
......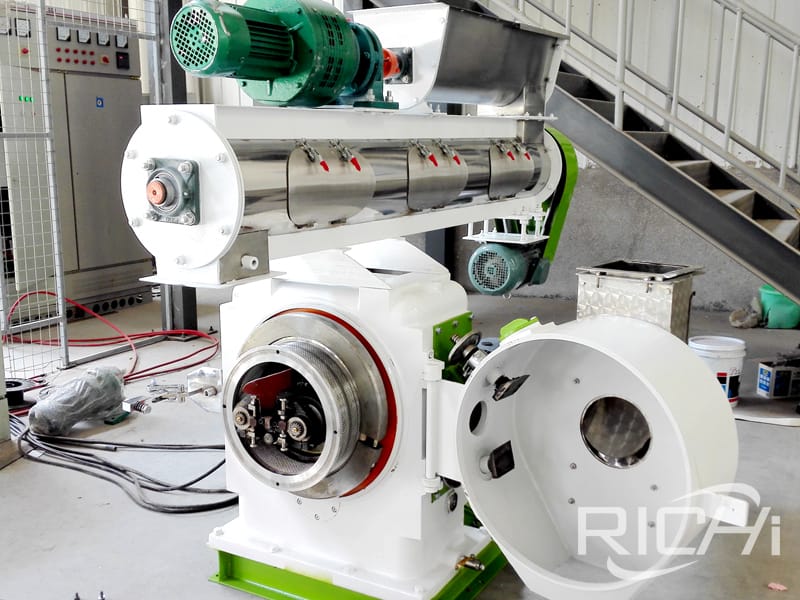 Analysis of feed pellet mill machine large vibration,big noise and operation abnormity.
①3 tph simple operation poultry chicken feed pellet mill operate improperly and operating current brings fluctuations, maybe bearing in some part has problem,so the operating current is too high, please stop pellet mill to check or change bearing.
②Ring die blocking or just some part of die bore discharging.Foreign matter enters into ring die,ring die is out of round,the clearance of pressure roller and pressure die is too tight,worn pressure roller or bearing damage of pressure roller can't run, all can cause 3t/h feed pellet machine to vibrate, please check or change ring die or adjust pressure roller clearance.
③Coupling ajustment is not balanced,high and low and left and right has a deviation. 3t/h animal pellet making machine vibrates and oil seal of gear shaft is easily damaged,so the coupling should be adjusted in horizontal line.
④Main shaft is not tight,especially D type or E type feed pellet processing mill,loose main shaft causes shaft forward and downward play, pressure roller swings obviously,feed pellet milling machine vibrates with big noise and hard discharging,the disc spring and round screw in main shaft tail should be tightened.
⑤ Worn big and small gears,or change single gear also cause big noise,need running-in duration.
⑥The unequal cutting of conditioner discharging mouth makes operating current fluctuate wildly,need adjust conditioner blade.
⑦ The new ring die must be equipped with new pressure roller, dispose a proportion of sand and chaff to grind,use the new ring die after polishing,prohibit using inferior ring die.
⑧Strictly control conditioning time and temperature,control entering material moisture at anytime,too dry or wet material can cause abnormal discharging and pellet mill to operate abnormally.
⑨Steel-framed structure is not firm, so steel frame vibrates when animal food pellet mill operates normally,pellet mill produces resonance easily, must reinforce steel-framed structure.
⑩The tail of conditioner is not fixed or fixed not firmly cause vibration, so the tail of conditioner should be reinforced.
⑪ The reasons of 3 tons per hour feed pellet mill machine oil leakage: worn oil seal, oil level is too high, damaged bearing,unbalanced coupling,body vibration and forced start.
For more detail about 3T/H animal feed pellet making machine,please visit:https://www.richimachinery.com/product/feed-making-machine.html
If you want to built one complete pellet production line in your country, pls send the inquiry to us. We will customized design according to your requirement.
Get The Quotation and Video.