The control methods and preventive measures of quality problem of chicken pellet machine
Ring die is a key wearing parts for poultry chicken feed pellet machine. Installation,use and maintenance of ring die is right or not,play important roles in improving poultry chicken feed pellet mill making machine efficiency and reducing wearing parts, refer to following requirements of the ring die right installation: Under normal operation, useencirling hoop bolt to joint and tighten ring die,encircling hoop,drive whee without any relative motion.
But in the actual use,the worn mounting inclined surface ofencirling hoop, drive wheel and ring die or the looseencirling hoop bolt leading relative motion,especially the operating pressure roller's strong compression and collision cause ring die vibration,in extreme case cause ring die to crack and taper bore to wear,so the wear ofencirling hoop and drive wheel is further intensified,affecting the production efficiency directly even stopping production because of malfunction.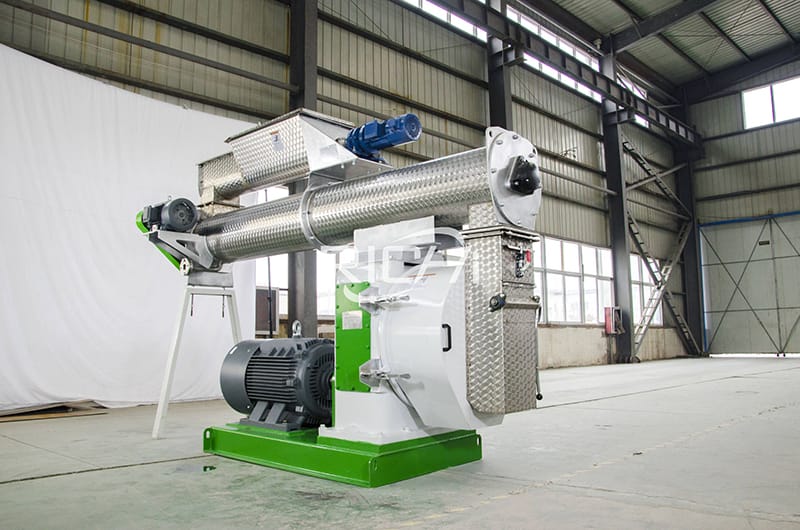 The methods and operation procedures for preventing above chicken feed pellet milling machine questions
1. Every week check the worn situation of ring die lining. Because of different processing equipments,technology level and machining accuracy of ring die and drive wheel, when choose ring die lining, the original ring die lining is selected firstly,avoid assembling clearance of circle fitting face of ring die,lining and drive wheel is over large that ring die hang freely,causing negative consequences happen like the running ring die beats pressure roller.
2. Every time install or adjust encircling hoop bolt,check relative position in the following diagram, ensure every piece of encircling hoop has a clearance with illustrated three positions.
3. In 30 minutes of normal work,stop chicken feed pellet machine to fasten encircling hoop bolt again.
4. Every time after pressure roller assembly or ring die installation,check pressure roller position,ensure pressure roller is between two technical slots,otherwise adjustment should add adjustable spacer which installed between pressure roller shaft and clamp or main shaft.
5. After pressure roller assembly and installation,check shaft-direction clearance between pressure roller and ring die, the shaft-direction clearance is not large than 0.3mm,otherwise add adjustable spacer to adjust.
6. Can't use inferior ring die, the lose of inner wall roundness of ring die working face should be≤0.20mm,ensure the gap of roller die is even.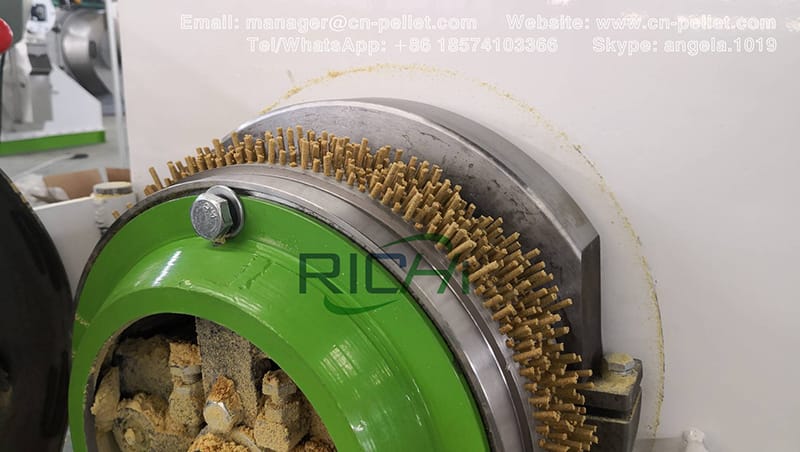 Applicaion of Poultry chicken feed pellet making machine
Pellet machine for chicken feed can be used in the following animal feed mills:
1-2TPH small scale chicken feed plant
3-4T/H animal feed processing plant with chicken
5-7T/H China manufacturer poultry chicken feed plant
8-12T/H computer control feed plant for processing chicken feed
13-18T/H chicken feed manufacturing line
16-24T/H Chicken Feed Mill Production Line
20-30T/H customized chicken feed mill plant
30-35T/H good quality chicken poultry feed mill
35-40 tons per hour poultry chicken feed pellet making plant
40-50T/H chicken feed pellet production machine line for poultry feed
50-60T/H manufacturing plant for chicken feed
60-72T/H large capacity chicken feed processing line
If you want to built one complete pellet production line in your country, pls send the inquiry to us. We will customized design according to your requirement.
Get The Quotation and Video.