Zimbabwe 3-5T/H Complete Chicken Feed Pellet Making Plant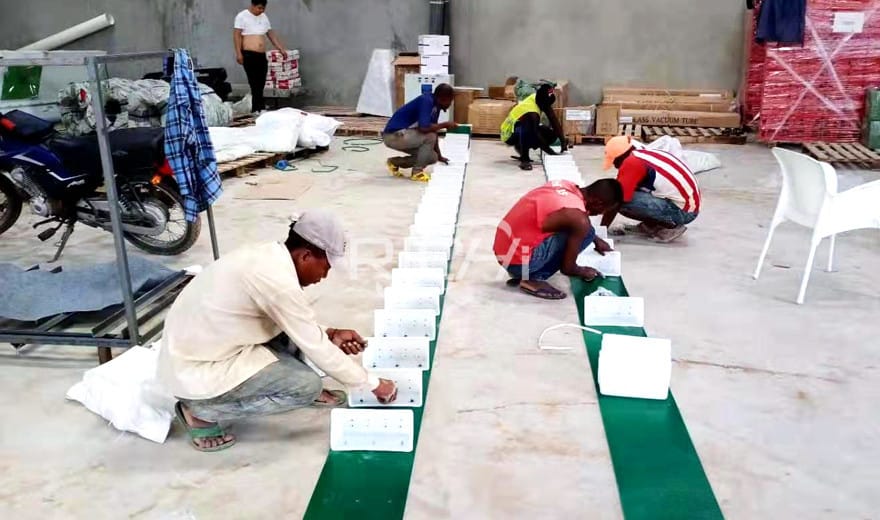 In the poultry industry, broiler feed production in all regions of the world has increased, of which Africa has the largest growth, and Zimbabwe has contributed to the overall production of the African region. In Zimbabwe, the poultry industry is very developed, with poultry feed accounting for 70% of the total feed and 77% of the monetary value. In contrast, pig and ruminant feed accounted for 8% and 9% of the total feed value produced, respectively. The feed production of broiler chickens in Zimbabwe has been increasing substantially. From this point, it is easy to see that the prospects for chicken feed in the country are very good.
The Zimbabwe 3-5 tons of chicken feed pellet project undertaken this time has an advanced fully automatic batching system. The main process machine is corn hammer mill*37kw, chicken feed mixer*500kg/batch, poultry feed compress pellet making machine*37kw, pellet cooling machine*1.5kw, pellet crumbler machine*5.5kw, screen machine*1.5kw, coal-fired boiler and other subsidiary equipment. The chicken poutry feed processing line uses corn, wheat, and other grain as raw materials, mainly processing 1-2mm, 3mm, 4mm, 6mm and other chickens feed pellets.
During the project, Richi Machinery strictly implements the turnkey standards. From the front-end sales manager to the back-end project delivery, every link meets high standards and high requirements. Richi has fully communicated and adjusted the design and product details proposed by our customers, which provided a favorable technical guarantee for the smooth completion of the project. The project was officially put into operation in May 2018.
Due to advanced technology, scientific design, reliable equipment, standard construction, and considerate service, this project achieved good results in one-time acceptance, all passing, and immediate production. To this end, the customer is very satisfied with the cooperation with Richi, and said that in the future expansion of the production line, it will continue to use Richi's equipment and processes to achieve another win-win cooperation.
Customer feedback:
According to our actual situation, from site survey to equipment selection, installation,to commissioning and acceptance, Richi provides an customized solution, and dispatches a technical team to train our operators to help us achieve as soon as possible in the short term value. Richi has many projects in Africa, professional technical solutions, customized services, and a serious and responsible attitude. We have a very happy cooperation with Richi.