Analysis of cattle animal feed pellet machine difficult discharging and low output
Cattle Cow Feed Pellet Mill Manufacturer——Richi Machinery
China factory supply cattle feed pellet mill machine series:
1-2t/h small cattle feed pellet mill
3-4t/h cattle granule feed pellet making machine
5-7t/h good performance cattle feed pellet mill machine
8-12t/h CE ISO approved Cattle Feed Pellet Manufacturing Machine
10-18t/h CE verified cattle food pellet processing machine
15-25t/h pellet manufacturing equipment for cattle feeding
20-30t/h factory direct supply commercial cattle animal feed pellet machine
25-40t/h With Longlife guarantee cattle Feed Pellet Mill
28-45t/h High Quality Cattle Feed Pellet Milling Machine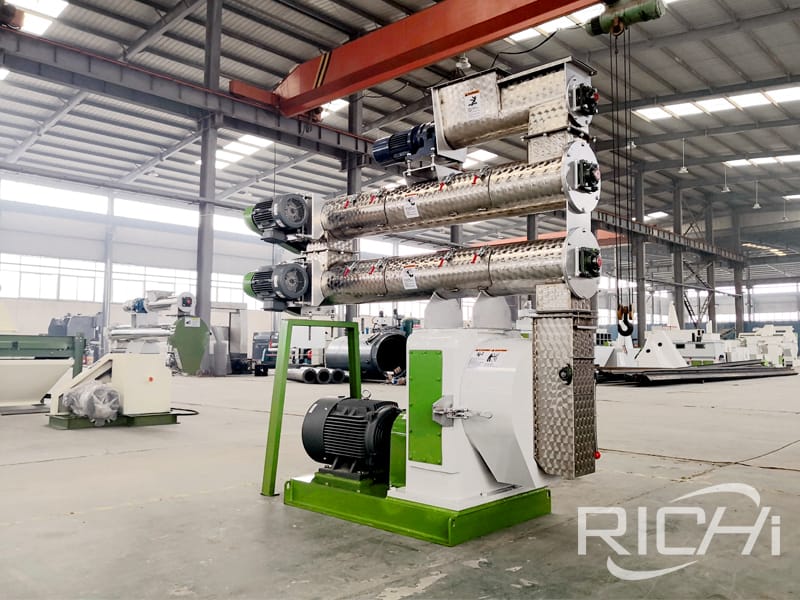 ① Use new cattle feed pellet mill ring die, check ring die compression ratio if matches producing materials firstly,the compression ratio is over big,pressed cattle feed pellet is hard and low output,so the ring die compression ratio must be changed.
② Check smoothness of ring die inner bore and ring die if out of round,some inferior ring dies with coarse inner bore,ring die is out of round cause cattle feed pellet is not smooth and equal, difficult discharging and low output, so must use high quality ring die of cattle feed pellet mill.
③ If cattle pellet mill ring die has been used in a period of time, must check inner wall taper bore of ring die and pressure roller is worn or not, rework and repair ring die if worn taper bore, which has a great influence on the output, worn pressure roller must be changed.
④ Adjust the clearance between ring die and pressure roller accurately, the small clearance makes pressure roller increase weight rubbing ring die, shorten the ring die using time,the over large clearance causes pressure roller to slip,discharging is not smooth and output is reduced.
⑤ Notice conditioning time and quality of raw material, especially to control raw material moisture before entering pellet mill,raw material moisture before conditioning is usually 12%-13%,keep moisture about 14% after conditioning,if raw material moisture is too high,the conditioning temperature will be affected,conditioning efficiency is bad,raw material enters ring die will occur blocking and slipping.
⑥ Check material distribution in ring die of cattle feed pellet machine,can't let all material run in one side, if happen this situation, must adjust the position of feeding scraper,let material distribute equally in ring die,not only lengthen the useful life of ring die, but also discharging is smooth.
⑦ Cattle feed pellet making machine operates with problem, bearing runs in out circle causing cattle feed pellet mill machine being powerless in work,unstable current and output is reduced.
If you want to built one complete pellet production line in your country, pls send the inquiry to us. We will customized design according to your requirement.
Get The Quotation and Video.