The Impact of the Brazilian Soybean Market on China's Soybean Imports under the New Crown Outbr
The agricultural commodity market, including soybeans, has shown stable production capacity, greater potential and opportunities in the face of the crisis, which has brought strong support and confidence to the global supply chain of agricultural products and economic recovery. This is because China is in the market Active participation is the ballast stone for stable supply in the global market and the core main force for the normalization of the supply chain of agricultural products in the world, including soybeans. Without China's active participation, the global soybean market may be another oil market.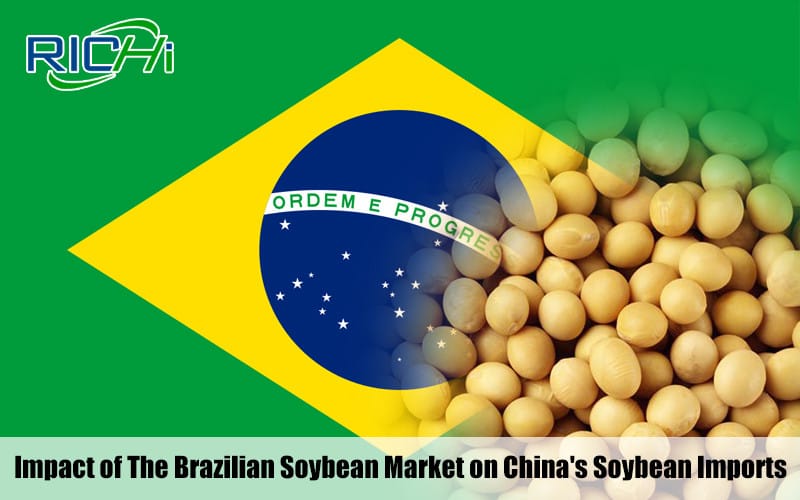 (Soybean has high nutritional value. As animal feed raw material, there are protein, fat, carbohydrate, calcium, phosphorus, iron, carotene, thiamine, riboflavin, niacin, and also contains lecithin, vitamins A, B, C, D, E and other substances are called complete proteins.)
1. Brazil soybean market in the first half of 2020
Although the new crown epidemic is raging and sweeping the world, Brazil's soybeans have ushered in a good harvest season this year. Some Brazilian states have imposed certain restrictions on the movement of people and goods, but so far, the soybean trade flow has hardly been affected. Both the port and port operations remain normal, and Brazilian freight has developed at a record rate in the first half of 2020. China has been the largest buyer of Brazilian soybeans for many years, and the soybean trade cooperation between China and Brazil has also proceeded normally this year.
2. Brazil soybean harvest
The harvest and export of Brazilian soybeans have not been affected by the new crown epidemic, and the harvest and export volume in 2020 may reach a new high. As of the beginning of May, the Brazilian soybean harvest is nearing its end. The 2019/2020 soybean crop season is basically over, and the harvest in most soybean-growing areas exceeds expectations. In June this year, the Brazilian Vegetable Oil Industry Association (ABIOVE) monthly report maintained its forecast for the 2020 harvest to reach a record 124.5 million tons, 3.75% higher than the 2019 120 million tons harvest.
3. Brazil soybean export situation
This year's Brazilian soybean export situation is also gratifying. The bilateral trade data between China and Brazil reflects Brazil's soybean production capacity and export capacity, as well as Brazil's confidence in the Chinese market. According to the Brazilian Vegetable Oil Industry Association, the harvest and export of Brazilian soybeans have not been affected by the new crown epidemic. Brazil is working hard to supply the domestic market while ensuring exports, and will continue to "expand" exports to its largest customer, China. Brazil is a long-term strategic partner of China in the soybean field. Soybean sales to China have continued to grow, from 32 million tons in 2014, to 68 million tons in 2018, to 58 million tons in 2019. Industry insiders estimate that it will exceed 55 million tons. The soybean export data for the first quarter of 2020 still confirmed this forecast. According to the report of the Brazilian Ministry of Foreign Trade, soybean exports in April reached a record high of 16.3 million tons, an increase of 9.4 million tons from the same period last year.
4. The impact of the devaluation of Brazilian currency on soybean trade
The huge devaluation of Brazilian real has increased the price competitiveness of Brazilian soybeans, and has been favored by Chinese importers. Brazilian soybean exports may continue to accelerate in the next quarter. Since January 2020, the Brazilian real has depreciated by more than 40%. According to the latest data released by the US Foreign Trade in June, Brazil's May soybean exports increased by 45% over the same period of the previous year, reaching 15.5 million tons, setting a record for the second highest monthly soybean export volume. Considering the price competitiveness of Brazilian soybeans, many Chinese crushers still prefer to purchase Brazilian soybeans. Statistics show that 74% of Brazil's 49 million tons of soybeans exported from January to May this year were sold to China, a 40% increase from the same period last year.  
Brazilian soybean sales peak between February and May, while US soybeans will be harvested between September and December and ready for domestic sales and exports. This year, the Brazilian soybeans were harvested in mid-May. According to the orders of Chinese traders, the demand in July and August has been met. At present, what is more concerned about is the reservation of Brazilian soybeans for shipment in September. Generally speaking, Chinese buyers will start to inquire about US soybeans in the last quarter, and some industry insiders predict that Brazil's soybean export orders will fall back from the peak after July. However, due to the price competitiveness of Brazilian soybeans and other factors, the crushing of Brazilian soybeans Profits are still attractive, and some Chinese buyers have been prompted to shift their purchases to Brazilian soybeans in the last quarter of 2020.
What kind of animal feed can soybean be used for processing?Which feed production lines can soybean be used for?  
1.Complete rabbit feed pellet production line
2.Cattle cows feed pellet production line
3.Widely used ring die pig feed pellet production line
4.Chicken poultry forage pellet production line
5.High capacity automatic fish feed pellet production line
10.Horse pellet feed production line
......
If you want to built one complete pellet production line in your country, pls send the inquiry to us. We will customized design according to your requirement.
Get The Quotation and Video.