What are the advantages Of ring die type wood pellet machine with China factory price?
The ring die type wood pellet machine with China factory price is a widely used biomass fuel making machine since it can make many kinds of pellets. It can process wood, sawdust, stalks, peanut shell, cotton stalk, bamboo dust, furfural residue, acid-sludge, soy sauce residue,waste tires,etc.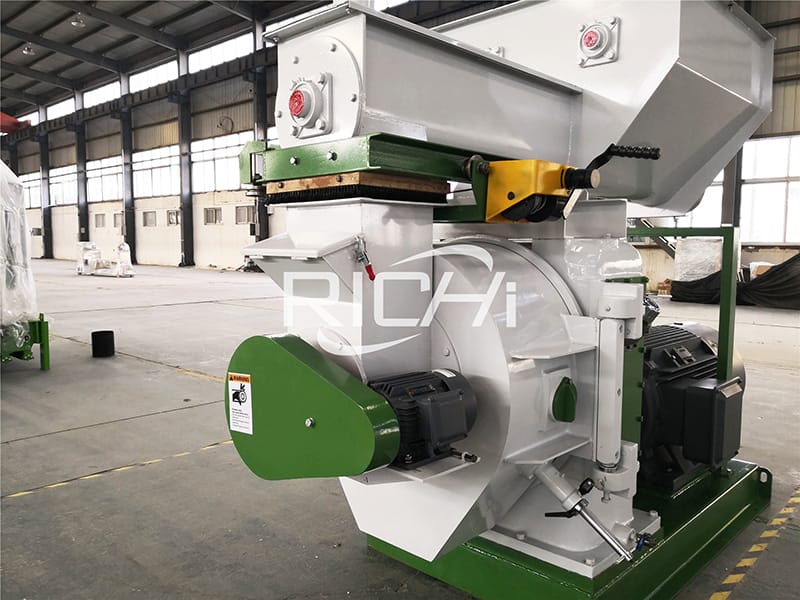 1.The China supplier offer wood pellet machine has many advantages:
(1)Low production cost.
The wearing parts like forming die and punch are made from wear-resisting and high hardness alloy steel, so they can be used to produce at least 500 tons of pellets, which means the wear cost for 1 ton is just 1/3USD.
(2)The pellets have high density.
This ce good stability wood pellet mill does not need electrical heating. Its great impact force can be 300ton, and the high frequency impacting can reach 300times/min. the wood biomass pellet machine itself can generate 150-200℃ heat, so it can soften the raw wood material and press it into pellets. The density of pellets is about 1-1.3ton/m3.
(3)The easy to operate good quality wood pellet machine has long lifespan and can work continuously.
Its main parts are produced by CNC equipment. It has scientific lubricating system and compulsive lubricating technology to guarantee lubrication. Its spare parts adopt high quality imported components.
(4)The material extruding and pellet forming is stable.
The mechanical stamping technology can prevent material blockage or machine boring to guarantee the stability of pellets extruding.
(5)This China professional factory offered high quality wood pellet machine has high productivity.
It can work 24 hours continuously. Its average capacity is 0.8-1.5ton/h.
(6)China hot sell good quality ring die wood pellet machine is easy to operate.
Because of its high automatic degree, it only needs 2 persons to operate. The material conveying can be realized by man power or conveyor.
(7)The high efficiency ring die wood pellet making machine has high cost effectiveness.
Compared to similar equipments made my other manufacturers, the high performance 300kg-4.5ton per hour wood pellet making machine made by RICHI is more technology-intensive. It is ideal choice for people who have large supply of wood waste.
2.The China factory hot offer biomass pellet mill can be used in the following 1-40TPH high quality ce biomass wood pellet mill lineproduction lines
①reasonable layout new technology wood pellet line
②hot selling in china wood chips pellet mills line
③China professional wood pellet line for kitchen waste
④low investment high return haystack pellet production line
⑤ hot sale easy operation organic fertilizer pellet machine production line
⑥China factory offered high quality alfalfa pellet production line with ce
⑦best selling ce complete corn stalk pellet production line for fuels energy plant
⑧good completely biomass palm shell pellet production line
⑨Best design waste paper pellet production line for energy pellets
⑩CE High Quality Pellet Plant For Wood Shavings
⑪new technology biomass hemp pellet production line factory price
If you want to built one complete pellet production line in your country, pls send the inquiry to us. We will customized design according to your requirement.
Get The Quotation and Video.