How much is the investment for a small cattle farm in rural areas?
Regardless of the rural areas of any country, many people like breeding, and there is indeed a good prospect for developing the breeding industry in rural areas. Many farmer friends want to build a small cattle farm on their own. Not only can they meet the family's expenses, but they can also have a little more left. They don't want much money, but only want to be able to take care of their families temporarily. However, many people are still not clear about the relevant information on how to set up a cattle farm, especially "cost for setting a small cattle farm in the countryside?" The following will tell you: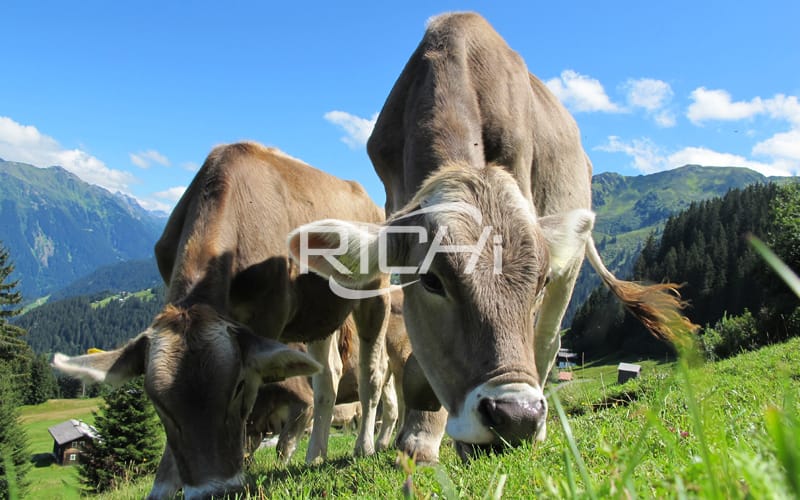 To set up a small cattle farm, the main input is the investment in the construction of the cattle shed, the investment in cattle seedlings, and the investment in cattle feed. There are more cattle feed in rural areas. If you are diligent, you really don't want to spend money, just give Just order concentrated feed, and what's left is the cow house and cattle seedlings. Of course, there are medicine expenses for epidemic prevention, which are not a lot.
1. For the cowshed, there are usually more color steel tile structures. This depends on the region. The cold climate in the north requires double layers and thick walls. The single layer in the south is fine, just cover it or don't The walls will do. In this way, the price difference is here, and the price is generally 60-150 yuan per square meter.
2. Calculate the area of ​​beef cattle. For a cow of about 5 square meters, the size of the cowshed to build depends on the scale of your own breeding. If the number of cattle raised in a small cattle farm is about 50-100, the construction cost of the cowshed is about 120,000-240,000. In southern China, many cattle farms can be built with asbestos tiles, the price is much lower, but it doesn't take long. Generally, it can be solved by 40 yuan a square. The investment cost also needs about 30,000 to 60,000 yuan.
3. Then there is the price of cattle seedlings. If it costs 3,000 yuan per head, it will be 150,000 to 300,000 yuan, and the investment is not small. If it is a small cattle farm with 20 cows, it needs to invest 100,000 yuan, including the cowshed + cattle seedlings. However, in the future, the investment in cattle breeding will be reduced a lot, and it will be better to develop slowly. Don't invest too much the first time.
In short, to set up a small cattle farm in rural areas, it depends on how many cows you raise. The cost of raising cattle is still relatively high. In China, cattle seedlings cost several thousand yuan per cow, and the investment is still relatively large. The return is not low, and the price of beef has always been relatively high.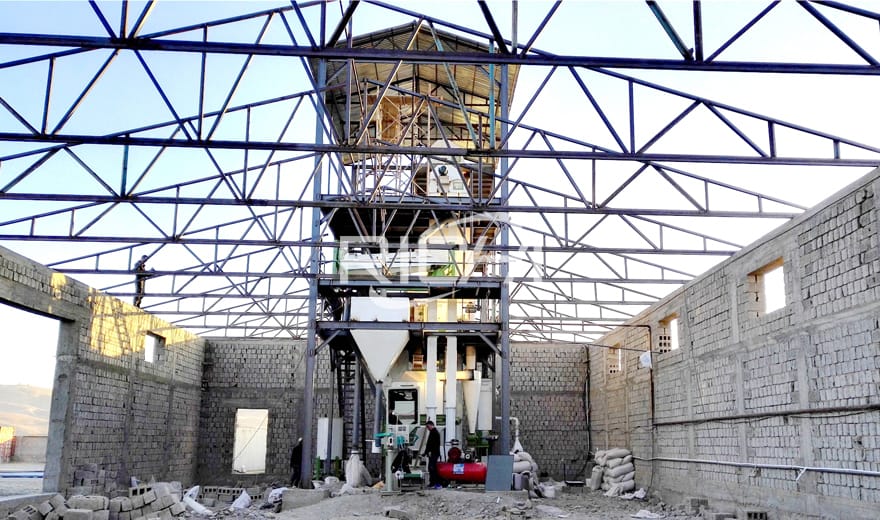 4.About cattle feed making machine.Whether it is a family cattle farm or a cattle feed mill, the processing of cattle feed pellets is of course not only simple mixing, but also requires crushing, granulation even other stages.
But generally speaking, if you only supply cattle feed from your own cattle farm, then a cattle feed grinder, a cattle feed pelletizer, and a cattle feed mixer can fully meet the demand. Their total price is several hundred to several thousand dollars, depending on your specific feed output.
In addition, if you don't know the cow feed formula, we can provide you with some formulas. These formulas are all the complete formula feed formulas that many of our customers have been using. Let's take a brief look:
(1)Cattle industry of China is using these 14 feeds to raise cattle
(2)How to make cattle cow feed pellet in cattle farm?
(3)Wheat straw can be used as feed for cattle
(4)Can fermented vegetable leaves be fed to cattle?
(5)Benefits of fermented feed for cattle and feeding methods
5.Factory price small cattle farm feed pellet processing line
Capacity:300kg-2ton per hour
Final Product: Pellet feed.
Pellet Size:4.0-10.0mm.
Dosing System:Manual or Automatic.
Bagging System: Manual or Automatic.
6.Typical small cattle cow feed pellet plant design: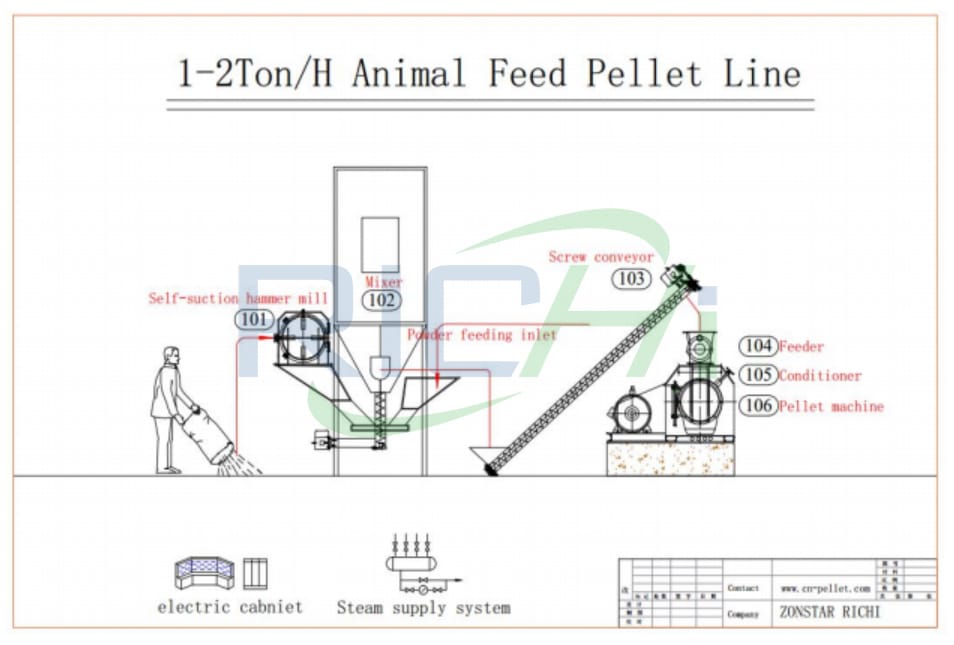 Flat die farm animal cattle feed pelletizing line plant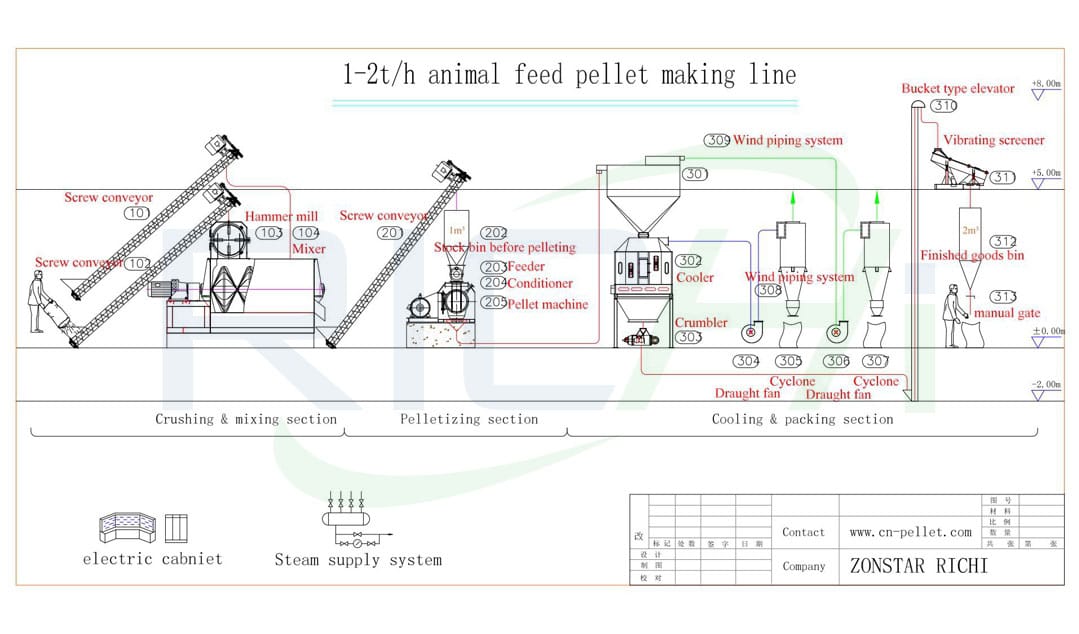 1-2 ton per hour small plant cattle pellet feed production plant
7.Typical turn-key cattle cow feed pellet plant projects:
Saudi Arabia 15-16T/H Cattle Chicken Combined Feed Pellet Production Processing Line
South Africa 10T/H cattle feed pellet manufacturing plant
This article is about cost for small cattle farm and complete set cattle feed pellet production line.You can directly consult Richi Machinery for more questions about"2 tons farm animal cattle feed pelletizing line plant""10t/h cattle feed alfalfa pellet production plant"" customized 5 ton per hour feed making plant""corn hammer mill grinder for cattle feed",for more info about cattle feed line price,Email: enquiry@richi-machine.com,Whatsapp/Cel: +86 185 7410 3366
If you want to built one complete pellet production line in your country, pls send the inquiry to us. We will customized design according to your requirement.
Get The Quotation and Video.