Hot Selling Professional Customized Wood Pellet Production Plant From China
As a China professional wood pellet line supplier,Richi Machinery receives various inquiries every day:
what is needed to start a wood pellet plant?
how to make wood pellets from sawdust?
how to use hardwood to make pellets?
equipment needed to make wood pellets
how to make wood pellets without a mill?
high efficiency pelletizer with acacia wood
who would i buy a wood pellet machine?
where and when for processing plant for wood pellets?
how much is a wood pellet machine cost?
...
Today, RICHI will talk about the wood pellets production line in detail for you.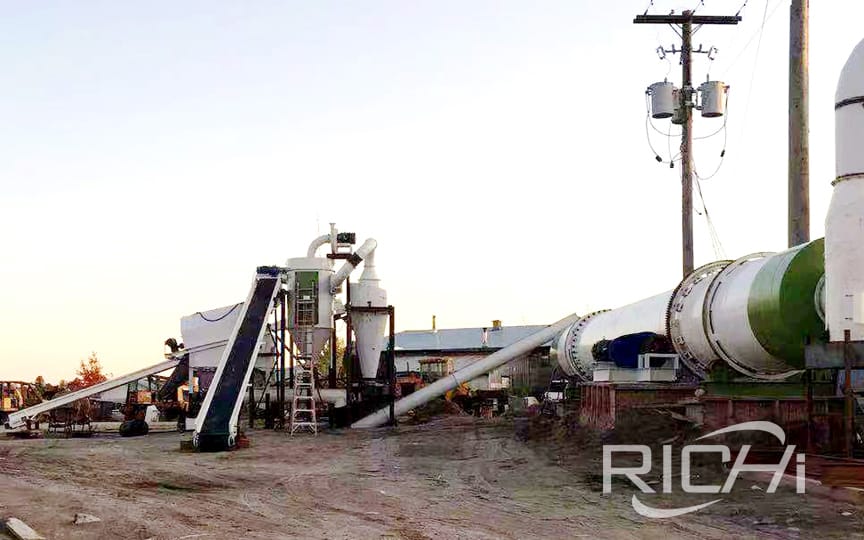 1.Wood and Wood Business
Wood, as one kind of raw material for processing, is featured with light weight, strong heavy than high, good resilience, easy processing and impact resistance, thus having been listed as an important raw material since ancient times. And wood processing industry has been lying a crucial role in the civil economic development as well.
2.Wood and Wood Business Trend
Since 1970s, the world wood processing production has been developing in an upward trend, especially the wood production for fuel is the most outstanding, increased by 56%; the second one is the paper making wood, increased by 36%; the sawdust doesn't more than these two kinds, still increased by 21%.
Traditionally, people always use the wood to make the converted timber like pole, mine timber, sleeper etc artificially, with the development of age, the wood products has been transformed from the converted timber to the more sophisticated processing, like plywood, fiber board, chipboard for produce industrial and commercial furniture, carved furniture, boat furniture etc, thus forming wood processing into the independent and complete wood processing industrial system.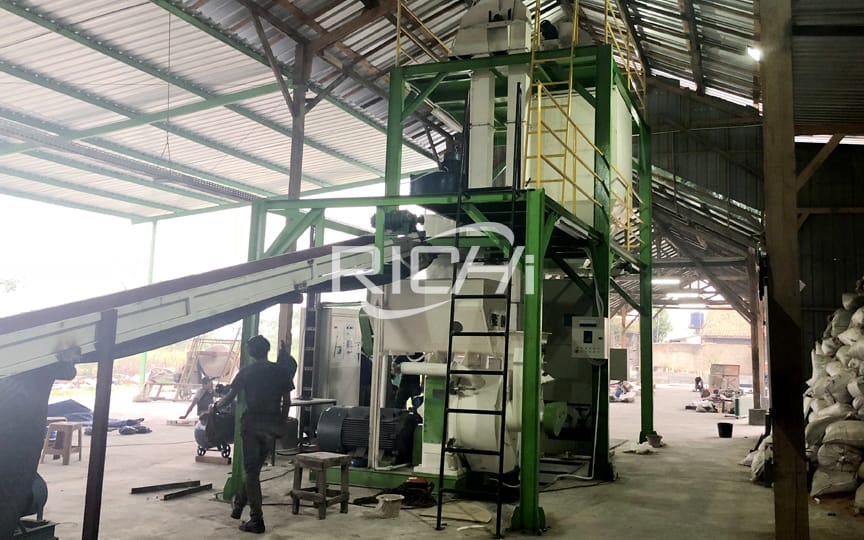 3.Wood Processing Industry
In the forestry industry, wood processing industry and chemical wood processing industry are the follow-up industries of forestry cutting and transportation, the important department for comprehensive utilization of resources. As the resource decreased gradually and the demand for energy increased, wood used for energy has been increasingly popularized. And in 21st century, people use wood more to produce new energy, the most popularized one is wood pellet plant production.
4.Wood Bringing New Energy
We all know that new energy is called relative to conventional energy, also called non-conventional energy. Under the new technology and new materials, even the traditional resources can have opportunity to modernly develop and use as new energy resource. As one kind of new energy, biomass energy is coming to public's view gradually, in which the latest technology high quality wood pellet production line is the most popular. China factory sale new design biomass fuel sawdust pellet production line generally relies on the residues produce from wood processing.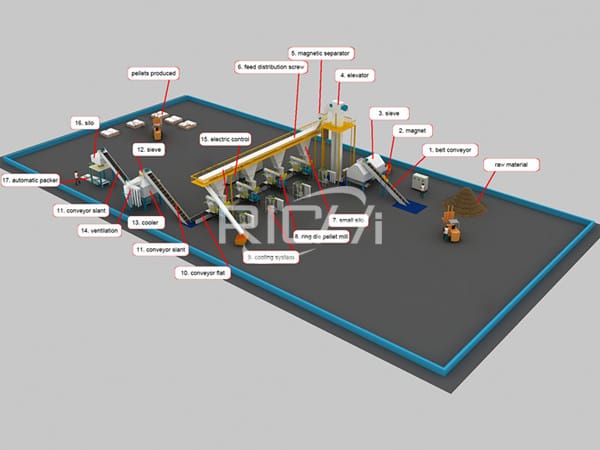 5.New Energy Wood Pellet Line Production
What kind of raw materials can be processed into wood pellet? The answer is various kinds. Such as, thinning woods, forestry residues, wood sawdust, cuttings, wood shavings, bark, drift woods in a dam, cutting trees from civil engineering work, roadside tree, pruned trees etc can be used for processing wood pellet. After the renewable energy wood pellet plant production, the raw materials is formed into uniform size and length pellets used as green fuel, which burns without ashes produced into the air.
Application:The final products is widely used for home heating and cooking, public heating, industrial heating, industrial boiler, pellet stove, green house heater, cooling device, small steam boiler, hot spa etc.
6.China factory supply professional wood pellet production line around the world
At the same time, with the development of renewable energy technology, wood trade for biomass fuel wood pellet making line production is taking a big part in the world. Producing wood pellet develops rapidly since 2000 with the wood pellet output reaching to 1100 tonnes, which means that wood pellet is more and more popular around the world.
Under the background of developing renewable and green energy actively, wood pellet is replacing the traditional fossil fuel as the common fuel relying on the no harmful ashes produced, easy and complete combustion, uniform size etc, the demand for wood pellet of people has been increasing around the whole world.
At the same time, in the developing countries with rich biomass materials like African countries, Indonesia, Malaysia, Vietnam etc, due to rich agricultural and forestry residues exist, the professional wood pellet plant production has been increasing year by year as well.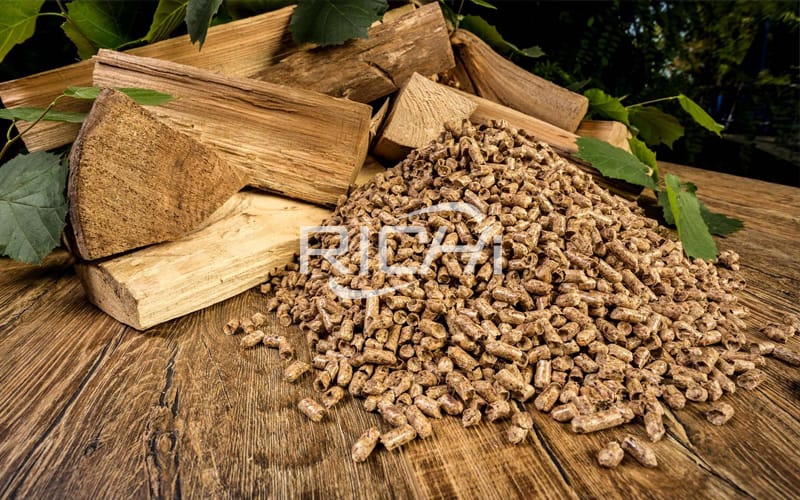 7.Richi Machinery customized biomass wood pellet line projects
American high quality wood pellet plant 10 ton per hour(raw material: wood sawdust)
2T/H Canadian biomass pellet production line for wood pellet making (raw material: wood waste)
2T/H Dutch ce iso wood pellet mill plant for biomass (raw material: birch wood)
Austria ce agriculture waste biomass wood pellet mill machine for wood pellet line (raw material: agriculture waste)
Ukrainian China factory offered pellet plant machine(raw material: agricultural waste)
Romanian wood pelletizing machine (raw material: acacia sawdust)
Albanian high quality straw wood pellet production line(raw material: alfalfa lucerne grass straw hay)
Slovakia biomass sawdust pellet plant(raw material: sawdust)
Indonesia efb wood pellet prodution line (raw material: efb)
Mexico MZLH520 ring die sawdust pellet machine for wood plant(raw material: hard wood)
Trinidad and Tobago new wood pellet plant for rice husk (raw material: corn straw,rice husk)

8.Details of China professional wood pellet line for wood waste
Speaking of China factory offered professional biomass wood pellet production line, the most important thing is the processing. To be generally, the whole wood pellet plant production mainly consists of chipping processing, crushing processing, drying processing, pelleting& briquetting processing, cooling processing, packing processing and conveying processing.
Wood pellet production process in wood pellet processing plant
(1)The chipping processing, crushing processing and drying processing can be combined into raw material preparation processing.
(2)In theses processing, if the raw material is the wood log or the larger wood blocks, the chipping machine should be equipped to reduce the size first; if not, the wood chipper machine has no need to equip. And due to the requirement for raw materials size of pelleting processing, the raw materials should be reduced within 3mm, high efficiency wood hammer mill or wood crusher is helpful. At the last preparation, moisture content of raw materials need to be adjusted in to 12%-15% by the wood drying machine.
(3)After the preparation processing, pelleting processing is ready, the high quality wood pellet mill machine can start to work. About choosing the wood pellet processing machine, you have to according your raw materials condition, actual situation and final product applications.
(4)When the wood pellet is finished, it has high temperature needing to be cooled for later better packing and storing. Wood pellet cooling machine with sieve can separate the dust or breaking pellets from the well formed pellet to re-pelleting, while the well formed wood pellet will enter to the next auto packing processing.
The whole wood pellet manufacturing process is not exactly the same in different countries and regions, just like the wood pellet making line mentioned above, they have many differences in every each projects. And we have the ability to customize the most suitable and professional machinery for your high return wood pellet line production.
9. The output range of low investment high return biomass pellet production line we provide
small capacity 1- 2 ton per hour wood pellet production line
2-2.5T/H complete wood pellet production line
3-3.5T/H customized reasonable layout new technology wood pellet line
4-5T/H hot selling complete wood pellet line
6-7.5T/H Best design wood pellet production line for energy pellets
8-10T/H factory offered automatic running wood pellet production line
16-20T/H China professional machinery complete wood pellet production line
24-30T/H automatic large capacity heavy duty wood pellet line
If you want to built one complete pellet production line in your country, pls send the inquiry to us. We will customized design according to your requirement.
Get The Quotation and Video.