Dry Type Fish Feed Extruder Machine For Sale
1.Application of Dry Type Fish Feed Extruder
High-efficient extruder for aquafeed, food, pet food and raw material treatment.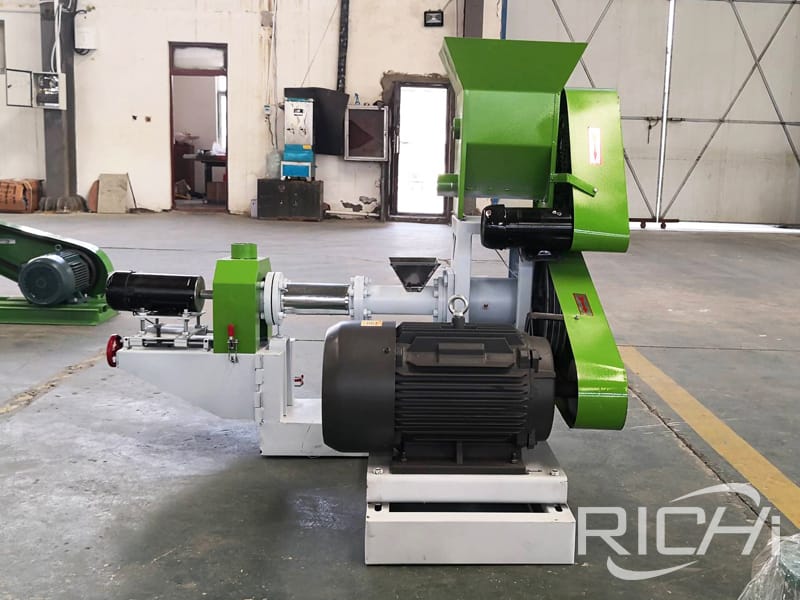 2.Product introduction:
The material is fully matured between the screw and the screw sleeve by high temperature and high pressure, and then extruded to form a floatable expanded pellet.
The advanced granulating structure adopts a soft knife fitting form to realize stepless speed change, which can cut the discharge arbitrarily into a product of the required length, and is not easy to produce burrs. The design is novel, unique, simple in structure, easy to install, easy to disassemble and easy to disassemble, and easy to operate. The screw sleeve and the screw are made of special wear-resistant high-temperature alloy steel material, which is heat-treated and has the advantages of wear resistance and long service life.
3.Technical parameters:
Type Model:DGP60-C
Main motor power KW:15
Output(t/h):0.12-0.15
Gelatinization:≥80%
Pellet diameter(mm):1-10
Feeder power(kw):0.4
Screw diameter(mm):Φ60
Cutter power(kw):0.4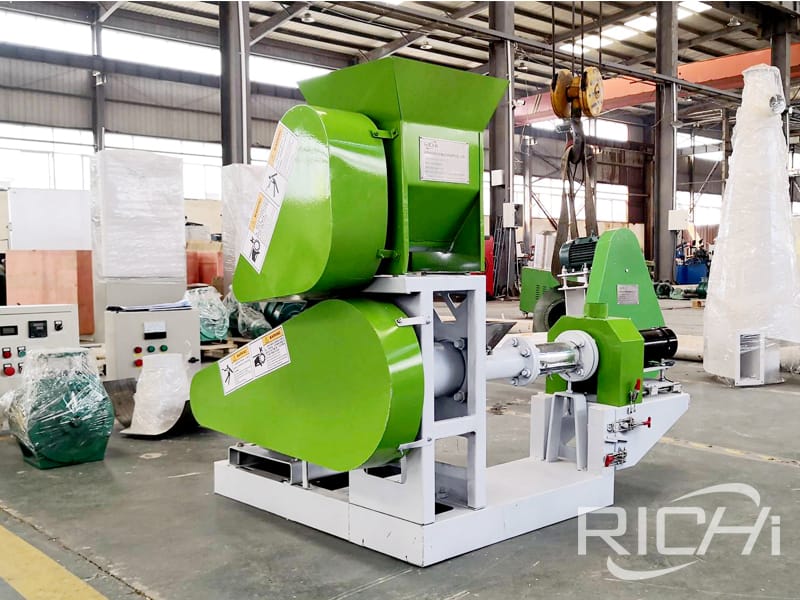 4. Dry type fish feed extruder and process
(1)Processing flow
Cleaning——Grinding——1st Dosing——Superfine grinding——2nd Dosing——Extrusion/Pelleting——Drying——Screening——Liquid Adding & Coating——Cooling——Packaging
(2)Main machine in aquatic feed line
fish feed hammer mill, fish food pellet extruder machine,feed mixing machine,counter-flow feed pellet cooler, scraper conveyor,box cylinder pulse dust remover, vibrating screen classifier,multi-pass convection belt dryer,spraying machine, intermittent liquid adding machine,automatic bagging system,electric control cabinet,etc.
(3)How to make aquatic extruded feed?
①Fish Feed Pellet Production Line
②Shrimp Feed Pellet Production Line
③Crab Feed Pellet Production Line
For more aquatic feed(floating fish,sinking fish,etc.),contact Richi Machinery online.
5.Classic cases of aquatic feed extruder plant
(1)United Kingdom 100-150KG/H Fish Feed Pellet Production Line
(2)120-150KG/H Fish Extruded Feed Production Plant in Puerto Rico
(3)Ecuador 1-2T/H High-end Shrimp Feed Pellet Processing Plant
(4)Bolivia 1T/H Aquatic Feed Pellet Plant
(5) Thailand 1T/H sinking fish feed pellet extruder line
(6) Uzbekistan 5T/H sinking fish feed line
(7) Ukraine 100-150kg/h floating fish feed extruder machine plant
(8) Uzbekistan 1-1.2T/H floating fish feed production line
(9) Nigeria 150kg/h fish feed extruder line
(10) Honduras mini fish feed extruder machine
(11)...
6.More types of aquatic feed extruder for you :
(1)Floating fish feed extruder machine,capacity : 2t/h,main power: 132kw
(2)DSP fish feed pellet extruder,capacity 3-4t/h,main power: 132kw
(3)Wet type fish fodder mill extruder,capacity : 1-1.2t/h,main power: 75kw
If you want to built one complete pellet production line in your country, pls send the inquiry to us. We will customized design according to your requirement.
Get The Quotation and Video.