Wet Type Fish Feed Extruder Machine For Sale
After years'of exploration and research, RICHI has developed unique pelleting, conditioning and maturation technology based on the physiological and eating habit of aquatic animals such as fish and shrimps.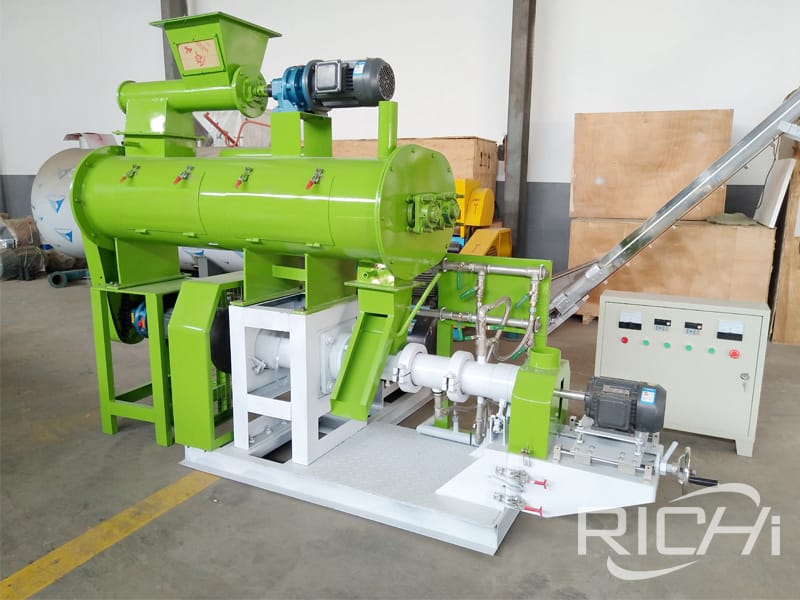 1.Application of Wet Type Fish Feed Extruder
The automatic control direct cooling extruder,specialized for production of ornamental fish, pets and aquatic extruded feed.
2.Product introduction:
(1)Continuous and stable operation, more easier operating.
①The complete set of pipeline installed inner pellet mill base, tidy and beautiful appearance, control the quantity of steam and water conveniently and quickly.
②Stainless steel outer pellet mill discharging mechanism, when materials conditioning is not complete, the materials discharged out of pellet mill through the discharging mechanism, prevent traffic jam in time.
③Mobile cutter with excellent resilience, convenient installation and adjustment,variable frequency adjust speed motor control rotary speed of cutter to adapt different pellets' length.
④Electric control with high degree automatization, ensure pellet mill operate stably and long continuous operating time. The operating life of screw and screw thread insert easily damaged parts is above 1000 hours.
(2) Excellent technique, differential diameter conditioner
①Main pipeline accessories use Spike products, no steam leakage and accurate control.Main drive with SKF high quality bearings,long operating life.
②Processing equipments processed in international imported machining center, ensure high accuracy of key spare parts.
(3)Stronger applicability,low running cost
①Use differential diameter conditioner,the longest conditioning time is up to 180 seconds, meanwhile conditioning treatment can add into steam and water,increasing materials humidity degree to 25-30%, ensure materials full curing and gelatinization.
②The screw thread insert with lamination structure, add cold water or steam into lamination, providing cooling or keep warm action,ensure the best cooking effect, achieving the best extruded effect. Meet the market demand,let customers get the best benefits.
③Compared with domestic same type extruder, higher output, more beautiful appearance. The extruder meet the market's sinkable and float aquatic feed,pet feed and other special aquatic feed production. The extruded feed with high determination of starch gelatinization and good stability in water.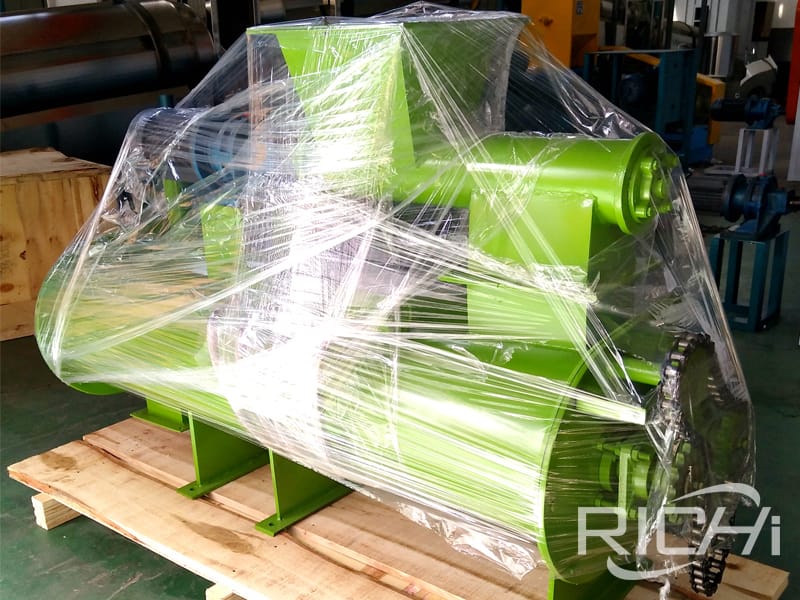 3.Technical parameters:
Type Model:DSP135-B
Main motor power KW:75
Output(t/h):1-1.2
Gelatinization:≥80%
Pellet diameter(mm):1-10
Feeder power(kw):1.5
Screw diameter(mm):Φ135
Cutter power(kw):2.2
Conditioner power(kw):3-4
4. Aquatic extruded feed plant machine and process
(1)Processing flow
Cleaning——Grinding——1st Dosing——Superfine grinding——2nd Dosing——Extrusion/Pelleting——Drying——Screening——Liquid Adding & Coating——Cooling——Packaging
(2)Main machine in aquatic feed line
fish feed hammer mill, fish food pellet extruder machine,feed mixing machine,counter-flow feed pellet cooler, scraper conveyor,box cylinder pulse dust remover, vibrating screen classifier,multi-pass convection belt dryer,spraying machine, intermittent liquid adding machine,automatic bagging system,electric control cabinet,etc.
(3)How to make aquatic extruded feed?
①Fish Feed Pellet Production Line
②Shrimp Feed Pellet Production Line
③Crab Feed Pellet Production Line
For more aquatic feed(floating fish,sinking fish,etc.),contact Richi Machinery online.
5.Classic cases of aquatic feed extruder plant
(1)United Kingdom 100-150KG/H Fish Feed Pellet Production Line
(2)120-150KG/H Fish Extruded Feed Production Plant in Puerto Rico
(3)Ecuador 1-2T/H High-end Shrimp Feed Pellet Processing Plant
(4)Bolivia 1T/H Aquatic Feed Pellet Plant
(5) Thailand 1T/H sinking fish feed pellet extruder line
(6) Uzbekistan 5T/H sinking fish feed line
(7) Ukraine 100-150kg/h floating fish feed extruder machine plant
(8) Uzbekistan 1-1.2T/H floating fish feed production line
(9) Nigeria 150kg/h fish feed extruder line
(10) Honduras mini fish feed extruder machine
(11)...
6.More types of aquatic feed extruder for you :
(1)Dry type small fish feed extruder,capacity : 150kg/h,main power: 15kw
(2)DSP fish feed pellet extruder,capacity 3-4t/h,main power: 132kw
(3)Floating fish feed extruder machine,capacity : 2t/h,main power: 132kw
If you want to built one complete pellet production line in your country, pls send the inquiry to us. We will customized design according to your requirement.
Get The Quotation and Video.