Floating Fish Feed Extruder Machine For Sale
Floating fish feed extruder machine mainly used in the production and processing of various floating aquatic feeds. It can meet various customer needs such as small particles with 0.6mm mold hole floatability and 0.8mm mold hole sinkability, low starch formula, high protein and high fat California perch, large particle grouper, etc. It can be equipped with two density control systems, vacuum and pressurization, and a fully automatic control system to ensure equipment stability and improve the quality of extruded feeds.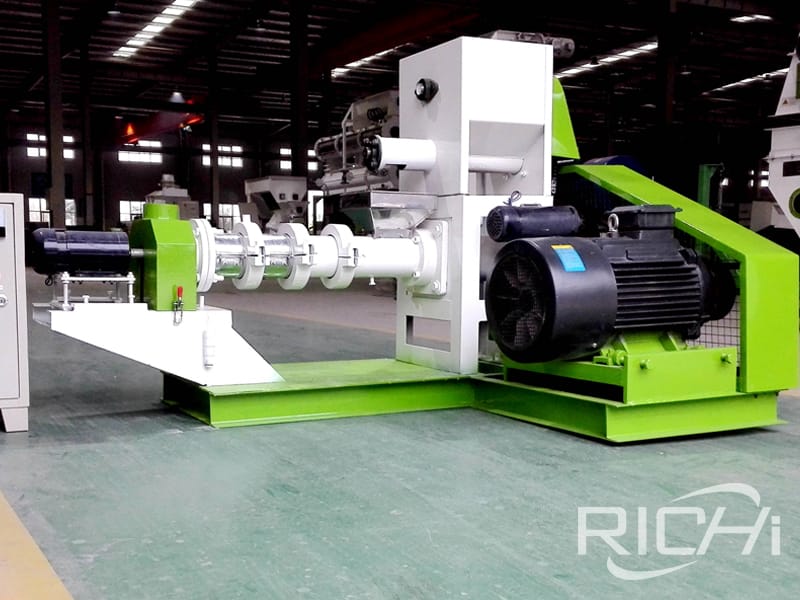 1.Application of Floating Fish Feed Machine
This equipment uses corn, soybean (bean cake) animal wastes as raw materials, can be expanded to produce different particle shapes, suitable for different pet tastes such as dogs, cats, fish, birds, rabbits, shrimps, dogs, cats, donkeys, foxes, etc.
2.Product introduction:
The material is fully matured between the screw and the screw sleeve by high temperature and high pressure, and then extruded to form a floatable expanded pellet.
The floating pelletized feed produced can float on the surface of the water for at least 12 hours without blistering. Fish and poultry prefer to digest, and the artificial frog can easily observe the food consumption of the frog fish without causing waste of feed. Pollution of water quality. The material effectively kills harmful bacteria such as Escherichia coli and Salmonella by high temperature and high pressure, ensuring the hygiene of the feed, facilitating protein denaturation and starch gelatinization, and being easily absorbed by fish and livestock. Generally, puffed floating fish feed is used to save 8%-15% of feed compared to powdered or granular feed.
①Wide application scope, strong applicability, adjustable temperature and pressure,extrude all kinds of single materials,rags and crushed materials.
② Kill bacteria and toxins,improving quality and digestibility.
③ Mainly used in feed processing, the production of extruded soybean flour,grain and corn raw materials treatment. Also used in pretreatment of oil bearing materialss of oil and fat industry.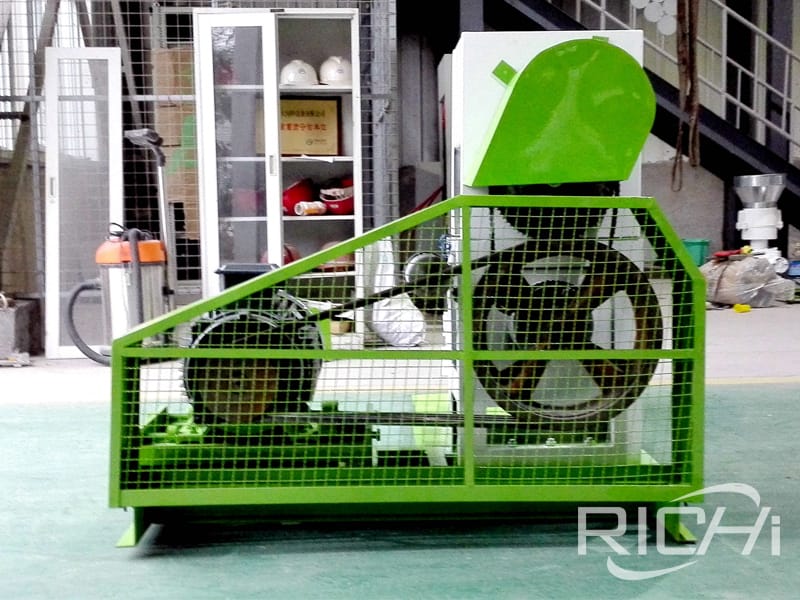 3.Technical parameters:
Type Model:DGP200-B
Main motor power KW:132
Output(t/h):1.8-2
Gelatinization:≥80%
Pellet diameter(mm):1-10
Feeder power(kw):1.5
Screw diameter(mm):Φ195
Cutter power(kw):3-4
4. Floating fish extruded feed plant machine and process
(1)Processing flow
Cleaning——Grinding——1st Dosing——Superfine grinding——2nd Dosing——Extrusion/Pelleting——Drying——Screening——Liquid Adding & Coating——Cooling——Packaging
(2)Main machine in aquatic feed line
fish feed hammer mill, fish food pellet extruder machine,feed mixing machine,counter-flow feed pellet cooler, scraper conveyor,box cylinder pulse dust remover, vibrating screen classifier,multi-pass convection belt dryer,spraying machine, intermittent liquid adding machine,automatic bagging system,electric control cabinet,etc.
(3)How to make aquatic extruded feed?
①Fish Feed Pellet Production Line
②Shrimp Feed Pellet Production Line
③Crab Feed Pellet Production Line
For more aquatic feed(floating fish,sinking fish,etc.),contact Richi Machinery online.
5.Classic cases of aquatic feed extruder plant
(1)United Kingdom 100-150KG/H Fish Feed Pellet Production Line
(2)120-150KG/H Fish Extruded Feed Production Plant in Puerto Rico
(3)Ecuador 1-2T/H High-end Shrimp Feed Pellet Processing Plant
(4)Bolivia 1T/H Aquatic Feed Pellet Plant
(5) Thailand 1T/H sinking fish feed pellet extruder line
(6) Uzbekistan 5T/H sinking fish feed line
(7) Ukraine 100-150kg/h floating fish feed extruder machine plant
(8) Uzbekistan 1-1.2T/H floating fish feed production line
(9) Nigeria 150kg/h fish feed extruder line
(10) Honduras mini fish feed extruder machine
(11)...
6.More types of aquatic feed extruder for you :
(1)Dry type small fish feed extruder,capacity : 150kg/h,main power: 15kw
(2)DSP fish feed pellet extruder,capacity 3-4t/h,main power: 132kw
(3)Wet type fish fodder mill extruder,capacity : 1-1.2t/h,main power: 75kw
If you want to built one complete pellet production line in your country, pls send the inquiry to us. We will customized design according to your requirement.
Get The Quotation and Video.