What is the profit of raising a cow?
Beginning in 2021, many friends who plan to invest in the cattle-raising industry generally have this question: What is the profit of raising a cow? Today RICHI will use the current bull market to give you a good calculation! (Take the Chinese market as an example)
When buying cattle, it is recommended that you buy good breed cattle of about 500 kilograms, for example: Simmental third or fourth generation, Limousin, Charolais.
The reason is that 500 cattles have good physique. After they are bought, they can go directly to fattening after making a stress transition. Cattle that are too small are more stressed during transportation and are prone to illness.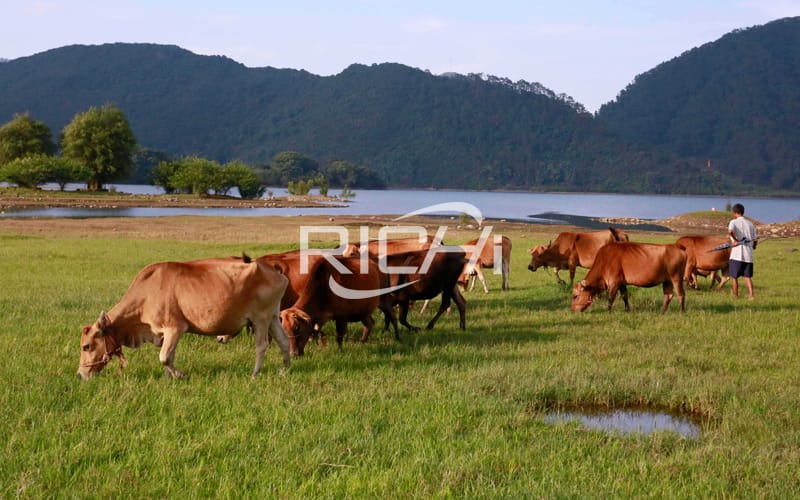 Let's take 500 catties of cattle as an example:
500 catties of cattle are fattened, generally up to 1,500 catties. If the feed nutrition can keep up with the feeding and management, it can be released in 10 months.
1. The cost of buying a cow: 13,000 yuan
2. Cost of cattle concentrated feed: 4440 yuan
(Calculated based on 1%-1.4% of each cow's body weight, calculated at an average of 1.2%, the whole feeding process takes about 10 months, and the amount of concentrate needs about 1850kg, which is calculated at 2.4 yuan per kg. Equal to 4440 yuan)
3. Hay price: 1400 yuan
(A cow costs about 2 tons of hay, based on 700 yuan per ton of hay, the cost is about 1,400 yuan)
4. Vaccine and water and electricity costs: 500 yuan
5. According to the current market price of 15.7 yuan per catty, 1500 catties of cattle can be sold: 23550 yuan
Then it can be calculated: the profit of a cow = 23,550 yuan-13,000 yuan-4440 yuan-1,400 yuan-500 yuan = 4,210 yuan
[More info about cattle feed]
1.How much is the investment for a small cattle farm in rural areas?
2.How much does it cost to build a small cattle farm with 20 cattle?
3.How to control cattle feed making plant cost for cattle feed production?
4.How much does it cost to process 1t/h cattle pellet feed?
5.How do large ruminant animal feed mill factories control the quality of cattle feed pellet?
6.Price of 3-4t/h capacity alfalfa lucerne grass straw hay pellet making machine for cattle feed production
7.Business plan for 120,000 tons/year large scale fuuly automatic animal cattle sheep straw alfalfa feed mill plant factory turnkey project
8.Inventory counting procedures for large cattle feed mill plant factories
If you want to built one complete pellet production line in your country, pls send the inquiry to us. We will customized design according to your requirement.
Get The Quotation and Video.