How to produce fish feed by fish feed extruder machine?
How to produce fish feed by fish feed extruder machine?Fish feed production process:Grinding -1st Dosing-Superfine grinding-2nd Dosing-Extrusion/Pelleting-Drying-Screening-Liquid Adding & Coating-Cooling-Packaging.From this fish feed manufacturing process,you can know that if a fish feed processing plant wants to process fish feed, it needs not only puffing, but also grinders, mixers, coolers, dryers, etc. This is a very technical production line design.
Although the fish feed pelletizer can also achieve the same pelleting effect, today we will only talk about the fish feed extruder machine.

1.Aquatic pet feed extruder used in fish feed processing plant :
(1)Floating fish feed extruder machine,capacity : 2t/h,main power: 132kw
(2)DSP fish feed pellet extruder,capacity 3-4t/h,main power: 132kw
(3)Wet type fish fodder mill extruder,capacity : 1-1.2t/h,main power: 75kw
(4)Dry Type Fish Feed Extruder Machine For Sale,capacity : 0.12-0.15t/h,main power: 15kw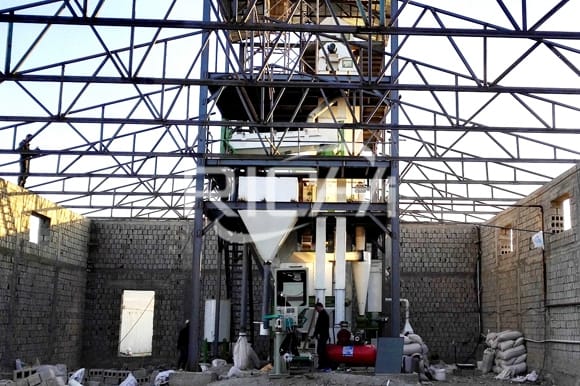 2.Features of Aquatic Feed Extruder Machine
(1)Guarantee the quality of extruded particles
A new type of conditioner has been equipped to make the final feed maturing degree and uniformity better than the traditional ways.
Multi-screw coaxial extruding, feed output is increased obviously, abrasion of wearing parts is more uniform, discharging is smoother and particle uniformity is better.
When producing different particles, the quantity and speed of cutter can be adjusted according to needs, and cutting quality is easier to control.
The self-adjusting constant gap cutting system ensures the appearance quality of the products, solving the appearance quality problems caused by cutter abrasion.
(2)Good control performance
The adaptability of different feed formulations is improved compared with the conventional condition in the industry, and the formula sensitivity is low.
Easy to disassemble and assemble ring die, fast cleaning, save operation time and reduce cross contamination.
Touch screen control system reduces the dependence on the operators' skills.
(3)Stable and reliable
Use imported bearings, high-precision gear transmission, circular lubrication and cooling system, overload protection system, etc., to make the machine run stably and reliably.
Screw, bushing, mould are made of alloy steel with good wear resistance and long service life. Use a kind of general-purpose equipment to produce floating feed and sinkable feed according to the demands. The auxiliary bulk density control system can be selected for the production of high bulk density extruded particles.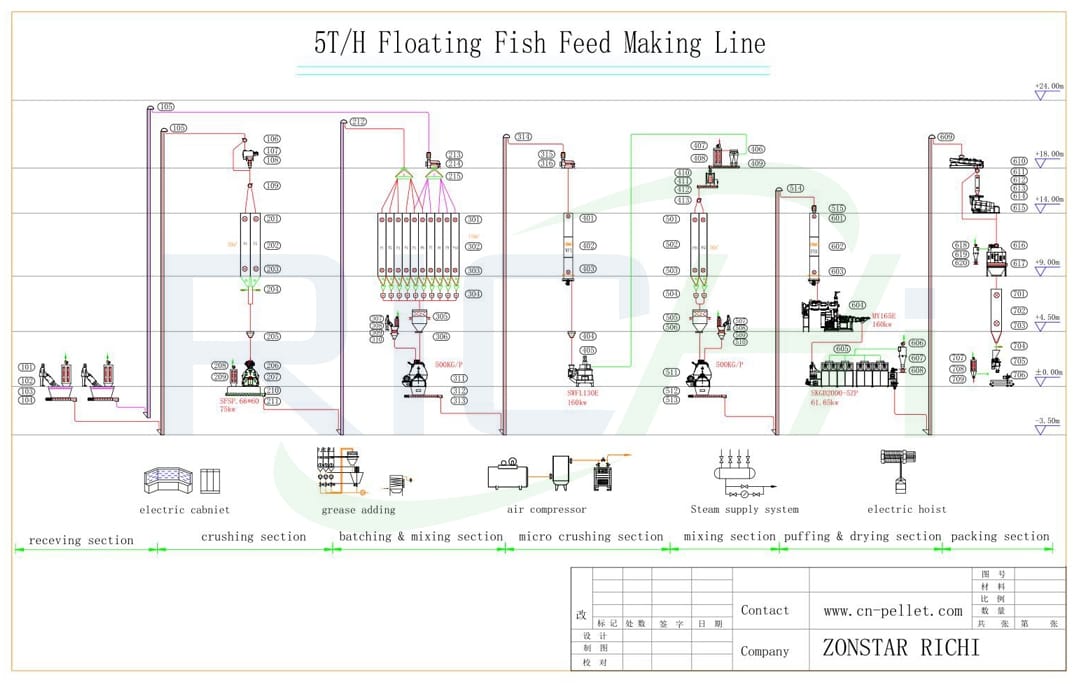 3.Main Factors that Influence the Quality of Extruded Feed
(1)Generally speaking, the main raw materials of feed are protein, starch, fat, fiber, microelement, etc. Protein is an important ingredient of aquatic feed, account for about 25%~55% in the formula. There are two kinds of protein: vegetable protein and animal protein. Good effects can be achieved only of these two proteins being used in proper proportions according to the actual situation.
Starch is the main carbohydrate in aquatic feed, with the function of expanding and binding during extruding, which has great impact on the cooking degree, water resisting property and the appearance of the feed. Normally, sinking feed has at least 10% of starch and floating feed has at least 20% of starch.
(2)High temperature and high press in the extruding process will do great damage to the micro-element in the feed; what's more, the vitamin will lose fast. So it is more reasonable and economic to add vitamin after the extruding process by "Hot Coating"method.
(3)Quality of steam is crucial to quality of extruded feed. Generally speaking, it is appropriate to keep the pressure of saturated steam between 0.4Mpa and 0.5 Mpa, with volatility of pressure less than Mpa. So the pressure of the boiler should keep between 0.6Mpa and 0.8 Mpa, and shorten the distance between the boiler and the extruder. What's more, the quality of the water is also vital to the quality of the extruded feed.
(4)Die aperture size of the extruder mould has great influence on the output of the extruded feed. Large die aperturesize will not only have great output, but also produce good appearance feed. On the premise of not influence productquality and mechanic strength of extruder dies, it is appropriate to use big aperture dies.
[More related information about aquatic pet feed extruder]
Shrimp Feed Pellet Production Line
Crab Feed Pellet Production Line
Top 5 fish feed pellet machine
How to establish a small fish feed mill?
If you want to built one complete pellet production line in your country, pls send the inquiry to us. We will customized design according to your requirement.
Get The Quotation and Video.