Complete wood pellet production line processing flow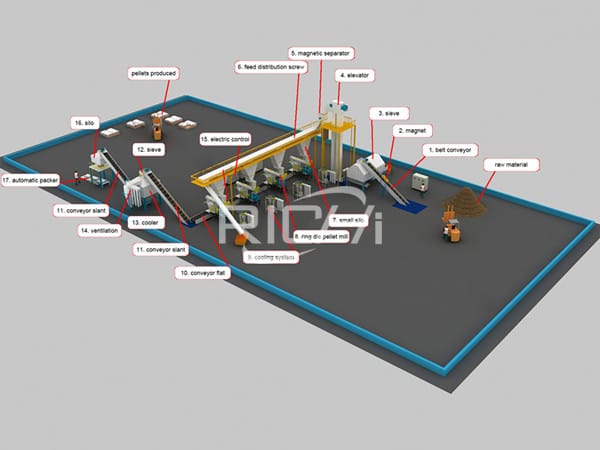 1. Raw material preparation
Sawdust wood pellets are mainly made of wood waste, such as wood chips, shavings, straw, rice husk, etc. through a series of processing. The raw materials need to be prepared before processing, and then dried, compressed, and formed into rubber size finished pellets.
2. Crushing process-wood hammer mill crusher
The wood biomass hammer mill achieves the crushing effect through the high-speed collision between the hammer and the material. Our multifunctional wood materials crusher is your good choice. The raw materials it can crush include tree branches, wood shavings, wood chips, wood, cotton stalks, corn stalks, wheat stalks, etc. After these materials are crushed, the diameter can reach 3-5 mm. , And then it is sent to the next process to be dried and granulated.
3. Drying process-wood sawdust drying equipment
Before granulating, the good water content of the raw materials must be between 14-16% to achieve a good granulating effect, so the drying process is necessary. The drum dryer uses steam heating to dry the raw materials, and the rotating drum can ensure that the materials are evenly dried.
4. Granulation process-wood pellet maker machine
Ring die pelletizer is the heart of the wood pellet manufacturing line. Pellet machine is widely used in wood, straw and other biomass energy pelletizing. The output ranges from 1 to 10 tons/hour. The biomass pellet machine uses Swedish SKF bearings and the motor uses Siemens motors, which can ensure the production capacity and stable operation of the equipment.
5. Cooling process-pellet cooling machine
After the pelletizing process of the ring die biomass wood pellet making machine, the temperature of the wood pellets is 60-80 degrees Celsius, and the moisture content of the pellets is 15%. Cooling can reduce the moisture content of the pellets by about 3-4%, making the wood pellets easier to store. However, some customers say that the local climate is very humid, and their wood pellets have a moisture content of 7-8%. This is no problem, our new countercurrent coolant can do a good job.
6. Packaging process-packaging machinery
In order to facilitate storage, the packaging process is very necessary. The packaging process is effectively handled by our semi-automatic or fully automatic granule packaging machine.
RICHI best design wood pellet production line projects for energy pellets:
(1)Annual output of 20,000 tons biomass wood waste pellet production plant in China
(2)Annual Production of 50,000 Tons Biomass Wood Branch Straw Bamboo Sawdust Pellet Production Line Project
(3)1-1.5 T/H Biomass Wood Pellet Mill Production Line in Iceland
(4)Austria 5T/H Wood Sawdust Pellet Processing Line
(5)Netherlands 2T/H Wood Sawdust Pelleting Line
(6)Germany complete 2-2.5 Ton per hour best solution biomass wood sawdust pelletizing plant project
If you want to built one complete pellet production line in your country, pls send the inquiry to us. We will customized design according to your requirement.
Get The Quotation and Video.