How To Choose High Quality Animal Feed Pellet Mill With Cheap Price?
What are the animal feed pelletizers that customers often look for?Including cattle feed pellet machine,float fish feed pellet machine,chicken feed pellet mill making machine,pet animal feed pellet mill,pig feed pellet making machine,duck feed pellet machine,birds feed pellet mill,etc.It is obvious that one pellet mill can be used to process so many kinds of feed.
Richi Machinery is a china supplier specialized in high quality poultry feed pellet mill and biomass energy pellet mill. Over the past years, with the increasing consuming demand and improving of consuming level, pellet mill for animal feed with super quality and competitive price becomes the preferred choice for people. But how to choose the good performance animal feed pellet milling machine?
1. Animal feed pellet machine with manufacturer price
Richi is a china animal feed pellet machine manufacturer,have feed pellet machine with cheap price,maybe not the lowest price.but definitely factory price.Generally speaking, Richi's feed pellet machine series products vary from several hundred dollars to several thousand dollars. They have different model parameters, different output sizes and different materials.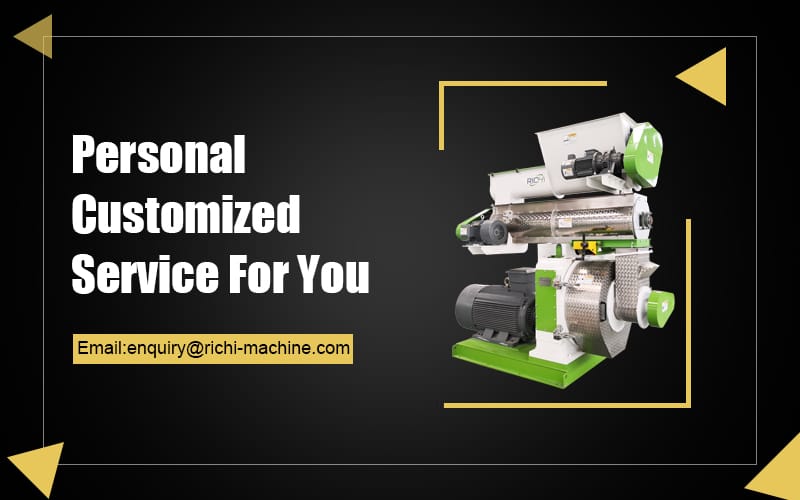 RICHI feed pellet mill series
1-2t/h SZLH250 animal feed pellet machine
3-4t/h SZLH320 animal feed pellet mill
5-7t/h SZLH350 feed pellet making machine
8-12t/h SZLH420 China Pellet Mill
10-18t/h SZLH508 china supplier poultry farming feed pellet mill
15-25t/h SZLH558 animal pellet making machine
20-30t/h SZLH678 Feed Mill Equipment For Fish Feed
25-40t/h SZLH-768 Aquatic Feed Machine For Fish Feed
28-45t/h SZLH858 fish feed pellet making machine
2.Tips for choosing animal feed pellet machine
The first tip is that choosing the pellet press machine manufactured by standard and qualified feed pellet mill manufacturers, only in this way can meet the requirement. Now, here is the different skills for choosing suitable pelleting machines.
(1) According to the mating power.
The mating machinery power is contained in both of machine operation instruction and the nameplate.
(2)According to production capacity.
Generally, the rated production capacity is carried in the operation instruction and nameplate. But here is something needing attention:
a. The carried rated production capacity means the production in the rated situation.
b. When you choosing the production capacity, it should be little larger than the required production capacity.
(3)According to crushed raw materials.
For crushing grain feed, for crushing bran cereals, for the pre-processing as the pre-mixed feed, ring die feed pellet processing machine is suggested.
(4)According to raw material.
For processing concentrated feed, both of flat die and ring die pellet mill are suitable; for processing grass feed or feed-crop mixed feed, ring die grass feed pellet machine is suggested, because ring die type can meet the large needing compression ratio.
(5) According to the animal type.
If processing feed for cattle, sheep, chicken and pig. Thicker pressing die is suggested to choose for processing chicken and pig feed due to concentrated material taking up a large part in it; while thinner pressing die is more suitable for processing cattle and sheep feed. Because large part of concentrated material causes small pressing resistance, consuming small power. If the grass material take up over 50% in the cattle and sheep feed, when pressing, resistance is larger which consumes larger power.
(6)According to feed plan and consumption.
Low-cost flat die pellet machine is more suitable for rural farming households, small and medium feed processing factory; while ring die pellet mill machine with high production capacity and 24-hour non-stop work is preferred for large scale animal feed pellet production line .
(7)Before buying feed mill equipment of pelletization, you should check the production qualification of the manufacturer and the machine is delivered from the manufacturing factory, making sure there is no intermediaries earning profit causing unnecessary loss.
(8)Before buying feed pelletizer machine, you should consult to the after-sale service of manufacturer to ensure the improved after-sale service, writing the relevant after-sale terms into the machine purchasing contract, asking the serving time of vulnerable parts and the deliver process, making sure that the compress pellet mill feed pellet machine can be replace at the first time when trouble happens.
(9)When choosing the animal food processing machine, you should choose the one with higher production capacity than your required production capacity. During the working, there will be phenomenon of pressing die abrasion which can not be avoided, resulting the low production capacity. Thus, choosing the higher production capacity can finish the production on time.
Of course, the choosing skills for feed pellet making machine is also suitable for choosing biomass pellet mill machine,like wood pellet milling machine, rice straw pellet mill, alfalfa lucerne grass straw hay pellet mill,etc. And you can also refer to: how to choose suitable biomass pellet equipment? Or how to choose cheap price sawdust wood pellet mill machine? for buying the most suitable pellet machine.
What's more, we provide competitive price pellet mills, quality service, efficient service, getting high support and identification of users. With rich experience and strong foundation, we are keeping pace with the times and offering better quality products and service. About animal poultry livestock goat horse cattle pig feed pellet machine price,welcome you to contact Richi Machinery when you need.
If you want to built one complete pellet production line in your country, pls send the inquiry to us. We will customized design according to your requirement.
Get The Quotation and Video.