Afghanistan 10T/H Poultry Chicken Feed Pellet Production Line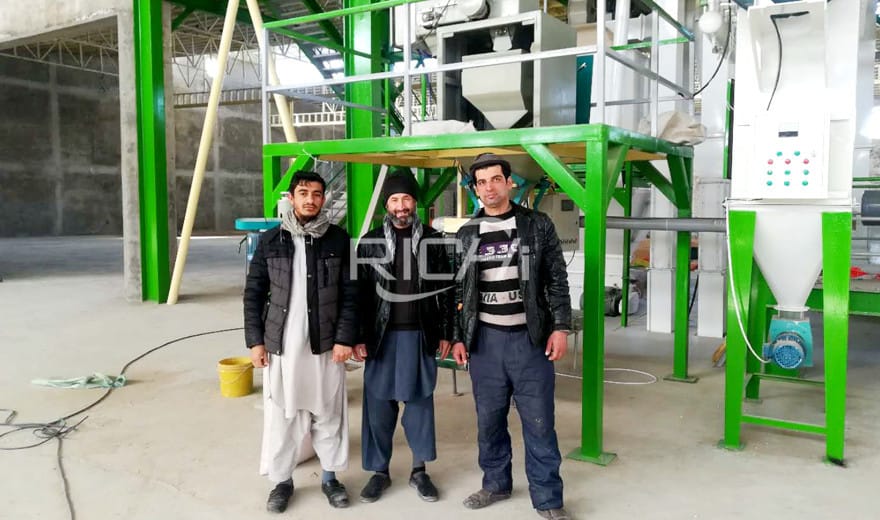 Animal husbandry is an important part of Afghan agriculture. Animal husbandry products include sheep, cattle, goats and poultry.
The client of this 10-15 tons/hour poultry feed pellet processing line project is from Afghanistan. Because he saw the prospect of chicken feed in the country, he invested in the largest local chicken feed processing plant. This is a customized 10-15 t/h automatic chicken feed pellet production plant, used to produce 2-6mm chicken feed pellets, the raw materials are corn, wheat,soybean meal, and other grain,prime technology equipment include poultry animal feed crusher*110KW,batching scale*1000KG/Batch,chicken feed mixer*1000KG/Batch,poultry chicken feed mill machine*110KW,chicken feed pellet cooling machine*SKLN20*20,chicken feed pellet crumbler*SSLG15*150,pellet screening machine and bagging machine,oil burning boiler*1000kg/h,etc.
This chicken feed pellet production line was originally planned to be installed in 90 days, but the preparation work for Afghan customers is in place. Before our 4 engineers arrived, all the construction equipment was ready and the local installers were very cooperative. Therefore, this large-scale chicken feed production line project was installed in only 60 days.
In the Afghanistan turnkey project, the core equipment and solutions are designed and provided by Richi's professional team, with reliable equipment quality and smooth process flow. In today's market environment where feed prices are soaring, the production line is not only able to meet the high standards of customers, but also will bring considerable investment returns to Afghan customers. Compared with the traditional contract management model, the turnkey project management model has a very big advantage, but not every company has the ability to provide turnkey services.
As a leader in China's feed machinery industry, Richi Machinery provides customers with high-quality turnkey services by virtue of its strong enterprise software and hardware strength. In this project, Richi always adheres to the service concept of "rapid response and efficient communication", strictly grasps all aspects of the project construction stage, and ensures that the project can proceed safely and orderly, and progress efficiently and quickly. Richi Machinery will take this as the starting point, with its own superb craftsmanship, excellent quality pursuit, continuous innovation, and seek its own breakthrough, in the future development, strive to provide customers with more efficient, environmentally friendly, comprehensive turnkey services .