How to build your easy operation 5t/h wood pellet production line?
To build an easy operation 5t/h wood pellet production line that is most suitable for you is not an easy task. You should consider many factors. Here, we'd like to guide you on how to choose the right machine for 5t/h wood pellet making plant.
1.5 ton per hour biomass wood pellet production line process
Cleaning——Grinding——Drying——Pelletizing ——Cooling——Screening——Packing
2.Flow chart of factory supply 5 ton per hour customized biomass wood pellet line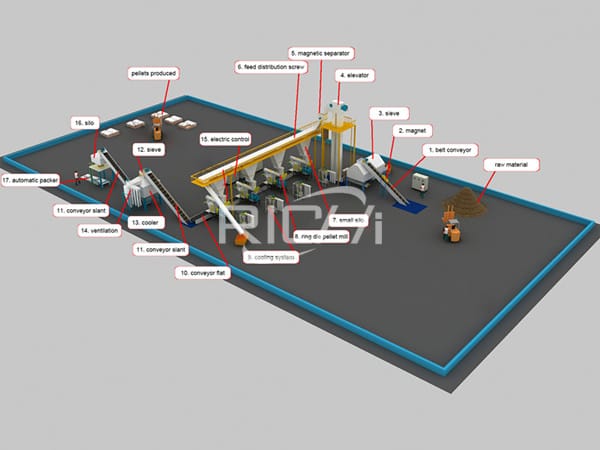 The above flow chart shows an example of a cunstomer site, but maybe it is not necessarily what you need. We can customize the 5 ton per hour low investment high return wood pellet line for each customer, no matter what your budget is, no matter the size of your site, RICHI can do it.
3.Equipment needed to make wood pellets in China professional 5t/h wood pellet line
(1)First see what kind of raw material you have at hand. If you use wood chips and wood shavings as raw material, their sizes must be kept 8mm-12mm for pelletizating. So the tree branches and some abandoned wood plates should be chipped or even ​​crushed into powder. In this circumstance, you need hot sale wood chipper crusher and high efficiency wood hammer mill for your 5 ton professional biomass pellet line for wood.
(2)The best moisture content of raw material for wood pellet production is 10% -16%. If the water is too much, we need to equip a wood drying machine for your hot selling 5 ton per hour complete wood pellet line. If the raw material is too dry, mix with a relatively high moisture content of wood chips or simply add water in mixing process.
(3)In choosing wood fuel pellet making machine, it mainly depends on your required capacity. For small scale production, you can choose flat die pellet mill; for large productivity, you can choose either several sets of flat die pellet mill or 1-2sets of easy operate ce ring die wood pellet mill. Usually it is advised to choose ce high quality ring die wood pellet machine for wood pellet plant since ring die pellet mill performs much better in making the same quantity and better quality wood pellets.
(4)Next goes the wood pellet cooler and packing machine. If you just make small capacity wood pellets, these two machines are not necessary. But if you make pellets in large capacity and for sale, they are indispensible.
What is needed to start a wood pellet plant?I think you should have some understanding now.In summary, the configuration of a hot selling wood pellet line 5 ton per hour can be divided into crushing section, drying pretreatment section, mixing section, pelletizing section, packaging section and supporting electrical control systems, dust handling systems, conveyor systems, temperature control systems, etc. If you want to establish a 5 ton per hour agriculture forest waste biomass wood pellet line, you can take these tips for reference.
If you want to built one complete pellet production line in your country, pls send the inquiry to us. We will customized design according to your requirement.
Get The Quotation and Video.