CE certified organic fertilizer pellet production line and pellet machine for sale
With the widespread application of organic fertilizers, more and more people have begun to pay attention to the equipment and production lines for the production of organic fertilizer particles in order to produce high quality organic fertilizers. Therefore, as a professional biomass organic fertilizer pellet equipment and organic fertilizer production line solution service provider, Richi Machinery often receives inquiries from customers all over the world. What equipment are they looking for? Such as:China factory offered biomass organic fertilizer pellet production line,high quality organic fertilizer pellet processing line with ce,whole organic fertilizer pellet plant,fertilizer pellet mill,organic pellet machine,manure fertilizer pellet machine,straw pellet machine,animal manure fertilizer pellet machine,agro waste pellet machine,fertilizer granulator,horse manure pellet making machine,chicken manure fertilizer pellet making machine,etc.
It can be seen that the customers are mainly looking for an organic fertilizer granulator and a complete organic fertilizer pellet production line. Today, Richi Machinery will give you a detailed introduction.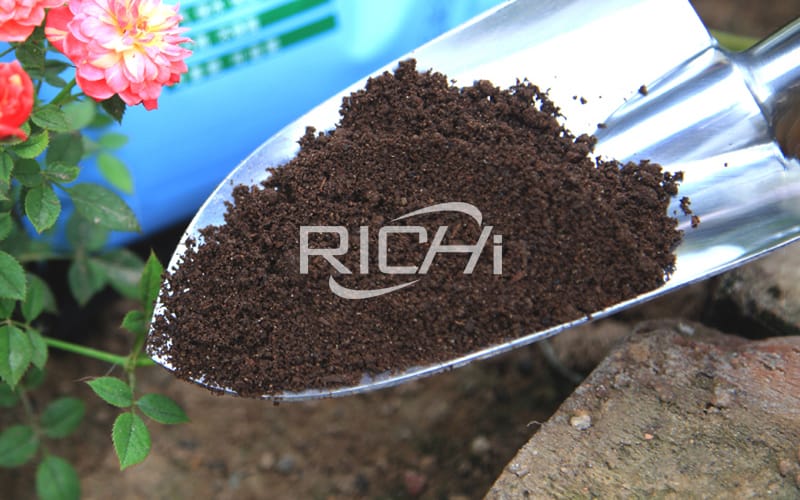 1. Organic fertilizer
(1) What is organic fertilizer?
Organic fertilizer is mainly derived from plants and (or) animals, and is applied to the soil to provide plant nutrition as a carbonaceous material whose main function is to provide nutrients. Processed from biological materials, animal and plant wastes, and plant residues, the toxic and harmful substances are eliminated, and a lot of beneficial substances are included, including: a variety of organic acids, peptides, and abundance including nitrogen, phosphorus, and potassium Of nutrients. It not only provides comprehensive nutrition for crops, but also has long fertilizer efficiency, which can increase and renew soil organic matter, promote microbial reproduction, and improve soil physical and chemical properties and biological activity. It is the main nutrient for green food production.
(2) Classification of organic fertilizer
①Agricultural waste: straw, soybean meal, cotton meal, etc.
② Livestock and poultry manure: chicken manure, cattle, sheep and horse manure, rabbit manure;
③Industrial waste: distillers grains, vinegar grains, cassava residue, sugar residue, furfural residue, etc.;
④ Domestic waste: food waste, etc.;
⑤Urban sludge: river sludge, sewage sludge, etc. Classification of organic fertilizer raw materials production and supply bases: silkworm excrement, mushroom residue, kelp residue, phosphorus citric acid residue, cassava residue, protein puree, sugar aldehyde residue, amino acid humic acid, oil residue, plant ash, shell powder, etc. Peanut shell powder, etc.
2.CE certified Organic fertilizer production line
The organic fertilizer pellet production line is commonly used to process different fermented organic substance into organic fertilizer. Animal manure and agricultural waste are used as the main raw materials in organic fertilizer production. RICHI supply organic fertilizer production line with the capacity of 1-40 TPH. The main machines in the whole organic fertilizer pellet production line include:compost turner,fertilizer crusher,machine for making organic fertilizer granules,,rotary drum dryer,pellet cooling machine,rotary drum coating machine,rotary screening machine, packaging machines, belt conveyor and other accessories.
We offer complete plants and pelleting lines for the treatment and production of compost pellets. According to the requests of the client and of the constructive characteristics, our plants have different construction characteristics and production capacity.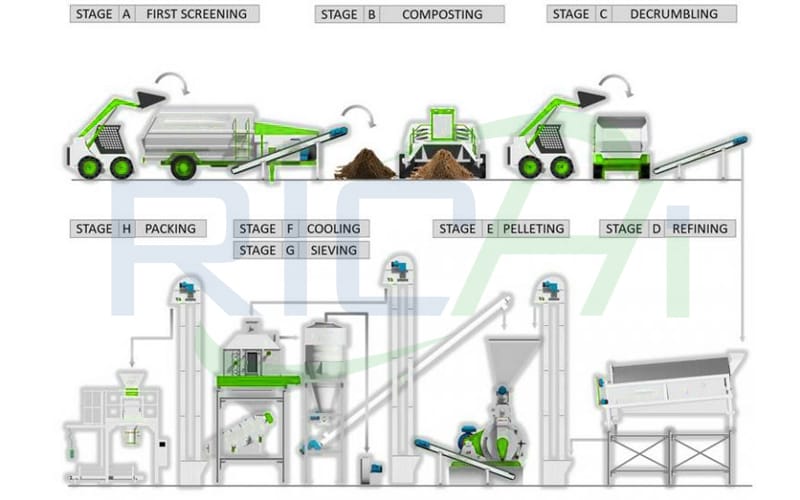 The typical phases of a organic fertilizer pellet production processing plant are:
(1): FIRST SCREENING
This phase is necessary as it is a first screening and cleans the raw material of stones, metal pieces, wood, feathers etc. The machine can be of the rotating drum type or belt type.
Main Machine:Drum Pellet Pre-Cleaner,Permanent Magnet Sleeve
(2): COMPOSTING
The composting process is done outdoors where the product is accumulated on piles and are periodically turned by a mechanical turning machine, in order to obtain the correct drying and fermentation.
(3):CRUSHING AND MIXING
The compost lump materials should be crushed before the granulating system. But there is no crushing process when the compost material is fine enough.After crushing ,the materials will be weighed in batching scale according to proportional,then go down to mixer to reach uniformity.
Main Machine:High Efficient Hammer Mill Machine,mixing machine
(4): REFINING
The machine consist of a rotating drum part in which the product is forced out through grids with holes with the desired dimension and cleaned of undesired parts in the product.
(5): PELLETING
The material is entering in the organic fertilizer pellet mill passing through the conditioner. Here other ingredients could be added, before the material goes into the pellet pressure chamber to be transformed into pellets by the die. On the outside of the holes some knives cut the organic fertilizer pellets at the desired length.
Main Machine:organic fertilizer pellet making machine
(6): COOLING
After pelleting, the product is very hot, therefore it's necessary to cool the product at approximately +5°C in respect to the room temperature, in order to give it the right hardness and the best consistence to store and handle it.
Main Machine:pellet cooling machine
(7): SIEVING
In this phase the organic fertilizer pellets are cleaned from the dust, which is brought back into the production cycle.
Main Machine:Dust Collector
(8): PACKAGING
The organic fertilizer pellet products are conveyed to the silo for storage before delivery.It can be delivered in bulk, loaded on trucks or packed in sacks or big-bag. The machines for packaging could be manual, semi-automatic or automatic, based on the requested production.
Main Machine:Automatic Bagging System
3.CE certified organic fertilizer pellet machine
CE certified organic fertilizer pellet mill permits to transform a meal, fibre or small granules product or mixture into pellet.The product forced by the rollers through the holes of the die, comes out in the form of small cylinders.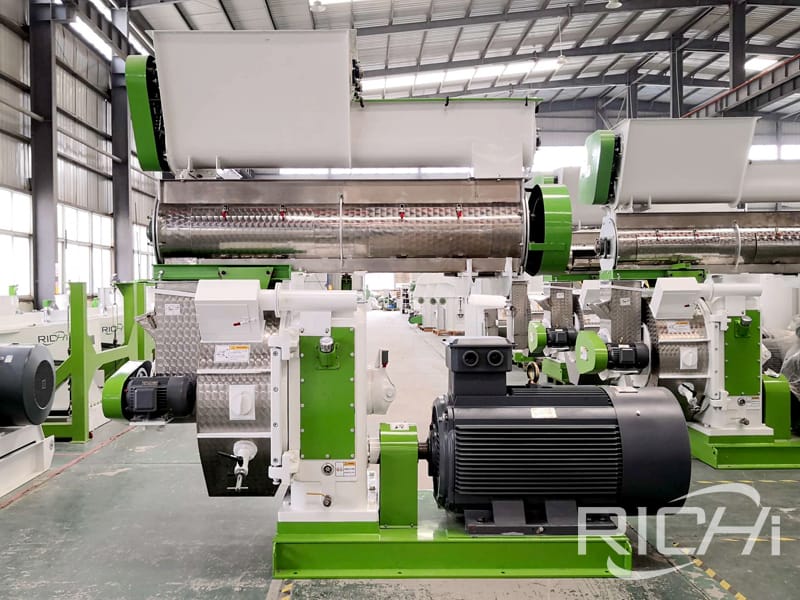 Power:from 7,5 kW to 400 kW
Die diameter:from 200 mm to 960 mm
To pellet:Animal feed,Wood sawdust and other types of biomass,Organic fertilizer,Rests of food and other garbage,Bran and cereal mix,Colza and sugar beet pulp,Alfalfa, straw and hay,Paper,Plastic,etc.
Our fertilizer pellet machine are solid and strong, their captivating design, studied for a long problem free life, continuously evolves in order to be more and more versatile, and tailor made: different models, versions and optional answer to all the operators'needs, to all production fields necessities and to requirements of process'automation.
If you want to built one complete pellet production line in your country, pls send the inquiry to us. We will customized design according to your requirement.
Get The Quotation and Video.