What auxiliary equipment does the wood pellet machine need to produce biomass fuel?
In previous customer consultations, a variety of biomass raw materials have been mentioned by customers, including hardwood, wood chips, wood shavings, rice husk, straw, wheat straw, sawdust, bark, leaves, bagasse, palm. We even provided customers with a complete set tire fiber pellet production line equipment. The so-called wood pellet mill machine is not only used to process wood pellets, it is just a name, because in current applications, wood biomass does account for the largest proportion. This biomass wood pellet mill can compress any biomass pellets, such as palm shell pellets, bagasse pellets, alfalfa pellets, hemp pellets, straw pellets, hay pellets, organic fertilizer pellets, waste paper pellets, etc.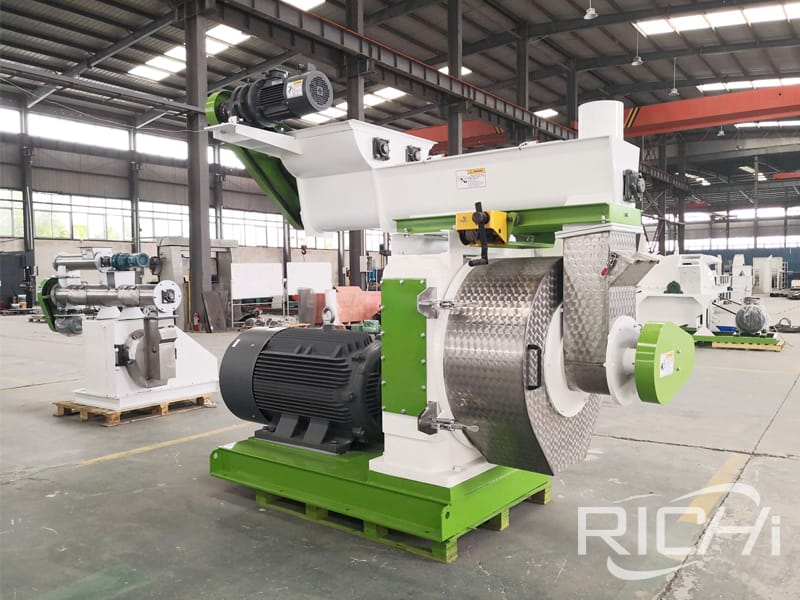 The wood pellet mill press machine is an environmentally friendly equipment with simple operation, high quality of finished products, reasonable structure and long service life. It is mainly processed from agricultural and forestry wastes into new energy-saving and environmentally friendly fuels that can replace mineral coal. Recently, there are some Friends who want to buy biomass fuel pellet mill call to inquire, can our equipment be operated independently to produce biomass fuel? Or does the ring die wood pellet machine need other auxiliary equipment?
Wood sawdust pellet machine: The production of biomass fuels is mainly processed from agricultural and forestry wastes. There are many types of these materials, the degree of dryness and wetness, and the size of the materials. The length of the applicable materials is about 3-50mm. If the length of the material is too long, a pulverizer is required to complete the preliminary material pulverization. If the humidity is too high, the pulverized material must pass through a dryer to reach the specified humidity before being put into the wood fuel pellet machine. if the size and dryness of the raw materials meet the requirements, then only a sawdust pellet machine is needed. If automatic bagging is required, a conveyor and a packing scale are needed.
Due to the different properties and specifications of the processing raw materials, and the different production requirements for the production of biomass pellet fuel, the required auxiliary equipment is also different. The equipment that can be configured to the complete biomass wood pellet line includes:
1. good quality wood chipper shredder for wood pellet plant
2. professional manufactured wood chip dryer for pellet plant
3. Conveyor
5. Dust removal equipment
7....
These equipments can be configured freely according to your specific requirements to meet your requirements for the wood pellet processing production line.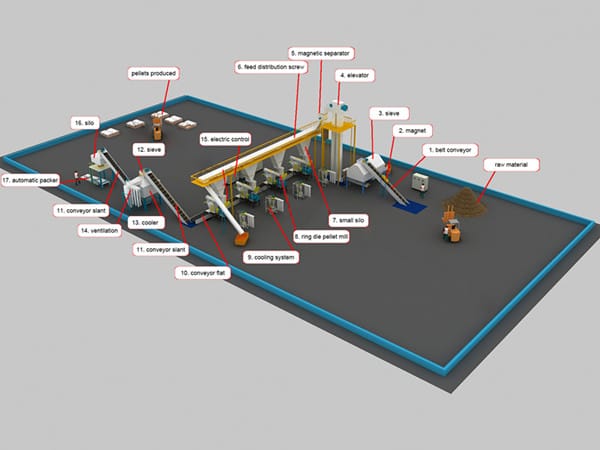 Every step in the production process of the wood pellet machine is very important, and it is related to the quality of the biomass fuel. During the production process, it must be operated in strict accordance with the regulations to ensure the service life of the pellet machine and the quality of the finished pellets.
After reading the above content, if you want to know how to process biomass pellets, please visit this page:https://www.richimachinery.com/solution/biomass-production-line
[More related cases about wood pellet mill]
United States factory supply 12 tons per hour customized biomass hemp pellet line project
professional complete 2t/h tire fiber biomass pellet plant in Poland
Canada 2t/h high quality biomass wood pellet production line
Austria 5t/h ce full wood pellet production line
Mexico 10 ton per hour biomass fuel sawdust pellet production line
If you want to built one complete pellet production line in your country, pls send the inquiry to us. We will customized design according to your requirement.
Get The Quotation and Video.