Richi Machinery with"Belt and Road"
As animal husbandry, processing equipment industry leader, Richi Machinery has been in promoting China's agricultural science and technology progress, as the national strategy of "the Belt and Road Initiative", "create a development opportunity, seek the development momentum, expand the development of new space, realize the complementary advantages, mutual benefit and win-win, direction constantly towards human destiny community", Richi actively responded to the requirements of the strategic, firmly grasp the era opportunity, based on the field of feed machinery, aimed at Europe and the United States leading standards, strengthen scientific and technological innovation, to promote the field to "low carbon, environmental protection, energy saving, smart", to speed up China's industrialization and modernization of agriculture.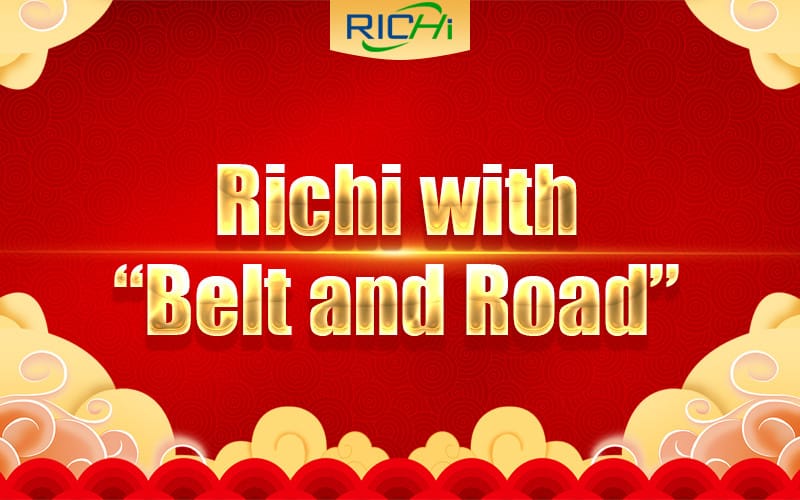 List some Richi's"One Belt One Road" footprints:
Tanzania 1-2t/h small animal mash feed and pellet feed line
Malaysia 3-5t/h animal mash feed making line
Uzbekistan 1t/h small scale floating fish feed and 1-2t/h animal feed combined line
Algeria 3-5T/H animal feed pellet plant
Indonesia 3-5t/h ruminant animal feed pellet plant
Somalia 5-6t/h mash and pellet manufacturing plant for animal feed
South Africa 10T/H cattle feeding plant
Rwanda 1-2 ton/hour turn-key poultry cattle feed pellet plant
Mauritania 10t/h Animal mash and pellet feed line
Gambia 1-2 ton per hour chicken feed production line
Zimbabwe 3-4 tons per hour chicken feed production line
Kenya 5 tons computer batching powder feed production line
Nigeria 150 kg per hour floating fish aquatic feed pellet line
Sudan 1-2 ton per hour chicken feed manufacturing line
Saudi Arabia 5-6 tons of cow feed +10 tons of chicken feed fully automatic computer pellet production line
Iraq 1-2 ton chicken feed pellet process line
......
Welcome to more One Belt And One Road cases:https://www.richimachinery.com/case/
At the same time, relying on the "One Belt And One Road" strategy, Richi will benefit people of all countries along the "One Belt And One Road" line along the whole agricultural and animal husbandry industry chain including planting industry, feed processing, livestock and poultry breeding, food processing, etc.It can be said that without Richi's participation in the competition, the global cost of farming and animal husbandry food will be greatly increased.
Up to now, sales in "One Belt And One Road" countries account for nearly 90% of the total overseas sales, and financing support for global customers in "One Belt And One Road" countries accounts for 73%.The "One Belt And One Road" policy of the state has pointed out the development direction for the wise enterprises to go abroad, outlined a beautiful blueprint and created a rare historical opportunity.
Looking forward to the future, Richi will play a leading role in the field of feed machinery, continue to work with Chinese agricultural and animal husbandry enterprises to go abroad, on behalf of "China made with wisdom", Chinese national brand, in the international arena, to participate in the world competition.Richi will also uphold the silk road spirit of "peace and cooperation, openness and inclusiveness, mutual learning, mutual benefit and win-win" to carry out friendly cooperation with enterprises along the silk road, and make greater contributions to ensuring food safety and improving the living standards of all mankind!
If you want to built one complete pellet production line in your country, pls send the inquiry to us. We will customized design according to your requirement.
Get The Quotation and Video.