Hot sale 3-5 ton per hour industrial wood chipper for wood pellet plant
3-5 ton per hour wood chipper machine is basic equipment in complete wood pellet plant, especially for large tree branches, limbs and large wood logs. It is used to cut large wood like logs, tree limbs and trunks into <3mm thickness and 10-30 mm length wood chips for further pulverizing by wood hammer mill.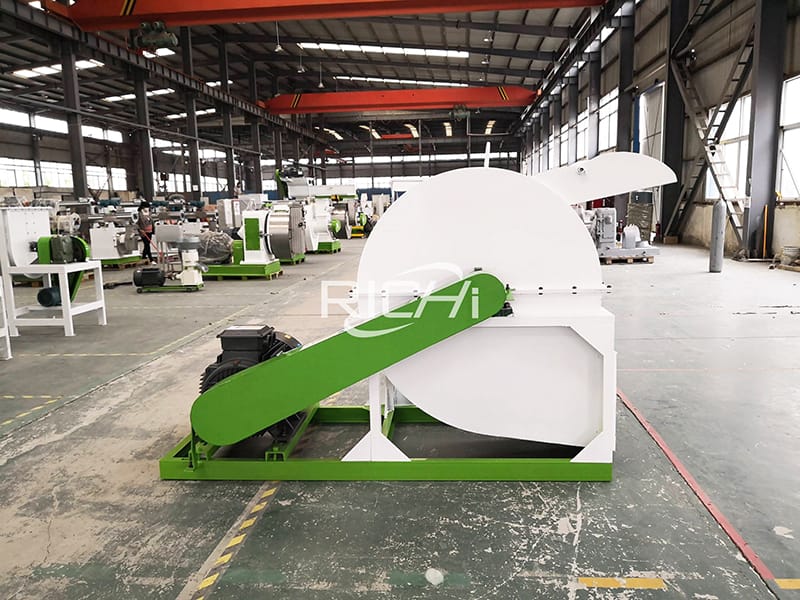 1.Technical Parameters
Model:W-Drum-215
Feeding Size(mm):160*400
Number of blade (pic):2
Rotated Speed (r/min):590
Capacity(t/h):3-5
Main Motor Power(kw):4-45
Weight(kg):2990
Dimension(mm):1470*1550*970
2.Complete woow pellet making line wood pellets manufacturing process
We all know that the 3-5 ton per hour wood chipper machine is used in the first section of the wood fuel pellet producing plant to prepare for the subsequent process. So besides the professional manufactured factory price 3-5t/h wood chipper for pellet plant, which sections are needed for a complete biomass wood production line?
A complete biomass fuel pellet mill plant, from biomass raw material processing to final packing biomass pellets, includes crushing, drying, pelletizing, cooling and packaging processes. We break down the process into three parts:
①Material handling system (including 3-5 ton per hour wood chipper shredder machine, wood hammer mill crusher, wood dryer)
②Granulating system (ring die wood pellet making machine)
③Packaging system (cooling machine and packaging machine)
3.The CE wood chipper shredder that customers often look for
high efficiency 3-4 ton per hour wood chip hammer mill
4-5 ton per hour wood hammer mill for wood chips
55kw 3-5t/h diesel wood chipper for making 3-5m chips
good quality 110 kw wood shredder chipper
hot sale 3-5 ton per hour industrial wood chipper
20-25 ton per hour tree branches wood chipper
most popular 315kw wood chipper
high quality 20-25 ton per hour drum wood chipper
7-8t/h output wood chip hammer mill
55kw 3 ton per hour wood chipper machine
China hot selling 5 ton per hour drum wood chipper
heavy duty 20-25 ton/h wood chipper machines
30-60 m3/h industrial wood chipper machine
on line support heavy duty 15-20t/h wood chipper
5-8t/h wood chipper using making pellets
...,etc.
The maximum output of the good quality wood chipper shredder for wood pellet plant we can provide is more than 20 tons per hour, which can fully cover the various needs of the biomass pellet industry.The wood chippers for sale are indispensable component for people who want to set up a good quality wood pellet plant. If you are interested, pls contact Richi Machinery.
If you want to built one complete pellet production line in your country, pls send the inquiry to us. We will customized design according to your requirement.
Get The Quotation and Video.