RICHI new design 1 ton per hour rice husk wood pellet mill machine for sale
The new design 1 ton per hour rice husk wood pellet mill machine is developed by Richi Machinery in accordance with market demand. It can produce pellets from all sawdust, straw, chaff, rice hull,etc. and a variety of other biomass raw materials for using at pellet stove, boiler, gasifier and bioenergy power plant. The hot selling 110kw 1 ton per hour biomass wood rice husk pellet mill machine has high output, low energy consumption, low noise, low failure, high fatigue resistance, machine can be continuous production, economical and durable to use. The wood pellets or rice husk made by this new technology 1 ton per hour biomass wood pellet mill have good appearance and compact structure.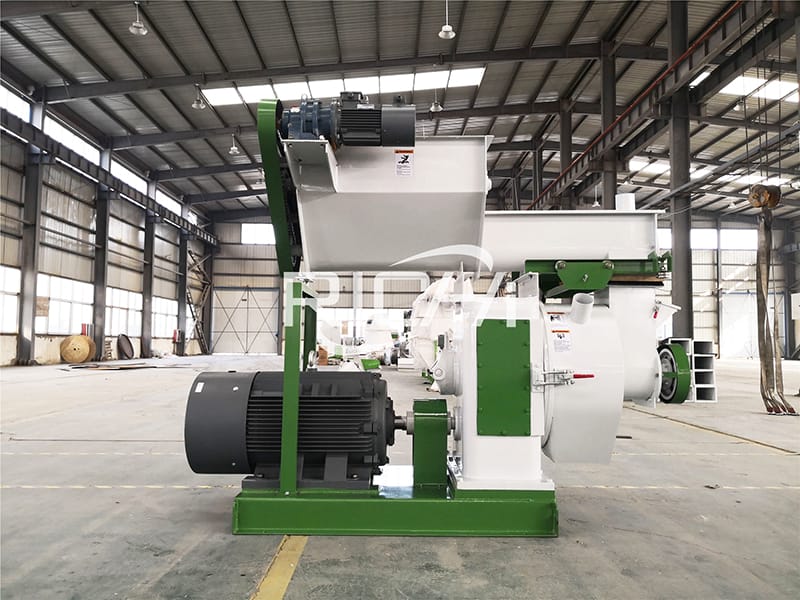 The whole set high performance 1 ton per hour rice husk wood pellet machine makes use of special quality materials and advanced coupling transmission device; the key components of the 1t/h new condition rice husk pellet making machine adopt high quality alloy steel and wear resistant materials, processed by German vacuum heat treatment furnace, so that the service life is prolonged by 5-7 times.
Over the past decades, RICHI has dedicated itself to research & develop new product and improve old product, in order to make the original products more mature and new product more perfect. In line with the faith of "Create value and satisfy your needs", we consistently regard every customer as our Regular Customer with whole heart.
The 1 ton per hour good quality rice husk wood pellet mills machine can efficiently solve the problems that biomass coarse fibers are hard to be pelletized. The main engine adopts high efficiency belt transmission; ring die adopts quick release hoop; the whole transmission part adopts Switzerland imported bearings to guarantee highly efficient, stable and low noise transmission; feeding adopts frequency conversion to ensure uniformity; using the international advanced manufacturing technology to tailor high quality molds for various raw materials of, prolong the service life of the equipment, improve the quality of the products and decrease consumption costs per ton.
Being a professional ring die wood pellet mill manufacturer, RICHI has its own production base. Every set of ce certificated rice husk wood pellet mill is strictly inspected and tested to guarantee its quality and efficiency. So RICHI 1 ton per hour ce certificated rice husk wood pellet mill for rice husk pellets is most stable, reliable, efficient, safe and economic pellet mill in China.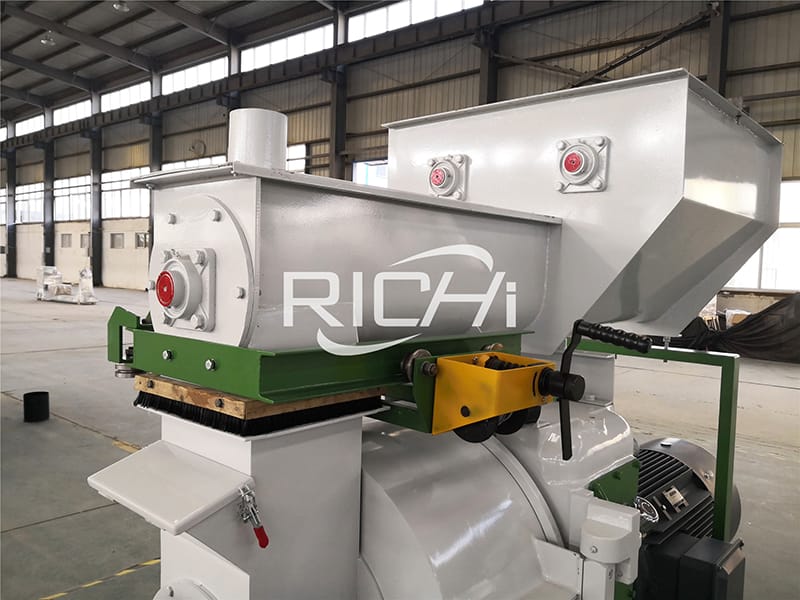 1.1 ton per hour wood rice husk pellet mill machine selection
Model:MZLH420 Bomass Pellet Press
Capacity:1000-1200 KG/H
Size of Pellet Machine: 2800*1150*1730 MM
Power: 110KW
Final Pellet :6-12mm
Weight : 4000KG
2.Relative machines in a complete wood rice husk pellet plant
(1)High efficiency biomass material hammer milling equipment
Hammer mill, also called crusher machine, is the most commonly used auxiliary equipment in wood pellet production line or animal feed pellet mill, since not all raw materials have exactly the right size (below 3mm) for pelletizing. Usually it can process various biomasses like corn, corn stalk, peanut shell, grass, bean stalk, wood shavings, sawdust, straw, cotton stalks, corn stalks, bagasse, alfalfa, switch grass and peanut shells.
The raw material goes through the feed hopper into the grinding chamber and crushed by the high speed rotating hammer plates. Under the impact of centrifugal force, the materials will be extruded continuously into powder. By the suction of the fan, the powdery material will be discharged through the sieve, while those cannot go through the sieve will be pulverized again until they can pass the sieve holes.
Read details of hot sale new type wood rice husk hammer mill machine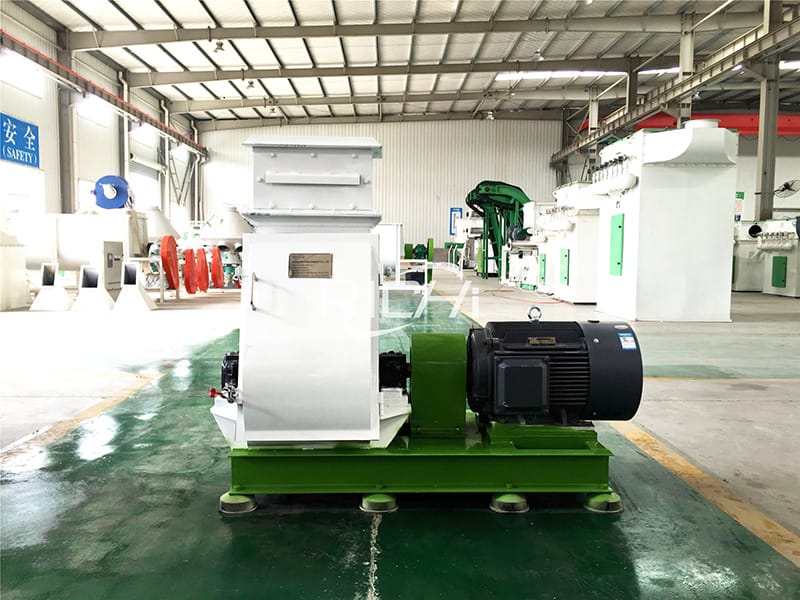 (2)Rotary Dryer
The dryer machine is an indispensable equipment in biomass pellet plant process, especially for wood and sawdust that have a high moisture level. Usually the best moisture content for wood or sawdust pellet production is 12% to 18%. If the raw material is too wet, the pellets made out will be easy to break. (Also, if the raw material is too dry, pellets won't form. in this case we should add water into it.)
The dryer machine we use is Rotary Drum Dryer, which consists of shell, lifting flight, drive assembly, support system and seal.
How does the Rotary Drum Dryer work?
The rotary dryer consists of feeding system, main body, Ducting System and Collector System. It need match stove.
Smoke and air with high temperature produced by the stove are the heat source medium. When material enters the drum through the feeder, heat exchange between material and the hot air begins. Material will move along the bent plat on the wall of the drum by the effect of rolling and introduced air, which is called the concurrent flow drying technology.
Read details of good quality biomass sawdust drying equipment
(3)Pellet Cooler
Cooler is used to cool the pellets after pressed by the ring die pellet mill, since the pellets are hot and contain much vapor when just get out of the pellet mill. The function of pellet cooler is to cool the pellets to room temperature.
The cooler made by RICHI is counterflow type: the hot pellets be fed into the cooling chamber and filed evenly onto the paralleled turning plates. Also, broken pellets or powder will be screened through the sieve and collected for reproduction.
Usually, if the pellet cooler is set to the ideal status, the outlet pellets can reach the temperature of just 2-5℃ higher than room temperature.
Read details of factory directly supply biomass wood rice husk pellet cooling machine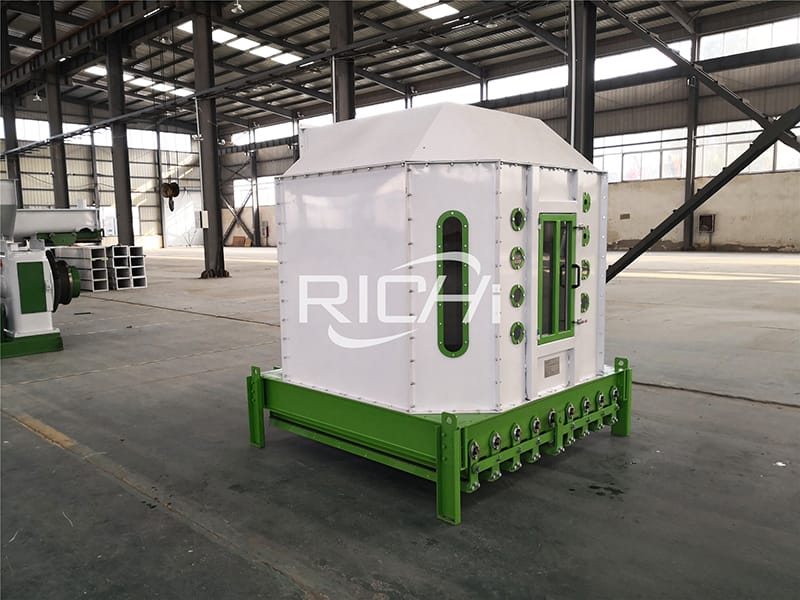 (4)Pellet Packing Machine
Pellet packing machine is used to weigh and pack pellets automatically. This packing machine is dedicated for pellet quantitative packing application field. It uses a free dropping feed system, fast and precise valves make the material feeding process frequent and stable. Material directly goes into the bag, no jam, no sticking.Composition: weighting system, conveying system, packing system and intelligent controller.
Read details of wood rice husk pellet packing machine
3.China factory price of new design 1 ton per hour rice husk wood pellet mill machine
Factory offered rice husk wood pellet mill manufacturing price is around 30000-40000USD.
You can directly consult Richi Machinery for more questions about "1 ton per hour pellet mills for rice hull"," 1t/h rice husk pellet mill machine with factory price","high performance 160 kw rice husk pellet machine for biomass fuel pellets","China 1 Ton Per hour industrial wood pellet machine price","hot sale easy operation 1T/H wood rice husk pellet machine production line",etc.Email: enquiry@richi-machine.com, Whatsapp/Cel: +86 185 7410 3366
If you want to built one complete pellet production line in your country, pls send the inquiry to us. We will customized design according to your requirement.
Get The Quotation and Video.