China factory new design 5 ton per hour complete wood pellet production line for customers
Recently, Richi Machinery provided customers from Chile, Indonesia, Germany and other 5 countries with a new designed 5 ton wood pellet production line process.These clients have raw material of mixed pine wood and eucalyptus wood. They required capacity is 5t/h,between 4-6t/h. we choose 2 sets of MZLH520 new ring die pellet mills for wood processing plants to meet customer demand.

1.China factory offer new design 5t/h biomass wood pellet production line for sale
(1)Application
Can be used as 5-6 ton per hour wood shaving pellet production line,4-5 Ton per hour wood chip pellet production line,5 ton per ho,r agriculture waste biomass wood pellet line,Rice Straw Pellet Plant 5 Ton Per Hour,5 ton per hour acacia wood pellet line,etc.
This large scale China professional 5 ton per hour wood pellet line for pine waste utilizes 2 sets of high quality 3 ton per hour wood hammer mill crusher to grind wood chips. The raw material after crushed is delivered to elevator by air-lock valve; the elevator transfers it into wet material storage bin. Then the wet material is delivered into professional manufactured wood chip dryer for pellet plant. After drying, the dry material is dispatched into the 2-2.5 ton per hour wood pellet mill press machine. And then, pellets are packed into small and big bags.
(2)Biomass raw materials
The easy to handle 5 ton per hour wood pellet plant is able to process a great many of biomass raw materials, such as woods, wood shavings, sawdust, EFB (palm kernel), coconut shell (coconut husk), coconut tree, bagasse, straw, rice husk, coffee husk, grass, etc. Less land space, saving, wide application range.
2.Advantages of factory supply 5 ton per hour customized biomass wood pellet line
(1)The good selling industrial wood crusher machine is accompanied with fan and bag dust-collector to efficiently reduce dust.
(2)The ce rotary dryer for biomass wood chips is assembled with a fluidized bed boiler, and there is a crusher to offer fuel for the boiler. The heat generated by the boiler is controlled by the thermal probe behind the flame path; there is also thermal probe behind the rotary drum to control the moisture content of outlet material.
(3)The rotating speed, material inlet of easy operate ce wood pellet machine and wood hammer mill are all controlled by appliances with good digital speed regulating.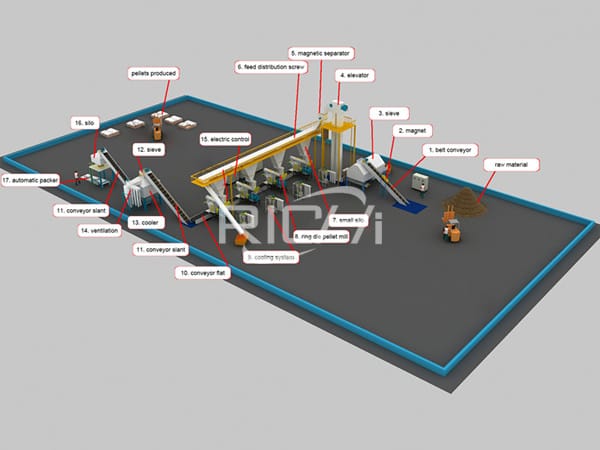 3.What is needed to start a 5 ton per hour wood pellet plant?
5 Ton per hour factory offered automatic running wood pellet production plant fully adopts mechanical driven. It connects a series pellet processing equipments together to realize continuous pelletizing with easier operation and higher pellets yield.
The complete 5 ton/h biomass pellet plant (with ring die wood pellet making machine) from chipping to packing is CE certified by SGS.
A reasonable design new wood pellet production line, from biomass raw material processing to final packing biomass pellets, includes crushing, drying, pelletizing, cooling and packaging processes.
We break down the process into three parts:
•Material handling system (including wood chipper, hammer mill, dryer)
•Granulating system (ring die pellet machine)
•Packaging system (cooling and packaging)
(1)High efficiency wood chips crusher
Making large wood like logs, tree limbs and trunks into <3mm thickness and 10-30 mm length wood chips.
(2)Wood crusher machine for making sawdust
Crushing the material into powder and making raw materials to the right size (below 3mm) for pelletizing.
(3)New drying equipment for wood sawdust
In general, the moisture content of raw material is still high after the pulverization from hammer mill, which is not suitable for pelleting. The dryer can make raw material moisture content to between 12% to 18%.
(4)Horizontal Ring Die Wood Pellet Mill
Press the powder material into regular shape pellets by high pressure between the main parts roller and die. It is the soul of complete biomass pellet plant.
According to the raw material and production needs of customers, choose the different model of ring die wood pellet mill.
Pellet cooler is used to cooler the biomass wood pellets after pressed by the pellet machine. It is most commonly used in complete wood pellet making plant.
It can weigh and pack the cooled pellets automatically. 10-50kg per bag is available to choose.
4.Typical Case
Best design 5 ton per hour wood pellet production line for Austria customer
5.China factory new design 5 ton per hour complete wood pellet production line price
About the cost of setting up a 5 ton per hour complete wood pellet production line,the investment is around 150000-500000USD.Different equipment configurations, different prices, please feel free to consult Richi Machinery online at any time.
If you want to built one complete pellet production line in your country, pls send the inquiry to us. We will customized design according to your requirement.
Get The Quotation and Video.