China professional factory offered high quality wood pellet machine for complete wood pellet plant
If you are looking for China professional factory offered high quality wood pellet machine for complete wood pellet plant,wood pellet mill equipment,small wood pellet machine, wood sawdust pelletizing machine, small pellet press, wood pellet granulator, etc., then you are looking for the same kind of equipment——wood pellet making machine.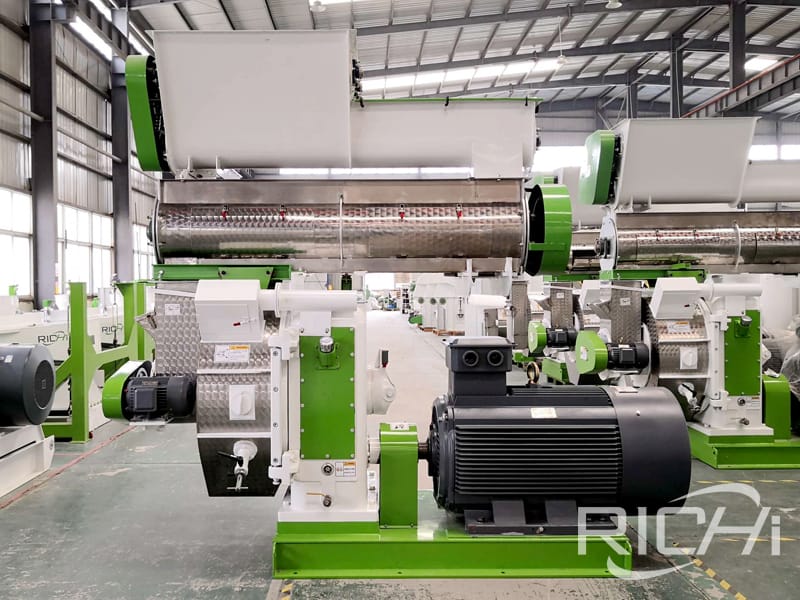 If you already have off-the-shelf wood chips, you only need a wood chip granulator to produce wood chips and use them for heating, power generation, cooking, barbecue and other uses. If you see the prospect of biomass wood energy, then you need a wood pellet production line to build your own wood pellet processing plant. At this time, you need a series of wood pellet processing equipment such as slicer, granulator, dryer and so on.
1. Maybe you don't know what wood pellet processing plant projects we have done. Here is a brief demonstration:
(1)Good completely biomass wood pellet production line
American 10 ton per hour biomass fuel sawdust pellet production line
Mexico 10T/H large biomass pellet production line for wood pellets
Canada 2T/H complete wood pellet production line biomass fuel making pellet
Austria 5 ton per hour ce wood pellet production line
Iceland 1-1.5T/H small capacity ce wood pellet production line
Netherlands 2T/H good quality ce wood pellet production line
...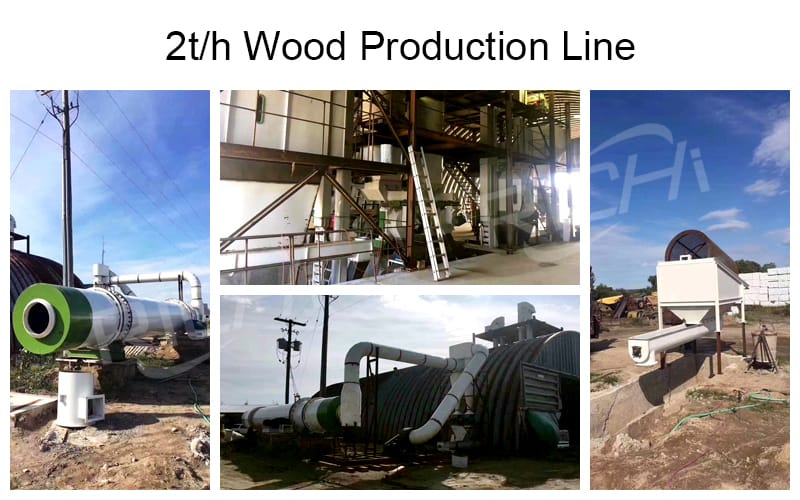 (2)Single wood awdust pelletizer equipment cases
Romania bioenergy wood pellet mill
Spain 1 ton capacity wood pellet mill
Albania 5T/H wood pellet mill to make wood pellets
Slovakia factory supply competitive prife biomass wood pellet mill
Trinidad and Tobago new designed 1-1.5 ton per hour wood pellet mill
China Taiwan hot sale 2 ton per hour biomass wood pellet mill
Mexico hot selling 110kw 1 ton per hour biomass wood pellet mill machine
Indonesia on line support 3 ton per hour wood pellet mill
...
It should be emphasized that the above cases are all projects actually executed by Richi Machinery, which are true and verifiable.
2.What is wood pellet making machine
Wood pellet machine is a kind of pellet machine for processing the raw materials like sawdust, wood, peanut shell, straw, leaves and so on. Nowadays, there are various different types of pellet mill in the market. And the typical two types are flat die pellet mills and ring die pellet mills. The wood pellet mill can process many raw materials whatever the size is big or not, and the pellet size also can be customized by the hammer mill. How does a wood pellet machine work? Richi Machinery will introduce the process of making wood pellets from homemade easy to use pellet milling machine and complete pellet plant.
3.Process of making wood pellets
For the different applications, there are homemade pellet mill and complete pellet plant to choose. The homemade pellet mill also called small pellet mill, but it is easy to handle and can meet the requirements of home use. While, the complete plant is usually used in the factory.
As the name suggested, the homemade small wood pellet mill is suitable for home use. Due to the advantages of homemade pellet mill, people can make wood pellets at home with small pellet mill by themselves. And these wood pellets can be used as fuel for home heating, BBQ or the fireplace.
There are four types engine for homemade pellet machine to choose, including electric motor, diesel, PTO and gasoline motor. Clients can order the suitable type according to your requirements. If you are confused about how to select the homemade pellet mill, we provide the free guide for every client. Or you can contact us directly or send the inquiry to us.
(2)How does a homemade wood pellet mill work? Take an electric industrial ring die pellet mill as a sample.
a.You need to turn on the ring die pellet mill.
b.You should put the raw materials into the wood pellet machine. (GEMCO suggest that you should put 20% sand, 65% biomass raw materials and 15% used oil if the pellet mill is first work.)And then the pellet mill begins to work.
c.When you put the raw materials into the working room, all these biomass materials will spread on the millstone. The spindle drives the disc to rotate. The pressure roller continuously rolls over the raw materials and squeezes the material into the die hole. The raw materials undergo the process of forming and preservation in the ring die hole after a certain period of time is pressed in a cylindrical state. Then the cutter will cut down the material formed pellets. All the material will be shaped into the pellets after grinding by wood powder grinder.
(3)Complete high quality biomass wood pellet production line
Compared with the wood press pellet machine, because the complete pellet plant has large capacity, it is much suitable for the factory. For the different scales, we provide different pellet plant for sale. According to the yield, we set three types pellet plant. They are small pellet plant, mobile pellet plant, and large pellet plant. The small pellet plant can make pellets 200-700 kg/h, the mobile pellet plant can produce pellets 250-350kg/h, and the large pellet plant can produce pellets 1-6ton/h. We also set special pellet plant as you need.
Build a complete biomass pellet plant is better to manufacture the plenty of wood pellets for sale. The complete production line is a guarantee for the high quality.
(4)How does a complete pellet plant work?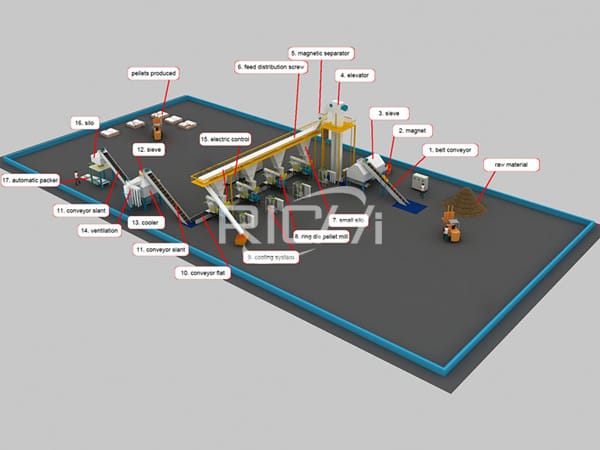 The raw materials will be preprocessed at first. The hammer mill cut the raw materials into smaller pieces with same sizes.
Next, these raw materials convey to the large dryer through the conveying belt.
Thirdly, through the elevator, these raw materials convey to the pellet mills to be ground from the silo.
Finally, these pellets will be cooled and be put into the storage.
In a word, we have introduced the homeuse small pellet machine and the wood fuel pellet plant work procedure. For the different application, the homeuse pellet milling machine and pellet plant have own advantages. You can choose the suitable pellet machines according to your actual demand. If you are confused about what you need or curious about the wood pellet machine, Richi Machienry is pleased to help you!
If you want to built one complete pellet production line in your country, pls send the inquiry to us. We will customized design according to your requirement.
Get The Quotation and Video.