Hammer Mills for efficient and high capacity particle size reduction
Grinding is one of the key process in animal feed production line. Feed grinding section refers to the process of making feed particles smaller by impacting, shearing, grinding, etc., aiming at increasing the surface area of feed particles for better digestion and absorption, as well as for more efficient subsequent processes. Its performance directly affects the quality, output, power consumption and cost of feed production.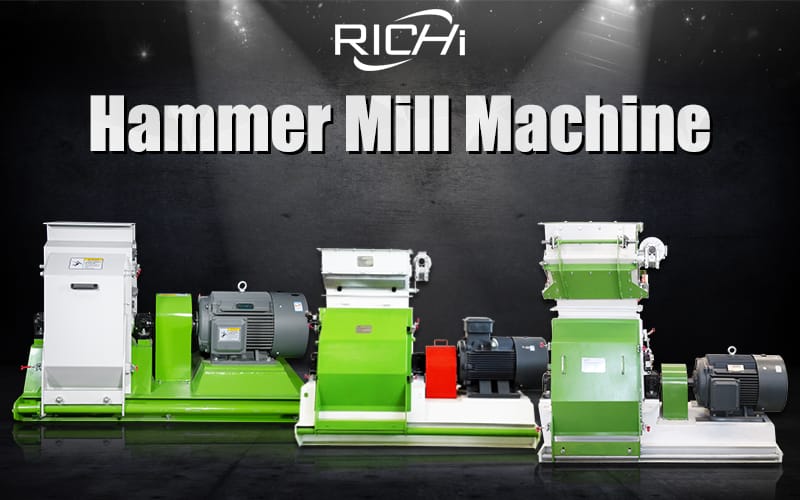 Richi Machinery attaches great importance to the development of green and energy-saving projects and provides sustainable feed equipment and solutions to the world through innovative technology. Richi Machinery offers various types of hammer mill with significant increase in efficiency and less power loss, which is widely used for the grinding of poultry,cattle,chicken,fish,pig,shrimp, crab, animal protein, cassava, forage, wood, biomass energy, etc.
1.Richi Machinery SFSP66*80b Feed Hammer Mill Crusher
Innovative design and increase of nearly 30% in grinding efficiency. Feeding amount can be adjusted automatically for full load operation and higher efficiency. The multi-cavity design of grinding chamber ensures more uniform abrasion of hammer and sieve, helping increase the service life of wearing parts. Grinding fineness and uniformity are improved by more than 30%.
2.Richi Machinery SFSP66*60b Feed Animal Poultry Chicken Food Hammer Mill Machine
Used for grinding all kinds of pellet materials including corn, sorghum, wheat, bean. Adjustable coarse and fine grinding modes. Suitable for the fine grinding of fibrous, high-moisture and brittle materials.
3.Richi Machinery SFSP66*80a Animal Feed Grains Hammer Mill Crusher
Innovative design for the fine grinding of fibrous, high-moisture and oily materials. Especially for grinding dried fish, cottonseed meal, corn on the cob, shrimp shell and high-moisture (17~24%) corn, etc.
4.Richi Machinery SFSP56*40b CE Feed Hammer Mill Crusher
Optimized design of equipment core assembly, high-speed operation and higher output. Simple installation of hammers makes it easy to maintain.
Richi Machinery is committed to providing first-class feed equipment and systematic solutions for global customers, creating differentiated competitive advantage for the customers with state-of-the-art equipment and excellent quality control and making greater contribution to the sustainable development of global feed industry.
If you want to built one complete pellet production line in your country, pls send the inquiry to us. We will customized design according to your requirement.
Get The Quotation and Video.