Multipurpose 300-500kg/h good quality wood pellet mill machine for renewable energy biomass pellet plant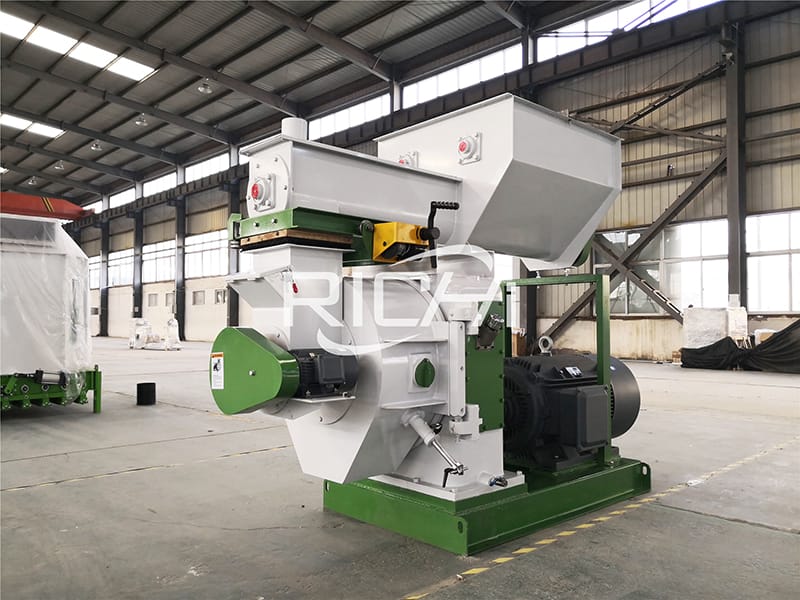 1.Multipurpose 300-500kg/h good quality wood pellet mill machine for sale
The renewable energy biomass pellet plant comes with a host of equipment, some of which include the foundation frame, the cyclone separator and the wood crusher. Additional equipments are the mixing and storage bin, the water tank, the screw feeder, the bucket conveyor, the ring die biomass wood fuel pellet mill, the electric cabinet and the vibrating sieve.
Moisture content of the raw materials:≤8%
The diameter of the final pellets:6~12mm
The density of the final pellets:1.1-1.3t/m3
The overall size - (L*W*H): 3500*1960*3500mm
2.Details of the 300-500kg/h biomass industrial wood pellet machine for pellet plant project
Model:MZLH320 wood pellet making machine
Capacity (kg/h):300-500 Wood Pellets
Pellet Diameter (mm):4-12
Pellet Density:0.6-1.2t/m³
Power:41.25kw
Machine Size:(L*W*H): 2200*900*1300 MM
This 300-500kg/h complete wood pellet plant is specially designed by RICHI CE High Quality Wood Pelletizer Machine Manufacturer for small-scale wood pelltizing production. Before this small capacity wood pellet production line was designed, there was a huge niche in regards to the production of pellet production as the large-scale wood pellet plant could not meet the high demands of pellets in the markets today. However, with this new technology biomass wood pelletizing plant, small-scale wood pellet producers will be able to tap into this gap and ensure there is a sustained supply of pellets the world over.
This best design wood pellet production line for energy pellets has wide application that can process rice husks, straw, peanut shells,palm shells,wood shavings and grass into bio-fuel pellets. Even better, the reasonable design new wood pellet production line is capable of processing fodder materials into animal feed. With all these specifications, this small pellet making plant could mark the next frontier in the pelletizing industry.
3.Wood pellets manufacturing process of 300-500kg/h on selling good complete wood pellet line
(1)Wood Pellet production process include crushing, drying, screening, granulating, cooling, screening and packaging
(2)Equipments needed to make wood pellets:
Wood chipper/wood hammer mill crusher- rotary dryer for wood chips/sawdust - good performance biomass wood pellet machine - cooling machine - vibration sieve - ton bale scale - sewing machine, and some of its auxiliary equipment, such as belt machine, bucket lift machine, cyclone, dust remover, fan, bin and so on.
Just feel free to inquire about the 300-500kg/h small wood pelletizer machine price and 300-500kg/h high quality ce wood pellet mill line details. Richi Machinery is always at your service!
If you want to built one complete pellet production line in your country, pls send the inquiry to us. We will customized design according to your requirement.
Get The Quotation and Video.