China factory offer new design 5 ton per hour complete wood sawdust pellet production line price and layout solution
1.Introduction of wood sawdust
Wood sawdust refers to the sawdust and shaving powder left during wood processing. Wood pellet fuel refers to the wood by-products produced after felling forests or wood chips produced after wood processing, etc., which are made after drying, pressure forming and cooling treatment. It is used as boiler fuel and can replace light oil and other chemical fuels. Environmentally friendly commercial fuel products.
Moreover, compared with chemical fuels, wood pellet fuel is also a new renewable energy with excellent economic performance. It has been widely used in North America, Europe and other developed countries, and it can be said to be one of the future alternative energy sources. The use of wood pellet fuel, an alternative energy and environmentally friendly fuel, can make a substantial contribution to "greenhouse gas emission reduction" and can also greatly reduce energy consumption. Compared with fossil fuels, energy can be saved by more than 50% on average.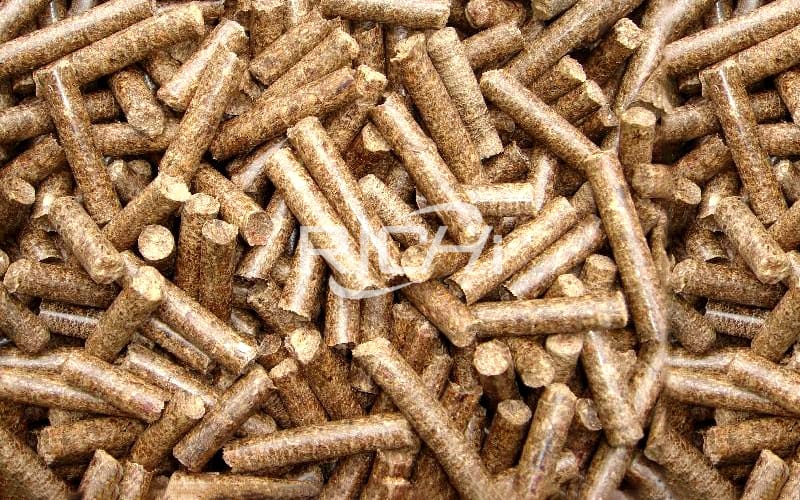 2.Technical Characteristics Of Wood Sawdust Pellets
Wood sawdust is the most common raw materials for making wood pellets. The density of final pellets is about 1.3t/m3. Wood pellets have lots of advantages such as easy to transport and storage, low ash, low sulfur dioxide and nitrogen oxide emissions, zero carbon emissions and so on. Wood pellet fuel can be widely used in both urban heating and industrial heating. It is a kind of clean, cheap and renewable energy resource. The basic technical parameters are as follows:
Calorific Value:4000-4300kcal/kg
Moisture Content:8-10%
Ash Content:0.3-0.5%
Fixed Carbon:1.0-1.3t/m3
Diameter:8~12mm
3.How to make wood pellets from wood sawdust in hot selling turnkey wood sawdust pellet line with 5 ton per hour capacity?
Wood sawdust pellet production line manufacturing process includes raw material feeding, screening, drying, cyclone separation, pelletizing, cooling and screening. To ensure the quality of finished pellets, each part of the 5t/h wood sawdust pelleting line has strict quality control system.
(1)China factory offered 5 ton per hour automatic running wood sawdust pellet production line flow chart
Raw Materials → Screening → Drying → Cyclone Separation → Pelletizing → Conveying → Cooling → Screening → Cyclone Separation → Finished Sawdust Pellets → Bagging → Final Products for Sale

(2)How To Make Pellets From Wood Sawdust Step By Step By A 5TPH Factory Sale New Design Biomass Fuel Wood Sawdust Pellet Production Line?
①Raw Materials
Use sawdust as the main raw materials. To ensure sufficient raw material supplement and continuous production, the storage area should be around 500 square meters. You are suggested to prepare 500~600 tons of saw dust, which can ensure at least 15 days of pellet production. The ceiling of raw material warehouse should be able to resistant rain, lighting and wind. Set the production area at least 50 meters away from the living area, 30 meters away from the highway and power transformer. Besides, isolation measure and fire prevention facilities are also necessary, in order to ensure production safety.
②Screening
Through screw conveyer, the sawdust will be sent to sieving machine for screening. In this process, large pieces of wood, iron or other impurities will be screened out.
③Drying
Biomass pelletizing has strict requirements on the moisture content of raw materials. After screening, the saw dust will be sent to roller dryer by spiral conveyor. In the dryer machine, the sawdust can be dried to preset moisture content through hot air.
④Cyclone Separation
After drying, there will be a lot of moisture in the air during the transmission. With cyclone separator, the moisture will be discharged. There are two sets of cyclone separator in this reasonable design new 5 ton per hour wood sawdust pellet mill plant. After cooling the sawdust pellets, another cyclone is needed to separate the pellets and moisture.
⑤Conveying
Different conveying processes need different transmission equipment. In this low investment high return 5t/h wood sawdust pellet making line, we adopt two kinds of conveyer: screw conveyor and elevator.
⑥Pelletizing
Wood sawdust pelletizing machine is the key equipment of the complete 5 ton per hour sawdust pellet manufacturing line. In this system, we adopt 3 sets of BPM42 Ring Die Pellet Press which is featured of stable operation. The capacity of each set can reach 1.5 ton per hour. This pellet manufacturing machine can process saw dust, corn stalk, haulm, cotton stalks, peanut shells and many other biomass materials. The density of finished pellets can reach 1.0~1.3t/ m3.
⑦Cooling
When discharging from the wood waste sawdust pellet press machine, the temperature is around 80~90 ℃. The structure is relatively loose and easy to be broken. Through counter flow cooling system, the pellets will be cooled to room temperature and become tight and durable. Then, they can be packaged in bags or be conveyed to storage silo. Except cooling fan, the cooling system is also designed with cyclone separator which is used to separate the powder from the pellets and send the powder back to the front pelletizing procedure.
⑧Screening
After cooling, screening system is needed to filter out broken pellets, so that to ensure the quality of final products. The broken pellets will also be sent to the front pelleting process.
⑨Finished Sawdust Pellets
Now, you have got the final sawdust pellets of high quality. Package the pellets and send them to finished products warehouse, or directly transport the bulk pellets into a storage silo.
(3)Reasonable layout of 5tph new technology wood sawdust pelletizing line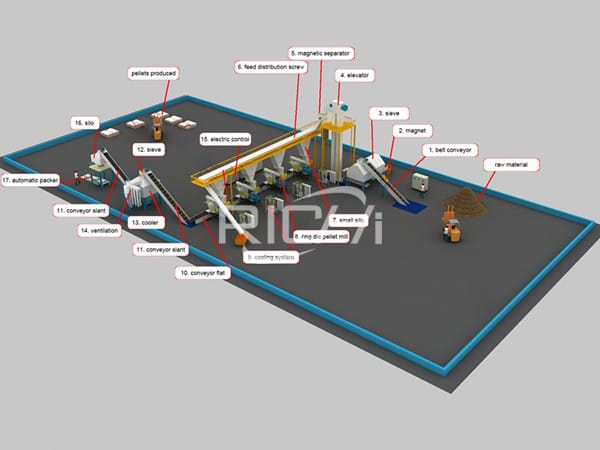 4.China professional manufactured machines of 5 ton per hour best design wood sawdust pellet production line for energy pellets
Below is the equipment list of professional factory directly offered 5tph wood sawdust pellet production line.
high quality wood sawdust pelletizer machine with ce
rotary dryer for drying wood sawdust
Sewing machine
Electronic control system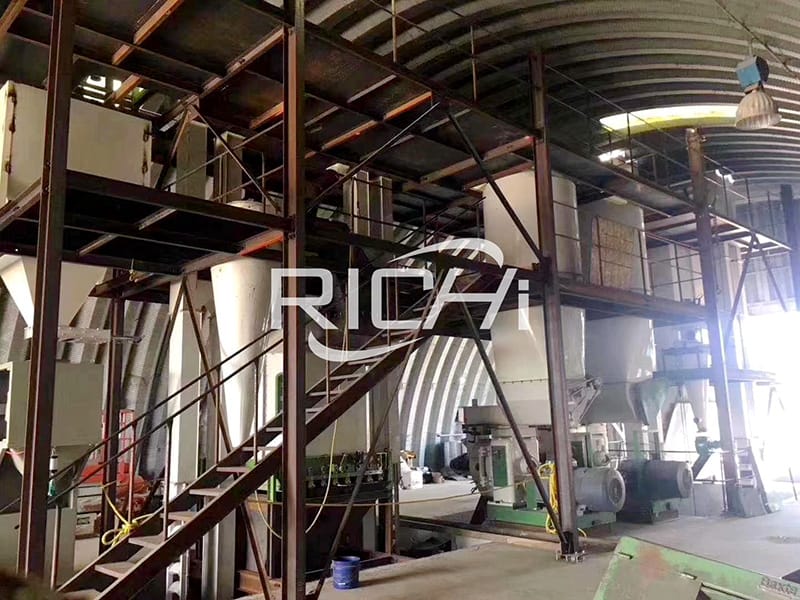 5.CE 5 ton per hour automatic completely biomass wood pellet production line price
China factory supply good quality 5 ton per hour customized automatic biomass wood sawdust pellet line project cost is usually between 500000USD-800000USD(Total EXW Price)
(Different customers, different needs, the design of each hot selling complete 5 ton per hour pellet plant for wood sawdust is customized)
If you want to built one complete pellet production line in your country, pls send the inquiry to us. We will customized design according to your requirement.
Get The Quotation and Video.