Sturdy and stable
Eliminate Leaks
Well Mixed
Higher Efficiency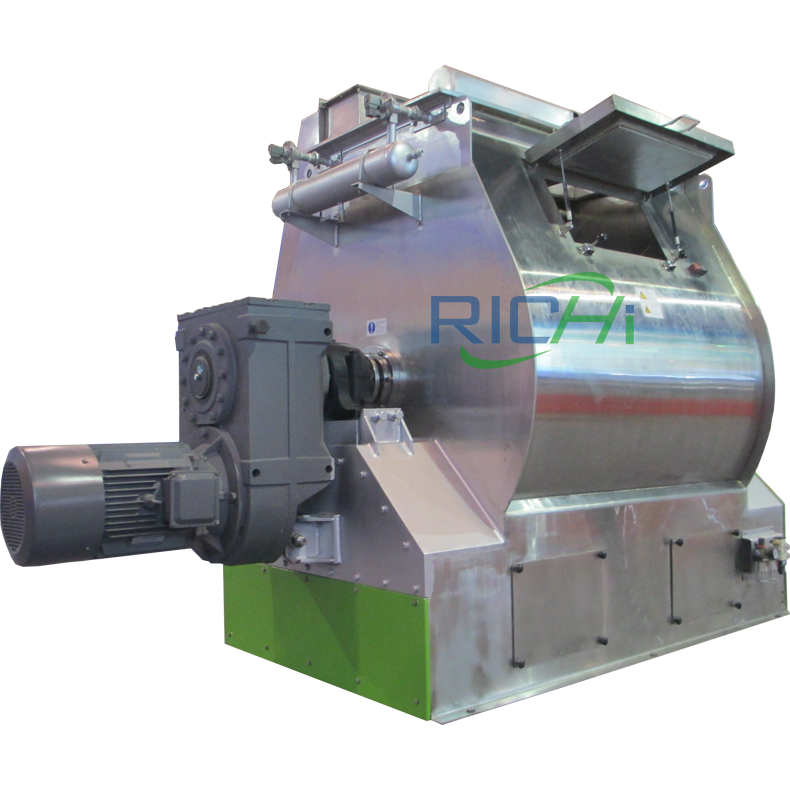 SLHJ Stainless Steel Feed Mixer
During the convection process of the feed mixing machine, the two materials are mixed with each other through penetration and displacement, and then mixed during the tumbling process on both sides. This is repeated many times, and finally mixed by the unloading device. And then the material is discharged from the discharge door.
Mode:
SLHJ2B
Capacity:
1000KG/BATCH
Main Power:
22KW
The stainless-steel feed mixer machine is suitable for mixing materials in various industries, such as powder, granular, flake, miscellaneous and viscous materials in feed, food, chemical, pesticide and other industries. It has a large effective volume and can add a variety of liquids, such as water and molasses, Grease, etc.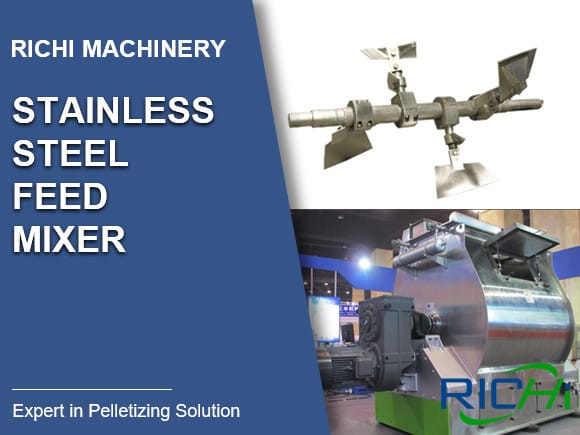 Technical Features
We have added an observation door in the body of the feed mixer, which can observe the mixing state of the materials at any time, and if there are any problems with the mixer, you can know it immediately.
RICHI stainless steel feed mixer uses a reducer directly connected to the motor, which has the advantage of basically no maintenance and replacement costs, and is durable.
Our discharge port uses pneumatic gates to speed up the discharge process, shorten the mixing section time, and improve overall efficiency.
RICHI stainless steel animal feed mixer series are available in single shaft and double shaft models, both of which are paddle types feed mixers, with high working efficiency and large mixing output.
Each paddle is made of high-standard steel, wear-resistant and corrosion-resistant, and the arrangement angle is precisely designed, and the mixing uniformity exceeds 98%.
The thickness of RICHI animal feed mixer body is 8.0mm, which is double that of other company. It can fully guarantee the stability and service life of the equipment.
Product Display
We recommend that customers must pay attention to a few points when choosing an animal feed mixer. 1. Material and layout of spiral belt or paddle; 2. Thickness of feed mixer body; 3. Motor, bearing, reducer; 4. Transmission mode is chain, belt, or direct connection. Only by more comparing can see high-quality products.
→ Please contact us if you are interested
Technical Parameters
| | | | | | | | | | |
| --- | --- | --- | --- | --- | --- | --- | --- | --- | --- |
| Model | SLHJ1A | SLHJ1B | SLHJ2A | SLHJ2B | SLHJ2L | SLHJ3A | SLHJ4L | SLHJ4A | SLHJ6A |
| Material quality | carbon steel | Stainless steel | carbon steel | Stainless steel | carbon steel | carbon steel | carbon steel | carbon steel | carbon steel |
| Power | 11kw | 11kw | 22kw | 22kw | 22kw | 30kw | 30kw | 37kw | 55kw |
| Mixed weight | 500kg/batch | 500kg/batch | 1000kg/batch | 1000kg/batch | 1000kg/batch | 1500kg/batch | 2000kg/batch | 2000kg/batch | 3000kg/batch |
CONTACT US
You can enter your detailed information and needs in the following forms ,such as your name, phone NO, Email address, feed kind,raw materials, capacity and so on. Once received your message we will contact you as soon as possible.
Corn

Soybean

Wheat

Soybean Meal

Maize Protein Meal

Cottonseed Cake

Rice Husk

Straw
Leave Message
If you have any questions,please leave us a message.