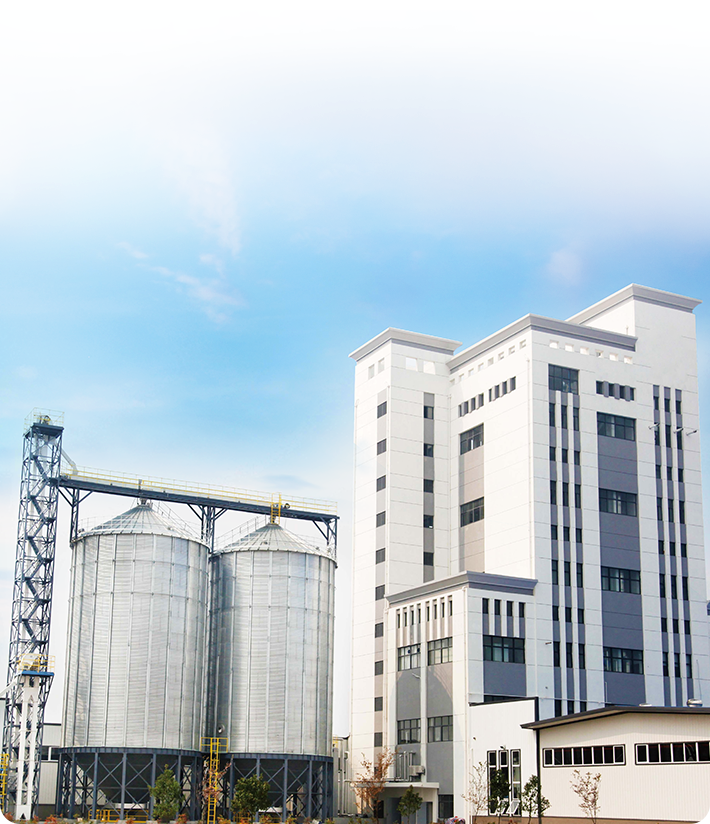 ALGERIA CUSTOMIZED

10-15T/H POULTRY FEED PRODUCTION LINE
RICHI customized 10-15t/h full automatic feed pellet production line for Algeria customer, this line include four sets of 350T steel silos system.
The line will be completed in October 2020. The capacity is 10-15t/h, It can produce different size feed pellet for a variety of different poultry animals .
10-15T/H POULTRY FEED PRODUCTION LINE

Project Case Video
The market demand of feed industry in Algeria is increasing year by year, and the development of feed machinery engineering requires more and more high. Check the production video of poultry feed plant, to learn more the knowleadge of the algeria project case. Welcome to visit our factory and equipment.
RAW MATERIAL TO
FINAL PELLET
In this line,the main raw material is corn, wheat and others, we also provide the recipe for our customers reference. The final feed pellet is chicken feed,the pellet size is 1.5-6mm .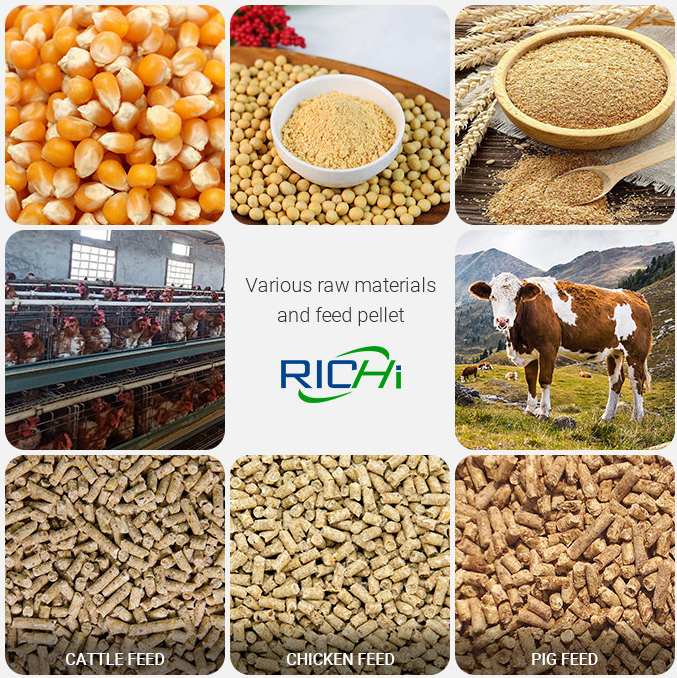 About The Algeria Turnkey

Feed Pellet Line:
The 10-15t/h poultry feed production line adopts advanced technology and equipment, with high efficiency,intelligence, safety, reliability and other characteristics, which can meet the requirement of our algeria customers. Fully automatic design scheme, the cost is slightly higher, but greatly improve the customer's work efficiency, and reduce labor costs.
At the same time, the four sets of steel silo systems are also designed and manufactured according to high standards, with characteristics such as corrosion resistance, leak prevention, and fire prevention, which can effectively protect the quality and safety of the raw material and feed.
The whole workshop realizes no dust, no cross, no pollution. Is a standard modern feed production engineering.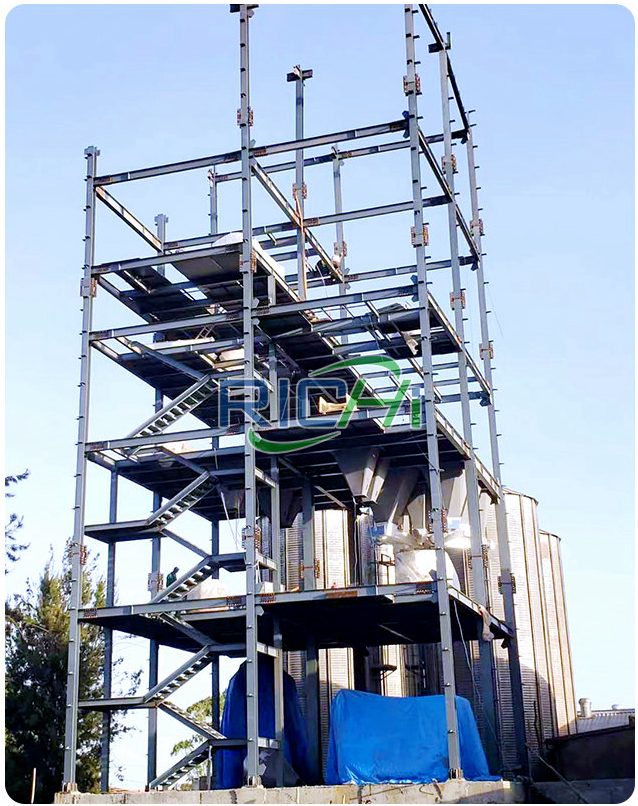 The Flow Chart Of

10-15T/H POULTRY FEED LINE
RICHI 10-15t/h poultry feed pellet making line can production the 1-12mm different size animal feed pellet , such 1.5mm small baby chicken , 3mm and 4mm chicken feed, 4mm duck feed, 6mm 8mm and 10mm cattle feed, our design can meet customer different requirement.
If you are interested in this line,You can use different raw material , such as wheat , corn ,soybean or other grain, if you want add some grass and alfalfa to production the ruminate feed , we also can design for you.
For our algeria customer, our engineer design a lot of different design according to his requirement, for the whole line, we solved the height problem for our clients, and dust removal problem, batching problem.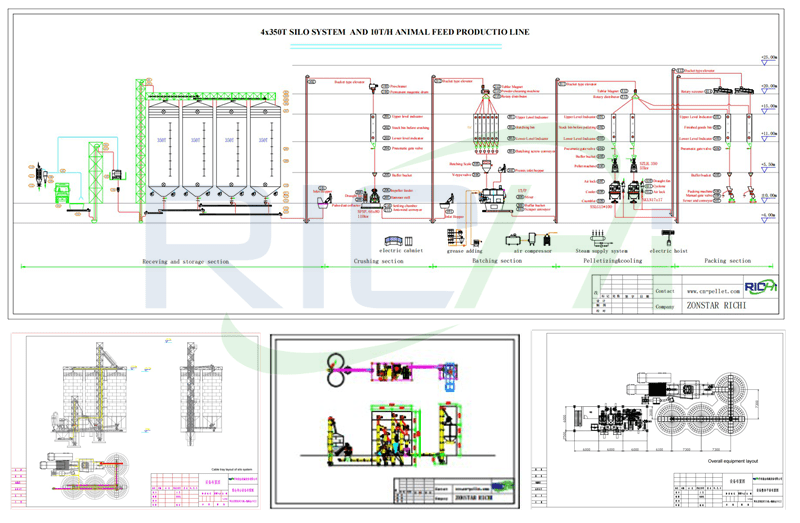 10-15T/H Poultry Feed Pellet Line
Project
Main Equipment
1. The complete line incude the receiving system , crushing system , batching and mixing system , pelletizing system, cooling system and packing system.
2. The feed hammer mill is the main equipment of crushing system, the function is mechanically grind the cleaned feed raw materials into suitable particle sizes for mixing and processing.
3. The feed mixer is the main equipment of mixing system, the function is mix different types of feed raw materials in certain proportions to achieve nutritional balance and appropriate taste. Nutrients such as vitamins and minerals are usually added during mixing.
4. The feed pellet machine is the main equipment of pelletizing system, the function is press and shape the steamed feed raw materials into 1-12mm different sizes of feed pellets.
5. The cooling machine is the main equipment of cooling system, the function is reduce the moisture content of the feed, prevent mold and spoilage, and easier to packing and transport.
6. The packing machine is the main equipment of packing system, the function is packing and sealing the dried feed pellets to ensure feed quality and freshness, and facilitate transport.
Feed Hammer Mill

Feed Mixing Machine

Feed Pellet Machine

Cooling Machine

Rotary Screener

Packing Machine
10-15T/H Feed Pellet Line
Algeria Project
Installation
RICHI can send the professional install engineer to guide the installation. At the same time , we will provide systematic training, to better meet the needs of the project.During the operation of the technical staff on the client side, our training instructors will also continue to follow up the operation of the project to ensure the orderly implementation of the project.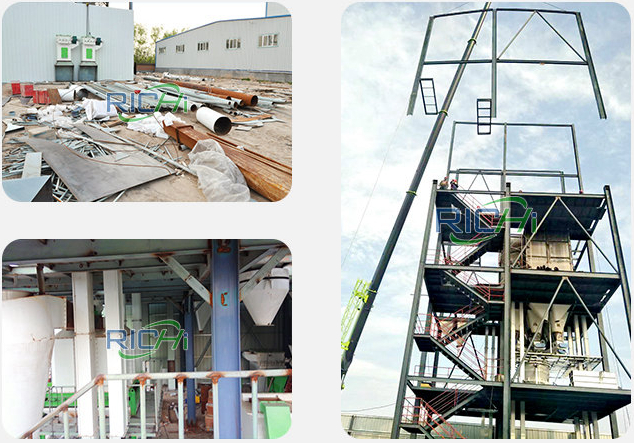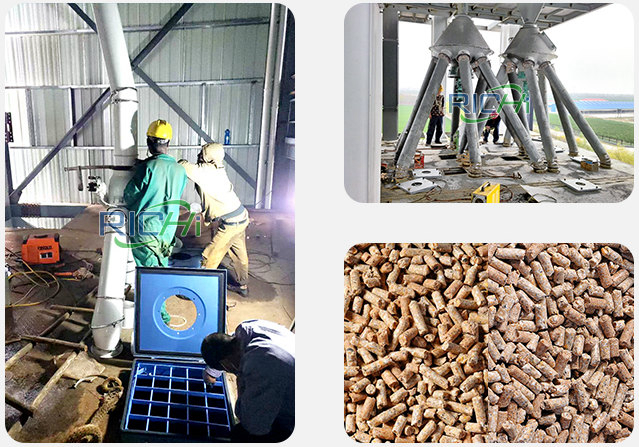 10-15T/H Feed Line
Algeria Project
Equipment Photo
In this project, our engineer provides a lot of drawing for our Algeria customers, such as animal feed complete engineering solutions, including total planning, factory layout, equipment layout, civil engineering, steel construction,install drawings, working drawing, wire and cable list, steel list, storage system, feed processing machinery, intelligent packing, and electrical control system, equipment manual.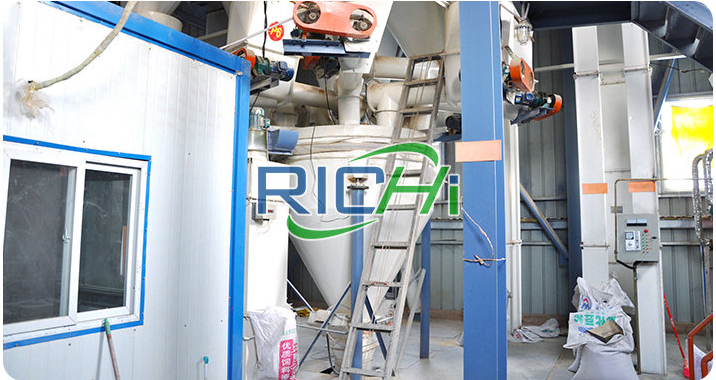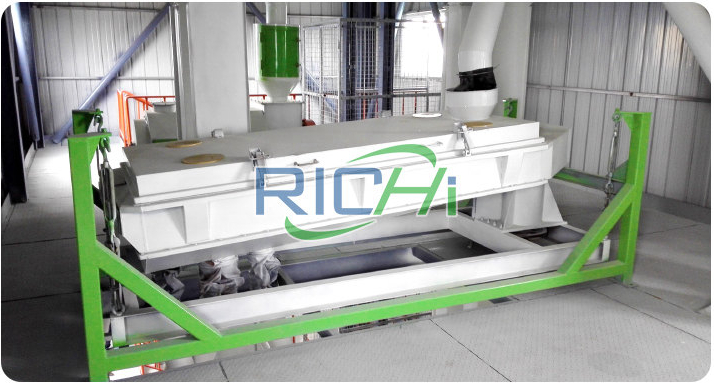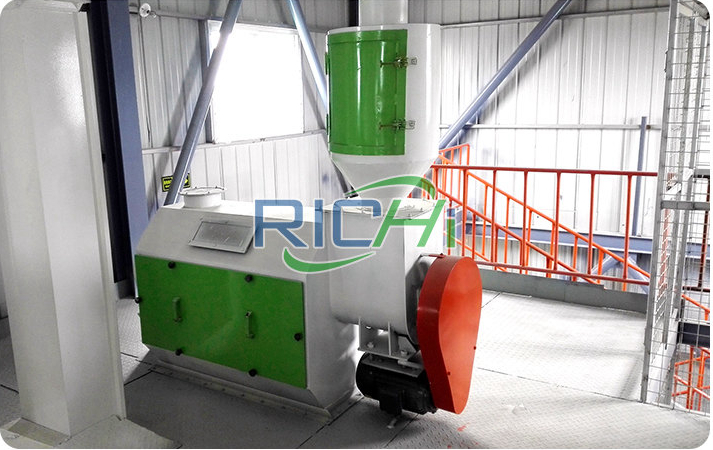 Algeria Customer
10-15T/H Poultry Feed Plant
Delivery
We arrange all packing, delivery, customs clearance and other services for our algeria customers. Bracket, tray and fully sheathed case act as the main packaging containers for storage equipments,shipped 40ft containers. Bracket and pallet are as the packaging container for side panels, reinforcing rib and vane. Goods like trestle stand, roof are packed with simple steel power (similar to bundle packaging), directly shippable. To ensure the safety of customer goods.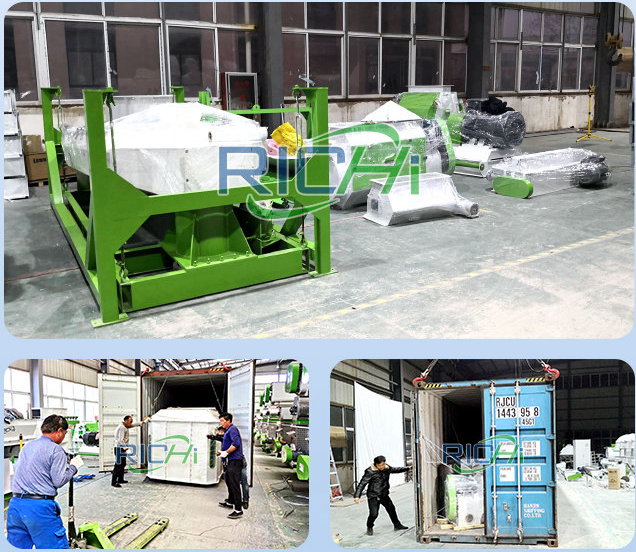 Why our customer will choose RICHI machinery?
First:Professional, As a professional feed machinery manufacturer with 27 years of experience, RICHI machinery is committed to providing custom ers with turnkey project solutions for feed production project . Provide customers with professional and convenient turnkey engineering services from customer consultation, proposal design, equipment production, product testing, equipment delivery, civil installation, training guidance, technical services, etc.
Second:Service, pre-sale service, our engineer will according customer requirement,workshop size,land size and others to design the suitable design, our engineer and sales revised 14 versions of the design for the client. On-purchase service, Our production department and after-sales department will timely update the production progress and pictures to customers, and at the same time do production testing for customers. After-service, we will provide all the install drawings and equipment list,and will arrange the install engineers to guide customer installation and production train.
Thirdly:Strength, The project covers 121 countries around the world, If you need to, you can always check out our programs in your country. More than 30,000㎡ of modern workshop, CE/ISO and other international certification, 27 patent certificates. We have enough strength to build projects for you.