Large turnkey poultry pig fish feed processing plant project with an annual output of 200,000 tons in China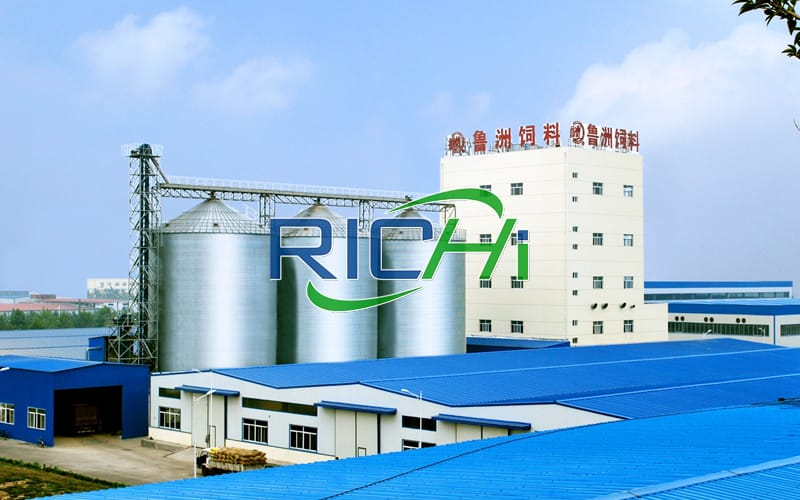 This large animal feed making plant project is a 200,000 tons per year poultry pig fish feed production project. The site selection should meet the following requirements: it is close to its raw material supply base, the cost of raw materials and finished products channels is lower than that of competitors, the sanitary conditions around the plant site are good, there are no places that hinder product hygiene, and the traffic at the site should be Convenience, sufficient water, electricity and natural gas supply and other conditions. After thorough research, the site was selected in Lizhou District, Guangyuan City.
The main supply channels for the processing materials of the large scale livestock and poultry feed production line project are divided into two parts: local and outside the province. The province is the main source. The source of goods (corn) in the province is supplied by Guangyuan City for more than half a year. Corn is supplied in the northeast, and the goods are inspected and paid by the poultry fish oig livestock feed mill company inside and outside the province, and the processing raw materials can be guaranteed.
Feed Factory Project Investment Cost: 60 million yuan
Project area: 55 acres
Construction period: 12 months (October 2008 to October 2009)
1.Complete 200,000 tons per year poultry pig fish feed plant project manufacturing process flow:
Feeding-cleaning-crushing-batching-mixing-granulating-cooling-screening-weighing-packaging-into the finished product warehouse
2.Machinery requirement for poultry pig fish feed mill plant with 200,000 tons per year capacity
| | | | |
| --- | --- | --- | --- |
| Number | Equipment | Model | Quantity |
| 1 | Double shaft animal feed crushing machine | Crushed corn (Ф3 mesh)>20 tons/hour, 75*2KW | 1 |
| 2 | Animal Feed Hammer Mill Grinder | Crushed corn (Ф3 mesh)>10 tons/hour, 75KW | 1 |
| 3 | Paddle mixer for poultry livestock feed | V=4m horizontal, mixing uniformity <5%, 30KW | 1 |
| 4 | ce ring die animal feed pelletizing machine | 15 tons/hour (Ф4 ring die), 150KW | 2 |
| 5 | pellet crumbler machine | 20 tons/hour, three-kun structure, 15KW | 2 |
| 6 | Counter flow pellet cooler | 15-20 tons/hour, (2.2+1.5) KW | 2 |
| 7 | Particle grading screen | 20 tons/hour, two-layer screen surface, 3KW | 2 |
| 8 | Electronic packaging machine | 25-50Kg/bag, 300-600 bags/hour, error ≤50g | 2 |
| 9 | Air compressor | The displacement is 3 cubic meters per minute, the pressure is 0.7PA, 22KW | 1 |
| 10 | Rotary distributor | Flow rate of 50 tons/hour, automatic positioning and locking structure | 7 |
| 11 | Liquid adding equipment | Adding speed 100L/min, adding accuracy 1% | 2 |
| 12 | Microcomputer batching system | Double scale, single scale, can weigh 12 varieties, dynamic accuracy 0.2% | 1 |
| 13 | Silo | Can hold 3000 tons of corn | 2 |
| 14 | Coal boiler | 4 Ton | 1 |