High Output
Good Sealing
Easy Maintenance
Strong Adaptability
TGSS Series Scraper conveyor
Scraper conveyors is mainly suitable for conveying various raw materials, semi-finished products and other small granular or powder materials in the food, oil, feed, light industry, pharmaceutical, brewing and other industries, especially in the production of pre-mixed feed and concentrated feed.
Mode:
TGSS20
Capacity:
40M³/H
Main Power:
3KW
Applicable Working Conditions:Poultry feed pellet line,Livestock feed production line,Ruminant feed pellet line,Wood pellet plant,etc
Applicable scale:1-72TPH Feed Production Line,1-30T Biomass Pellet Line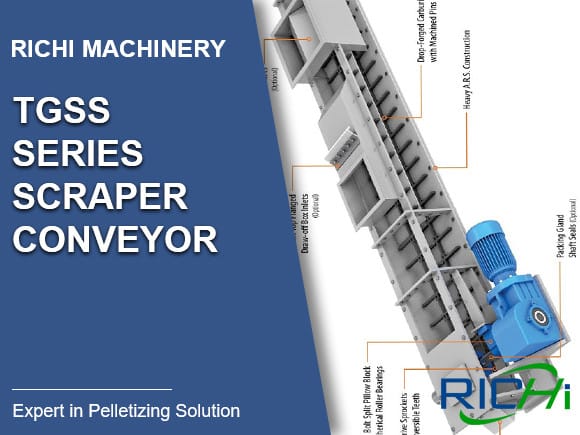 Technical Features
Safe and Reliable

A zero-speed detector is installed on the driven shaft, and the conveyor will be stopped immediately when the chain fails-so as to achieve effective and timely safety measures
Cost Saving

The number of wearing parts is reduced, and the maintenance cost is greatly reduced.
Large Output

Economical bending plate conveyor chain, suitable for conveying with output below 200 tons and conveying distance within 80 meters.
Convenient Replacement

The sprocket and chain links connected with bolts simplify and speed up the replacement process of components.
Reasonable Design

Adjust the tension device on the machine head to make the scraper work in the best condition.
Characteristic Supporting Roller

The supporting roller can effectively reduce the resistance of the scraper chain, reduce noise, power consumption and shock absorption.
Product Display
Richi Machinery is committed to providing customers with a complete set of safe and environmentally friendly feed processing solutions. With minimal investment, produce good quality feed pellets.
→ Please contact us if you are interested
Classics Around The World
Project Cases
CONTACT US
You can enter your detailed information and needs in the following forms ,such as your name, phone NO, Email address, feed kind,raw materials, capacity and so on. Once received your message we will contact you as soon as possible.
Straw

Alfalfa

Hay

Wood Chip

Tire Fiber

Palm Husk

Tree Branch

Wood Logs
Leave Message
If you have any questions,please leave us a message.