500KG/H Best Price CE Certificate Small Capacity Turnkey Beech Wood Sawdust Pellet Production Line Project in Ukraine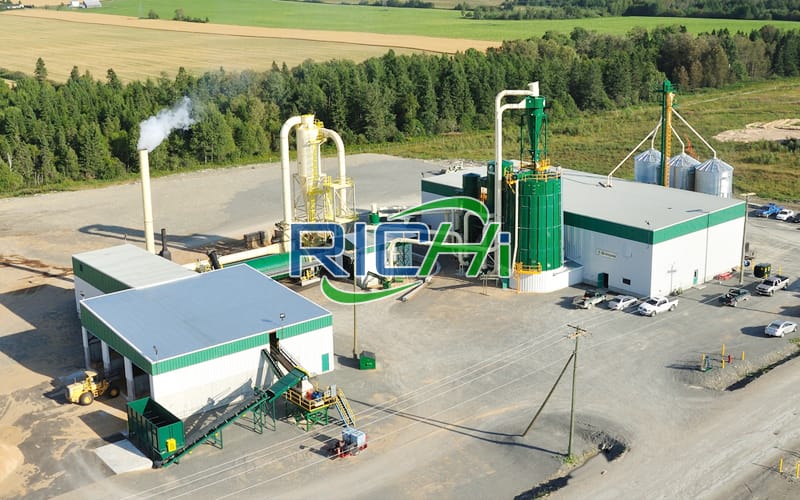 Beech wood waste pellets are the biofuels that are manufactured from sawdust or similar wood residues that can be easily obtained from the different industries. Depending on the purpose of use, wood pellets are used on the commercial as well as on a personal level.
People have been using beech wood for many purposes for years. Some of the common uses of beech wood include furniture production, flooring, cabinetry, boat production, etc. It is usually found in the cream color but sometimes has a pinkish or brownish shade as well. In the world, this wood is more common in European regions. Its surface is coarse as compared to other woods and you may notice small pores on it as well.
As mentioned above, beech wood is used in the production of many useful products. The sawdust obtained during the processing of this beech/oak wood is used to make beech wood pellets which are a great renewable energy resource. Beech wood has 12% moisture content which is considered normal for wood pellets production so you will not have to spend your time drying it for a longer period. Drying the wood is also very easy as it is its nature to shrink rapidly. Choosing beech wood as the raw material of wood pellet production business also saves investment cost. That is why using it in the production of wood pellets is a great choice for our this Ukraine client .
The 500kg/h small capacity biomass wood pellet plant for beech wood was built in Ukraine,project order time is mid-2018 and successfuly completed in 2019. The raw material was the beech wood. The required production capacity was 500kg/h-700kg/h. The best moisture of such mixture should be 12%. The wood pellet production process of this project included crushing, mixing, pelletizing, cooling, elevating and packing. The packages were divided into 15kg per bag and 1ton per bag to meet different market demands.
| | |
| --- | --- |
| Capacity | 500-700kg/h |
| Diameter of Final Wood Pellets | 6mm |
| Pellet Density | 1.2-1.3g/cm3 |
| Raw Material Moisture | 12-15% |
| Pellet Rate | ≥95% |
| Size of workshop | 16*13*6M |
1.Main machine in this 500kg/h factory sale new design biomass fuel beech wood sawdust pellet production line
industrial beech wood shredder chipper,super quality beech wood hammer mill for wood sawdust,ce industrial rotary drum beech wood sawdust dryer,ce Europe use beech wood pelletizer machine,pellet cooler,automatic packing machine,etc.
2.Features of This 500KG/H Small Scale Complete Beech Wood Pellet Making Plant For Fuel Pellets
(1)Small capacity;
(2)Lower investment input;
(3)Welcomed by most customers;
(4)Large raw material range: Sawdust, groundnut shell, sugarcane biogases, caster shells/stalk, coffee husk saw dust, paddy straw, sunflower stalk, cotton stalk, tobacco waste, mustard stalk, jute waste, bamboo dust, tea waste, wheat straw, palm husk, soybeans husk, leaves, grass, coir pitch barks/straws, rice husks, forestry wastes, wood chips and other kind of agro wastes.
If you are also interested in buying hot selling small beech wood pellet production line for European market to process biomass fuel pellets, just get in touch with us to get detailed technical paramaters and price list!