Wide Application
High Efficiency
Easy Maintenance
Strong Durability
SSLG Series Pellet Crumbler
Richi Crumbler is a kind of feed processing equipment that crushes the larger pellet feed products produced by the pelletizer and cooled by the cooler into the smaller pellet feed products. Instead of using small hole ring die which will reduce the capacity,it's an economical method for the production of small pellet feed.
Mode:
SSLG15X120
Capacity:
3-8TPH
Main Power:
5.5KW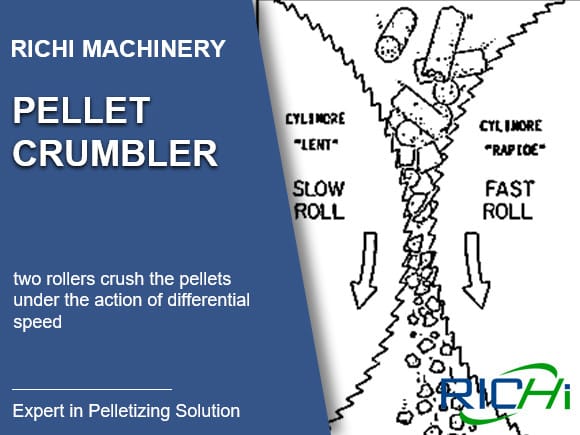 Technical Features
Wide Application

Used for breaking poultry and aquatic pellet. It breaks the big pellet pellet produced by pellet mill and cooler to required small pellet size.
High Efficiency

Traditional gear-driven design, lower energy consumption, more evenly granularity, higher yield.
Protection Device

With crushing roller protection device, it will automatically avoid when foreign matter enters, protecting the crushing roller from damage.
Personalized Configuration

Can deploy special roller gear according to customer 's requirement on granularity.
Strong Durability

The crushing roller adopts high chromium alloy, which has a long service life and can be processed repeatedly to reduce the use cost.
Characteristic Structure

Three roller structure, feeding roller on the top of fast roller and slow roller.
Product Display
Richi can customized the overall design and construction plan according to the specific requirements of customers. Through the optimized combination of various types of equipment, to meet different process requirements.
→ Please contact us if you are interested
CONTACT US
You can enter your detailed information and needs in the following forms ,such as your name, phone NO, Email address, feed kind,raw materials, capacity and so on. Once received your message we will contact you as soon as possible.
Corn

Soybean

Wheat

Soybean Meal

Maize Protein Meal

Cottonseed Cake

Rice Husk

Straw
Leave Message
If you have any questions,please leave us a message.