Poor market conditions, what should the pig feed factory do?
For the breeding industry, there are always times when market conditions are poor, such as the pig industry, low pig prices, and special conditions such as "African swine fever", which can easily cause farmers to be hit. So, how should small and medium-sized pig feed enterprises respond in the case of poor market conditions? Today, let's talk about 30% suckling pig concentrated feed.
Making good cost-effective suckling pig feed is undoubtedly the most important entry point for small and medium-sized feed enterprises. According to individual farming habits, in the case of poor market conditions, most farmers will choose to feed the suckling pigs with economically cost-effective 30% concentrated feed for suckling pigs after teaching the trough feed, and some do not even need to teach the trough feed directly. Feed with 30% suckling pig concentrate.
Because suckling pigs have higher requirements for concentrates at this stage, they should not only have reasonable nutritional mix, easy digestion and absorption, but also be economical, not dilute, willing to eat, willing to grow, and have good coat color. However, due to the limitations of their own technical strength, small and medium-sized feed enterprises often design and develop concentrated concentrates for suckling pigs, either diarrhea or poor palatability, or poor coat color, slow weight gain or high cost, and no profit.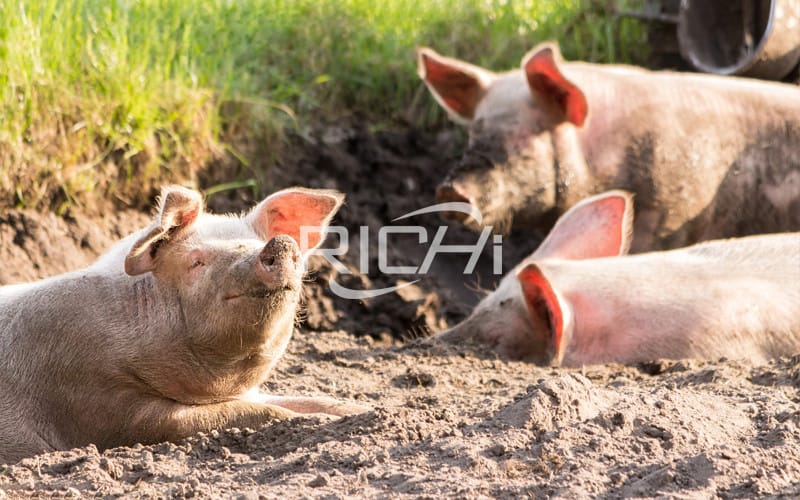 With more than 20 years of experience in front-line service to feed mills and technical accumulation in suckling pig feed, combined with years of research and improvement of various quality control points of pig feed production technology, Richi Machinery has formed a set of unique domestic pig feed mills. Comprehensive plan for various feed guidance services at the suckling pig stage, including a variety of services such as raw material selection, formula design, optimization, process production guidance, feeding scheme design and after-sales service assistance for the feed pig enterprises various types of materials can minimize costs, increase corporate profits, and achieve mutual benefit and win-win results.
1. Easy to use
Raw materials such as spray plasma, intestinal membrane protein, yeast hydrolysate and other raw materials that are difficult to purchase, poor in quality control, and used in small amounts are packaged, and processed by a special process to make a 30% special concentrate for suckling pig concentrate, one ton 30% suckling pig concentrated feed supplemented with 100 kg of core material. Feed enterprises also need to purchase conventional raw materials such as soybean meal, fermented soybean meal, expanded soybean, dicalcium phosphate, stone powder, etc., and can produce 30% suckling pig concentrate with high cost performance according to the formula and process provided by Richi.
2.The cost advantage
The technical team of Richi deeply studies the nutrition of suckling piglets. Based on more than 20 years of practical experience in formula production, the 30% concentrated formula has been designed. After years of testing by nearly 100 large-scale enterprises, the product is stable, economical and affordable. The formula cost and Its quality has excellent market competitiveness.
3. Fully consider the processing technology
Richi is a well-known feed machinery supplier in Henan Province, China, which has constructed more than 1,000 feed production lines for the world, and has conducted in-depth research on every aspect of the production process. Before making the formula, Richi will understand the production process of the feed factory in detail, design the pig formula according to the company's process equipment, and formulate detailed process parameters to guide the pig feed company's production.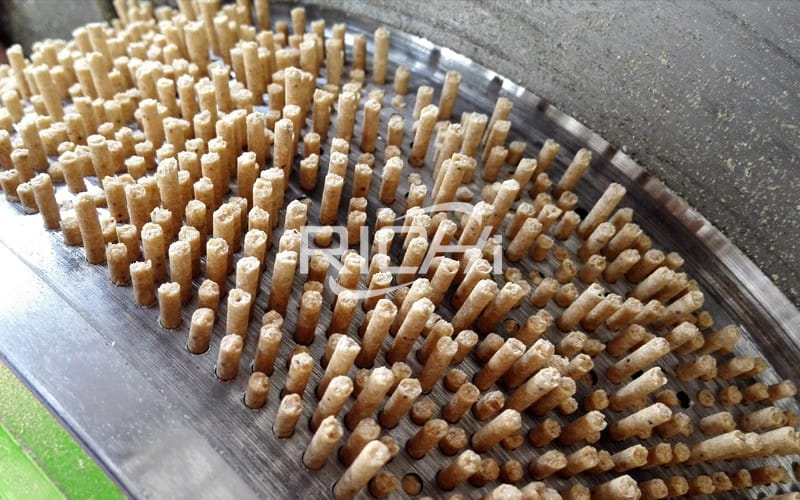 Over the years, everyone believes that the production process of concentrates is simple and does not focus on the requirements and standards of various quality control points. According to Richi's many years of experience in feed mill services, compared with full-price feed production, the production of concentrates The requirements are more elaborate, especially the production of suckling pig concentrate, which has higher requirements on the process, key quality control points and process parameter settings. According to the different equipment conditions of the feed factory, Richi can assist enterprises to formulate corresponding process parameters and help enterprises produce 30% suckling pig concentrate with market competitiveness.
(1)Suckling pig feed production processing line:
Receiving and Pre-cleaning Process--Grinding Process--Batching & Mixing Process--Pelleting Process--Packing Process
(2)Main Equipment Related to Complete Pig Feed Pellet Production Line: hammer mill - mixer - pellet mill - Cooler- Crumbler - Rotary Screener - Bagging Scale - Control Center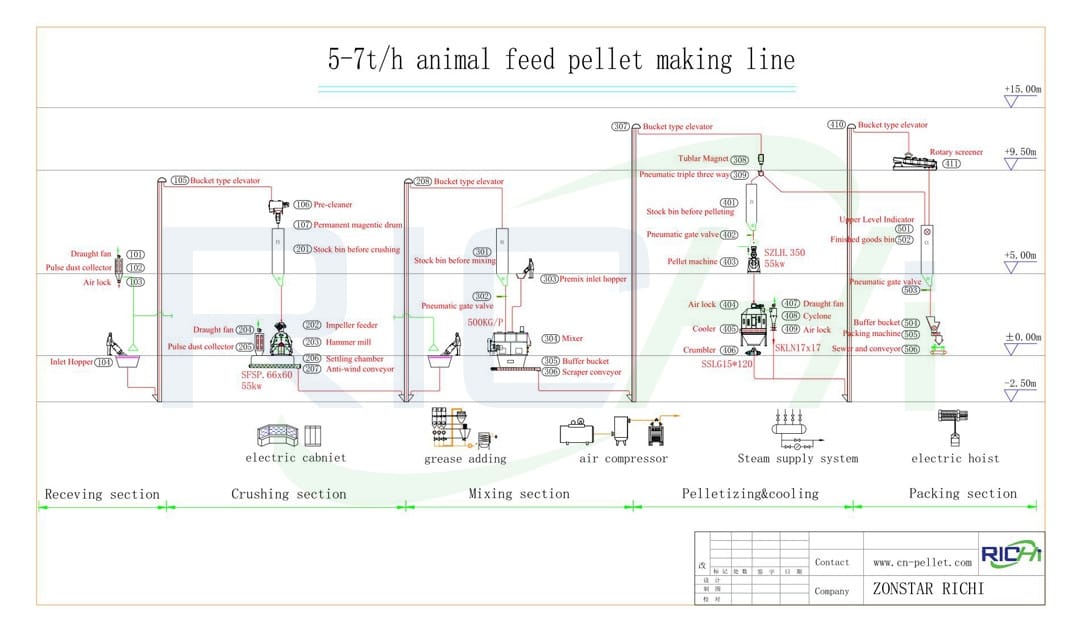 a.Grinding Process
The hammer mill can grind the raw material ingredients to the required size. The grind fitness is different of different grinders. We supply eight types of feed hammer mills. These pig feed hammer mills are suitable for small-sized or medium-sized feed pelletizing plants. The wide fine grinding hammer mills and tear circle hammer mills are usually used in large-sized and medium-sized feed pelletizing actories.
b.Batching & Mixing Process
The mixing time is 1-3 minutes, and the homogeneity can reach 10%. It can add water, oil and other liquids.
3.Feed Pelletizing Process
Feed pellet mill is the main equipment of the whole production line. There are several main common kinds of ring die feed pellet mills: Livestock Feed Pellet Mill, Combination of Livestock and Aqua Feed Pellet Mill, Aqua Feed Pellet Mill, Wood Pellet Mill. Also , you can according to the needs of yourself to customize modulator to apply to the production of different materials or feed object.
c.Pelleting Process:
The function of pelleting is to make fine crushed, easy flying dust, poor tastiness and difficult-to-ship feed into pellets by the action of heat, moisture and pressure in the granulation process to improve the good tastiness of the feed and reduce the feed-meat rate. Reduce feed waste and reduce environmental pollution. In this section, we adopt two double-layer conditioners pellet machines SZLH series, and bins designed above the pellet mill. After granulation, pellets enter into two coolers and crushers in sequence, and then passed through the bucket elevator to enter the rotary screener for sifting, the finished products enter the packing bin, and the rest returns to granulation or re-grinding.
d.Packing Process:
The powder and granules in the finished products bins which needs to be packaged will be packed by automatic packing machine, finished products that do not need to be packaged will be taken away by bulk truck.
If you are interested in a complete suckling pig feed pellet production line, please contact us for detailed consultation!
If you want to built one complete pellet production line in your country, pls send the inquiry to us. We will customized design according to your requirement.
Get The Quotation and Video.