Hot selling 10 ton per hour acacia wood sawdust pellet production line for sale
Today we are talking about "Hot selling 10 ton per hour acacia wood sawdust pellet production line for sale".How to make acacia wood wastes into fuel pellets in a 10t/h pellet wood palnt? Very simple, use acacia wood sawdust pellet machine. However, this equipment is only the core equipment of a pellet production line. If you want mass production, you still need a complete acacia wood producing line.

1.Good selling acacia wood pellet machine for fuel plant
Acacia wood is widely used in many parts of the world to make many different kinds of furniture. It is a favorite wood for bathroom and kitchens because of its water resistant quality, high durability and long life. Known by different names like Wattle, Thorn Tree or Whistling Thorn, this wood is native to Australia but can also be found in places in Asia like Malaysia, Indonesia, and Vietnam. Because it is abundantly available people use it for furnishing their homes. The result is a large amount of sawdust as a byproduct that can be used for making other things.
The most common product that can be made from sawdust is pellets, with the help of ring die acacia wood sawdust pellet machine from Richi Machinery. Many investors have bought these acacia wood pellet making machines and have started acacia wood pellet production line in Vietnam. It is an easy process but needs good machinery set to help you get good quality pellets.
Common Acacia Wood Pellet Mill for Industrial Scale 10t/h Acacia Wood Pellet Production( Generally speaking, a 10t/h professional wood pellet plant requires multiple pelletizers instead of one 10t/h pellet mill)
MZLH350 800-1000kg/h China professional factory offered high quality acacia wood pellet machine
MZLH320 factory offered hot sale 300-500kg/h biomass acacia wood pellet mill
MZLH420 high performance 1-2 ton per hour acacia wood pellet machine
MZLH520 new technology 2-3 ton per hour acacia wood pellet mill
MZLH768 2.5-4t/h easy to operate good quality acacia wood pellet machine
MZLH858 3-4.5t/h China hot sell good quality acacia wood pellet machine for sale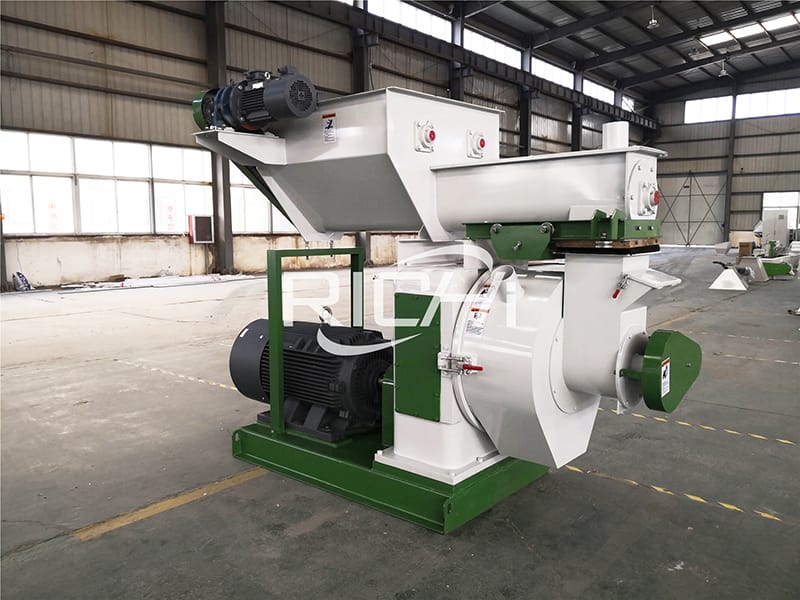 2.How to make acacia wood into pellets by 10 ton per hour acacia wood sawdust pellet processing line?
Let's take a look at how to make acacia wood into pellets.How to start your own 10tph acacia wood pellet production line with best business solution?If your raw mateirals are in large size such as wood chips and wood shavings, an acacia wood crusher is also needed.
(1)Crushing Process:
Crush the raw materials to the size suitable for the acacia wood granulator.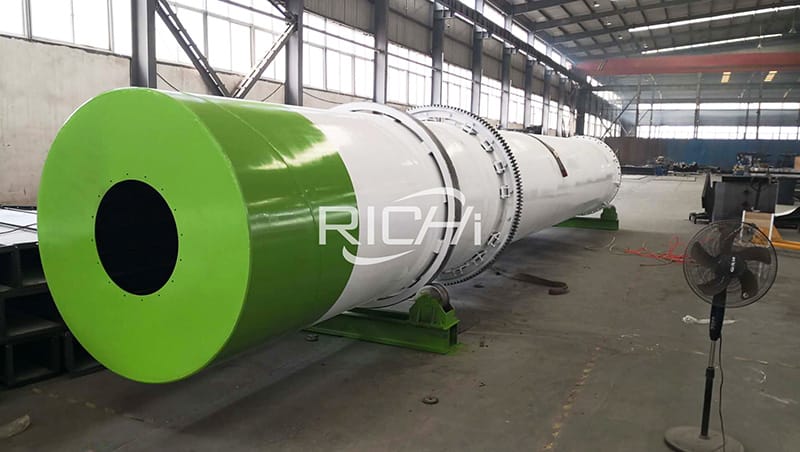 (2)Drying Process
The acacia wood contains a high amount of moisture, so it needs to be dried beforeit can be made into pellets. For this purpose, RICHI ce acacia wood sawdust drying equipment is most suitable because it can remove moisture to even less than 18% of original moisture content. The acacia wood sawdust is passed via conveyor belt andinto the rotary dryer for sawdust.
(3)Pelletizing Process
Once the sawdust has left off most of its moisture, it is passed into the acacia wood pellet processing machine. It is essential to know the ideal compression ratio to make perfect acacia wood pellets. Experts from RICHI have that expertise for making those perfect wood pellets. (Read more: acacia wood pellet machine for industrial scale production line)
(4)Cooling and Packing
The process adds heat to the acacia wood pellets and these needs to be cooled. The pellet cooler has the capacity tosieve through the broken and powdered pellets which can then be processed again. Once the pellets have cooled, they are packed for transportation.
3.What Makes Richi Machinery The Best Choice?
With a wide range of experience in manufacturing best price acacia wood pellet mill for processing hard wood wastes and making customized acacia wood pelletizing plant all over the world, RICHI use the best quality raw materials to make their high end facilities. Cost cutting by buying parts of machinery from different sources can lead to additional cost in repairing and bringing the pellet plant to working condition. It is advisable to trust RICHI for installing your entire pellet plant as a complete unit. With all our expertise in this industry, all you will need is to get your sawdust and start making the acacia pellets. Choose Richi Machinery,choose the best 10t/h acacia sawdust production machinery manufacturer.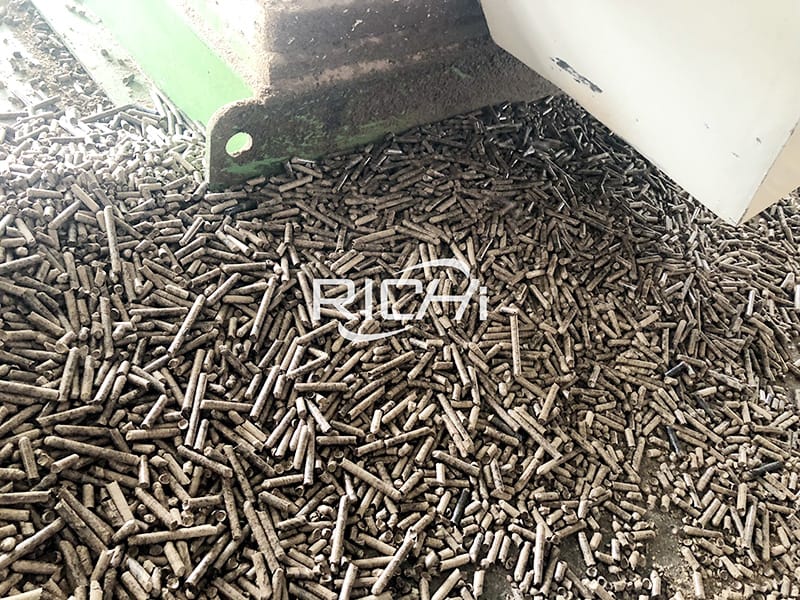 4.Acacia Wood Pellet Making Equipment Operation Tips
Although acacia wood pellet mill machine are relatively easy to use, there are various challenges that may arise during operation. It is important to have the necessary set of skills required for wood pellet equipment operation. This will not only help you avoid and resolve problems that arise, but also makes operation less daunting. How To Use Acacia Wood Pellet Press Equipment To Produce High Quality Acacia Wood Pellets?Here are a few things to consider:
(1)Raw Material Feeding
Feeding is very important and should be done correctly to generate the desired outcome. For medium or large scale acacia sawdust pellet production process, you can always buy a separate feeder together with your acacia wood sawdust pelletizing machine. These are much easier to use as they self-regulate the feed volume.
(2)Mold Aperture of Pellet Die
Acacia wood pellet processing equipment come with varying mold apertures to meet different requirements. It is recommendable to choose machines with bigger apertures unless you want very low yield. Small apertures can also result in feed blockage and complications.
(3)Pressing Gap
Before you start loading your raw materials into the acacia wood waste pelletizing machine, adjust the pressing gap (space between the pellet die and press rollers). This will give you the best quality acacia wood pellets.
(4)Cleaning
It is very important to clean your acacia wood pellet press mill after every use. If you do not take good care of the equipment, debris and feed residue will build up and lower its efficiency and longevity. You should also take some time to inspect the components and ensure they are in good condition before you start making acacia wood pellets. Cleaning also prevents infestation and germ build up.
(5)Lubricating and Maintenance
As mechanical parts with joints and rotating shafts, your acacia wood pellet pelletizer press mill requires lubrication and maintenance. You should regularly apply lubrication oil and butter to ensure your machine runs smoothly and efficiently. Maintenance checks will also help you identify areas that need adjustment or repair sooner rather than later. Use the lubrication oil before and after pelletizing process to remove away any mold.
(6)General Precautions
There are various basic instructions involved in operating acacia wood pellet pressing machines. When the machine gets stuck, you should immediately turn it off, find out the cause and resolve it before restarting. Regularly look out for worn out parts that should be replaced and vulnerabilities that may result in breakdowns. Set up the machine correctly before you start pressing and only use allowed materials.
5.Summary Of 10 ton per hour best selling ce complete acacia wood pellet production line for fuels energy plant
There are several other minor skills and observations important for safe operation of acacia wood pellet production equipment. These instructions will not only help you accomplish the wood pelleting task more efficiently, but also increase the service life of the equipment. It is generally advisable to read through the whole instruction manual that comes with the acacia wood pellet manufacturing machinery so you can understand how it works. This can help you detect when something is not right.
If you want to built one complete pellet production line in your country, pls send the inquiry to us. We will customized design according to your requirement.
Get The Quotation and Video.