Goodbye,African swine fever!
From the initial outbreak of African swine plague to the present, African swine fever is still affecting people's livesSo, what is African swine fever?
It is an acute, hemorrhagic and strong infectious disease caused by African swine fever virus. It has high infectivity, morbidity and mortality.At present, many epidemic areas in the country have killed tens of thousands of pigs, causing great losses and panic to the pig industry in China.African swine fever is spreading rapidly, and pig feed mill factories are unable to stay out of that.
In recent months, the news of suspected African swine fever virus detected in a feed sample still frequently appears., which has sounded an alarm to major pig feed making plant enterprises all over the country.
Feed, as the source of all nutrients for animal growth, is closely related to African swine fever. Now we must know that the problem of African swine fever is completely solvable:The virus may also be carried in feed raw materials, and can survive for a long time under conventional conditions. It can survive in soybean meal for more than 30 days.The striking research data make us realize that it is urgent to prevent African swine fever from the source by making high-quality and safe feed.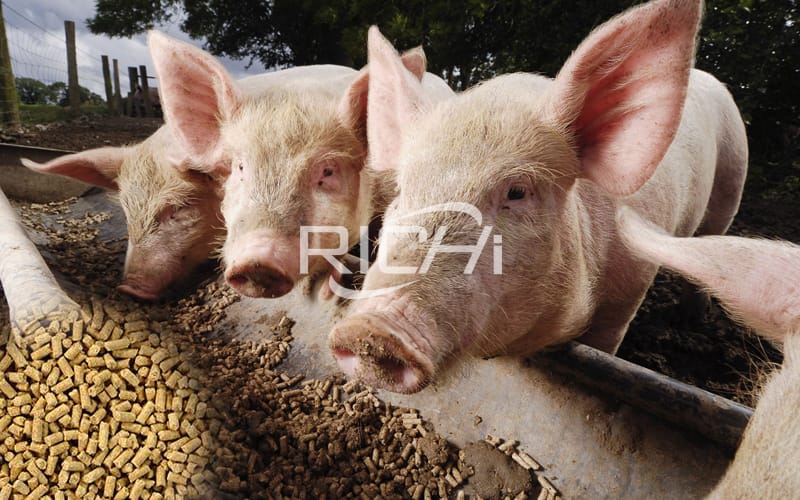 1.How to completely kill the African swine fever virus in pig feed?
The virus will be completely killed in the production process of Richi pig feed pellet processing technology. Matured feed can prove that when the product temperature reaches 55℃ for 30 minutes or 60℃ for 10 minutes or higher temperature for a shorter time, it can kill the African swine virus carried in the raw materials. Moreover, RICHI matured pig feed can not only improve the quality of feed and reduce the ratio of feed-meat, but also increase piglets'survival rate up to 97% during 7~31 days, and reduce feed-meat ratio by 2%, so as to create differentiated competitive advantages for pig feed factories and ensure the quality, safety and efficiency of pig feed.
2.How can pig feed pellet manufacturing lines achieve the production of feed without "African swine fever" virus to make it safe for pig?
Richi Machinery experts put forward several solutions for the upgrading of pig feed mills' maturing processing technology.
(1)Plan1:
On the basis of the original batching system, add a new maturing section(Add pig feed pellet making machine to extend the maturing time). It can realize the production of high-quality matured feed at low cost, help pig feed pelleizing plants fundamentally solve the problem of carrying African swine fever virus, and create long-term profits for pig feeds lines.
(2)Plan2:
Add a secondary batching system to increase the maturing section. It can ensure the production capacity, and produce matured feed without African swine fever virus, so as to enhance the competitiveness of pig feed productioon enterprises and create more value for animal pig feed pellet making lines.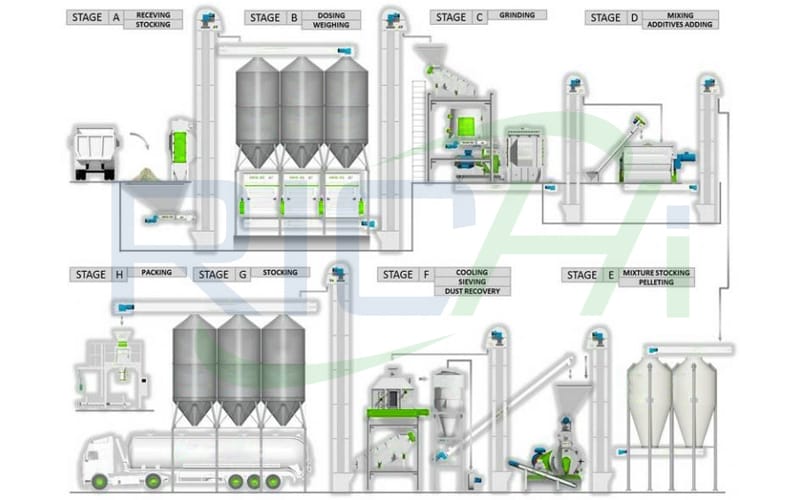 3.Advantages of construction and upgrading the pig feed processing line
The construction and upgrading of RICHI's pig feed manufacturing process production line can bring us:
(1)Kill the African swine fever virus from the source to make pig grow healthily.
(2)Eliminate anti - nutrition factors in raw materials, reduce the urease enzyme in soybean meal and no diarrhea, increase survival rate.
(3)Medium temperature (90 ~ 130 ℃) + low temperature granulating process keep the activity of the functional material in raw materials, improve the digestibility of feed, realize the value of nutritionist formula, make pig feed taste well, sweet, crisp and nutritious. There's no excessive internal heat and pig grows fast after eating it.
(4)Increase piglet feed intake, the total amount of feeding reaches 525-700g, improve the absorb ability of piglet's digestive tract. Usually, piglet can increase their weight with 1kg and pig can increase 10kg.
Richi Machinery is specialized in building professional and stable production lines for pig feed factories. It can not only kill the African swine fever virus in feed, but also improve the quality of pork from the source.
If you want to built one complete pellet production line in your country, pls send the inquiry to us. We will customized design according to your requirement.
Get The Quotation and Video.