How to make good quality piglet feed by pig feed production line?
The quality of raw materials is difficult to control; there is no backbone technical force; the formula is unreasonable; piglets have severe diarrhoea... Perhaps many small and medium pig feed mill factories will encounter these problems during the production of piglet feed. Since it has the most stringent technical requirements, the SMEs are limited by their own reasons, the above problems are difficult to solve.How to solve these problems?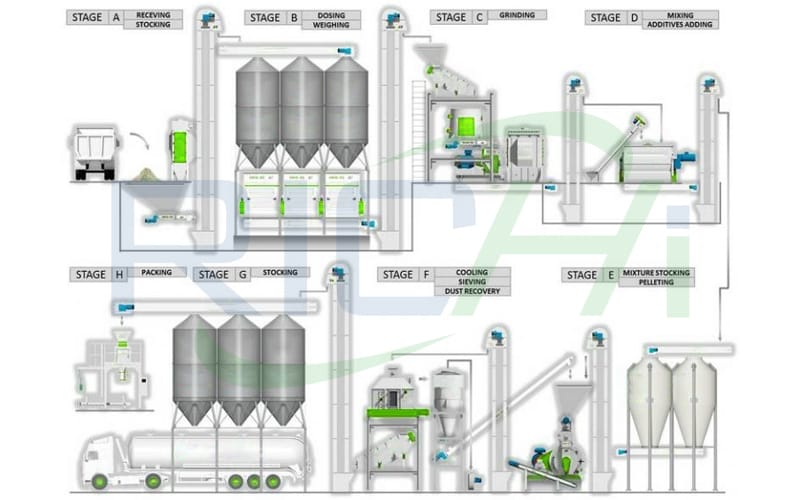 1.Step One: Select raw material
(1) Corn: Select high-quality fresh corn, and before crushing, the corn must be sieved by the drum-type cleaning sieve (two-layer sieves) to clean up broken particles, unsaturated particles and dust.
(2) Extruded soybean powder: fresh, preferably used up in two weeks.
(3) Soybean meal: select peeled soybean meal with protein content of more than 45% to reduce anti-nutritional factors.
(4) Better to mix crushed rice or flour to increase the gelatinization of feed.
2.Step Two: Select pig feed processing technology
(1) Choose the pig feed maturing processing technology
Maturing processing technology is the most advanced technology for piglet feed production process in China at present. It allows the material to be fully conditioned, under the conditions of high temperature and humidity, through the special spiral strong extrusion and shearing action, to form short-term and medium-temperature (90-130℃) conditions, to fully mature the material, kill harmful microorganisms and destroy or passivate the anti-nutritional factors in the raw material, and bind the material into slices or lumps. It makes pig feed fragrant, sweet, crisp and nutritious. There's no excessive internal heat and pig grows fast after eating it.
(2) Choose secondary pig feed pelleting processing technology
Richi Machinery, through 25 years of service experience to thousands of pig feed mill plants, has explored a set of technology - secondary pelleting processing technology - to help manufacturing plant for animal feed to make good piglet feed.
Due to the different technology and equipment of each pig feed production factory, Richi Machinery professional technical service personnel will formulate a set of rigorous secondary technology parameters according to the specific conditions of each enterprise for each quality control point of piglet feed pellet production process, and provide on-site guidance to help pig feed processing plants make piglet feed with stable quality.
Secondary pelleting processing technology, if reasonably controlling the quality control point and using the technology parameters provided by professionals, you will greatly reduce the nutritional loss of heat-sensitive raw materials, improve the gelatinization of starch, improve the palatability of feed, and produce crisp but not hard, loose but not scattered piglet feed.
With the continuous innovation and progress of technology, it has become a trend to choose maturing processing technology to produce pig feed. RICHI's unique piglet feed processing technology creates value for you!
[More info about pig feed]
(1)Complete 1-40 ton per hour pig feed production process
(2)CE certificate pig animal feed pellet mills price
(3)500KG/H pig horse cattle feed grinder machine with CE
(4)Good quality pig poultry feed mill for sale
(6)1-20TPH pig manure organic fertilizer pellet making plant
If you want to built one complete pellet production line in your country, pls send the inquiry to us. We will customized design according to your requirement.
Get The Quotation and Video.