Uzbekistan 15T/H Chicken Feed Pellet Line+Pre-mixing Feed Line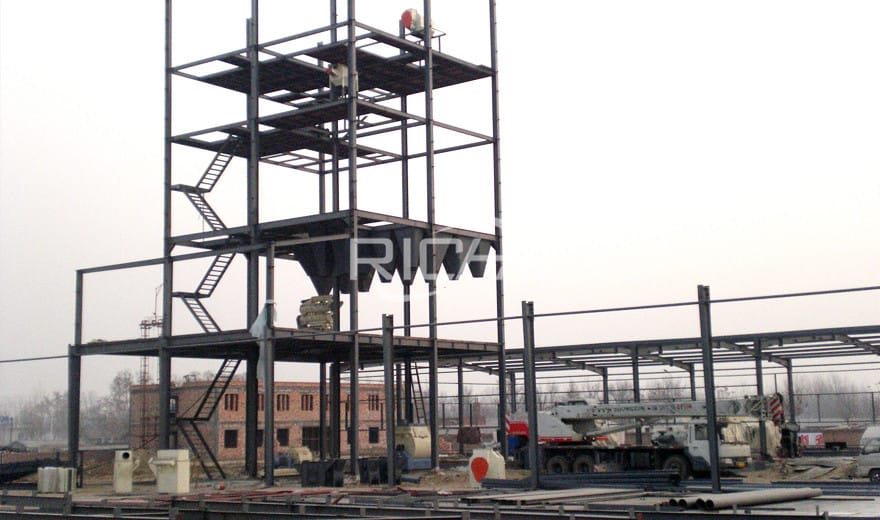 To further develop the poultry industry and increase production, Uzbekistan plans to implement about 530 projects, with financial support for new farms exceeding US $ 62.4 million. But without balanced feed, the development of poultry production is impossible. Therefore, Uzbekistan has also approved a list of breeding materials, processing methods and auxiliary equipment developed for animal health products for animal feed production, exempting import duties from the Republic of Uzbekistan. Thanks to the subsidy of the Uzbekistan government, the local vigorously develops the aquaculture industry, and Richi Machinery has established 13 feed pellet production lines in Uzbekistan in only two years. Footprints all over in Samarkand, Urgench, Tashkent, Fergana, Gizak Traces, covering chicken feed, cattle feed, fish feed, premix, etc. This 10t/h computer automatic batching chicken feed line&5 tons premix feed line project was established in Tashkent.
This project is divided into a 10t/h chicken feed pellet production line and a 5t/h premix feed production line. In order to reduce construction costs and develop new profit growth points, the client decided to invest in the production of two feeds at once in this project. After various investigations, the product of Richi Machinery was finally selected. The production line is a turnkey project. Richi contracted all equipment installation and commissioning including foundation of civil engineering. The production line was put into production in early 2019. Now,the operation of the production line is stable,the quality and output of the finished pellets have reached the customer's requirements.
Main machine in this project:Poultry Chicken Feed Grinder*110kw;Batching Scale*1000kg/batch;Animal Feed Premix Mixer;Poultry Feed Mixer Machine*1000kg/batch;Poultry Chicken Feed Pellet Making Machine*110KW;Pellet Cooling Machine*SKLN20*20;Crumbler Machine*SSLG15*150;Vibrating Sereen;Bagging Machine and other auxiliary equipment.
The field trial operation proves that the actual measured output of Richi's 10t chicken feed production line is up to 13 tons, the operating current only accounts for 85% of the rated current of the motor, and each ton of feed can be 20kW•h less than the industry average power consumption. The output is calculated on the average yield of 11t/h (the initial design capacity is 10-12 tons), set to produce 8 months a year, 30 days per month, and 10 hours per day.Compared with common chicken feed production lines of the same grade in the industry,this line can save 288,000 kWh of electricity,one yuan per kwh can ultimately save customers 28.8 million (calculated in RMB).
Customer's Feedback:
I used the process and equipment configuration customized by Richi. I am very satisfied with this. It not only has a reasonable configuration, high degree of automation, and large output, but also very thoughtful after-sales service. The important thing is that I have obtained a higher economic profit from it. The original plan to recover costs within two years, now it seems that one year is enough.