Turn coffee ground & coffee shell into biofuel pellets by coffee husk pellet mill machine
Coffee beans are used throughout the world to make an energy-boosting drink called coffee. During the preparation of coffee beans or coffee, a lot of residue in the form of coffee shell and the coffee ground is obtained. This residue, after processing, can be used to make coffee pellets that are further used to generate steam, to heat the greenhouse, and to run other heat dependent processes. The top coffee producers are Brazil, Vietnam, Colombia, Indonesia, Ethiopia, Honduras, Uganda, etc. Starting coffee pellets manufacturing business in these regions would be also promising, profitable and has great benefits.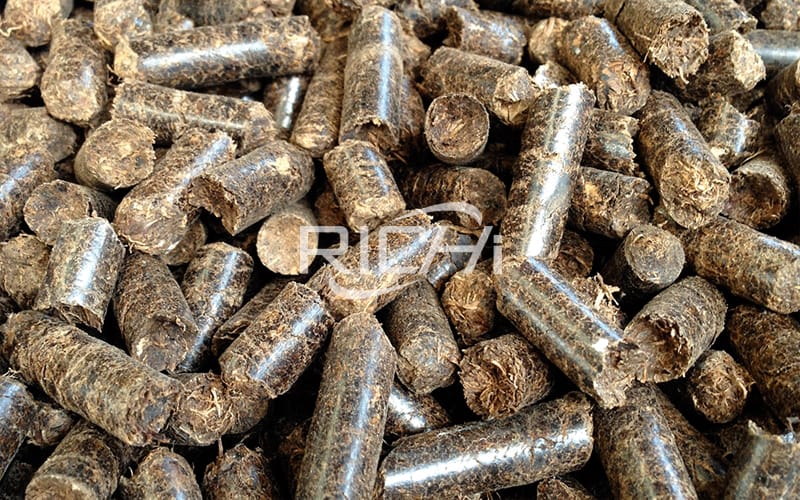 1.Using Coffee Husk Pellet Mill Make Pellets from Coffee Shell and Coffee Grounds for Indonesia Market
Recently, one of our Indonesian customers sent his raw material to our factory for testing of pelletizing. The raw material is the coffee ground and coffee shell. They have many waste coffee shell and coffee ground and they planed to set up a biomass coffee husk pellet plant to turn these waste materials into biomass fuel pellets.
2.Test Result of Manufacturing Coffee Ground and Coffee Shell for Biomass Pellets
After receiving the raw material from the Indonesian customer, RICHI factory technical workers tested the coffee shell on different data with a good result. Both of the two kinds of raw material can be made into good quality pellets by our coffee pellet making machine. Coffee ground and coffee shell can be made into high quality pellets respectively based on the actual detecting and testing. However, if they are mixed together to produce pellets, the result is disappointing. Therefore, our technician suggested that coffee ground and coffee shell can be made pellets respectively instead of mixing them together.
3.How to start your own production line with best business plan?
How to start your own coffee husk production line with best business plan?The answer is ring die biomass coffee ground pellet making machine.To build coffee husk pellet production line for biofuel pellets manufacturing business, ring die pellet machine is more suitable compared to other type pellet making machine. Generally, the pellet production output of ring die coffee pelletizing machine can reach to 0.3~4.5T/H.
New type ring die coffee husk pellet machine with ce can greatly improve the production capacity, but requires more investment capitals. Starting a large biomass coffee husk pellet production plant of coffee waste pellets requires good quality coffee husk pellet mill machine, biomass rotary dryer, packaging machine and more.
Making coffee ground &coffee shell into bio-fuel pellets has been the popular industry currently. Different ring die biomass pellet making plant can turn coffee shell, coffee husk and coffee ground into high quality pellets. But, the price and capacity of the biomass pellet processing plant are different. For the price list and machine parameters for biomass pellet mill production line, please contact RICHI directly!
The coffee ground and coffee shell sent by our Indonesian customer is only one of the various residue materials. Materials like crop husk, wood residue of the furniture factory and wood chips are the quality raw materials for making biomass fuel pellets. If you have plans on the investment in biomass fuel pellets, we can offer integrated biomass pellets manufacturing solutions, which starts with crushing the raw materials and ends with pellets packaging. Welcome to contact Richi Machienry to get more information!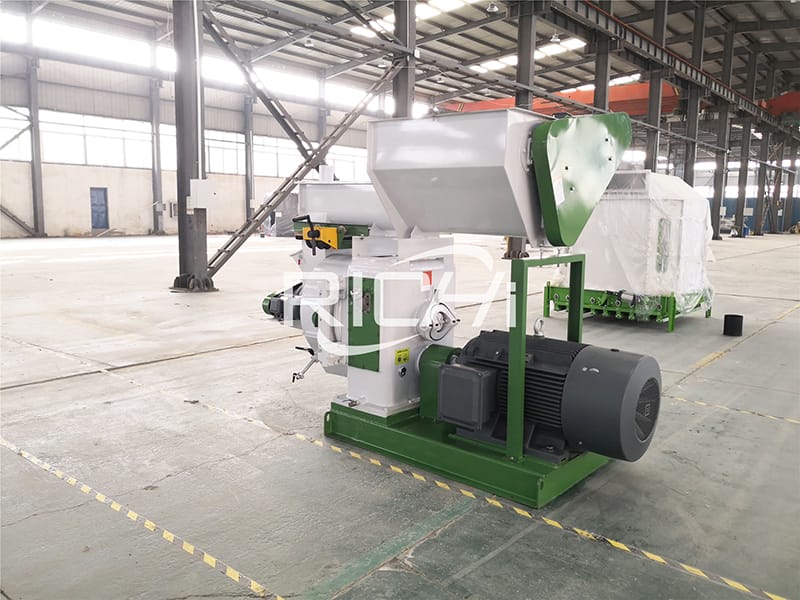 4.Step by Step Guide to Making Coffee Husk Pellets
The process of making coffee pellets in coffee husk pellet production manufacturing line consists of the following steps:
(1)Dry Coffee Husk or Coffee Ground to Reduce Water Content
The moisture content of coffee residues should be from 10% to 15%. If it is more than this amount, you will first need to dry it to make pellets of high quality.
(2)Crush Raw Material to Reduce Its Size
Coffee ground is already in its grounded form so it generally does not need to be crushed. However, if you are using coffee husks you should crush it in a hammer crushing machine to reduce its size as much as possible. Crushing the raw material is necessary to make it suitable for the coffee pellet machine.
(3)Make Coffee Pellets through coffee husk pellet mill
RICHI factory directly supply good coffee husk pellet mills has two important parts called dies and rollers that play a crucial role in giving raw material a particular shape and size according to your demands and needs. You can create pellets of different diameters and lengths through this good quality coffee husk pellet machine.
(4)Reduce Temperature of Final Product
After bearing lots of pressure, pellets that come out of the pelletizing machines have a high temperature. This temperature must be reduced before these pellets are packed to be sold in the market. Temperature is either by spreading pellets in an open area or by using a biomass pellet cooler machine.
(5)Pack Coffee Husk Pellets
Finally, pellets are packed either manually or through a machine. Packets used should have your brand name and logo. It is better to use waterproof bags or packets so that pellets do not get damaged by coming in contact with water.
If you have any questions about coffee waste pellets making from coffee ground or coffee husk, or other biomass materials, please just send us your requirements. A pelletizing test is always available. Just feel free to contact Richi Machinery without any hesitation!
If you want to built one complete pellet production line in your country, pls send the inquiry to us. We will customized design according to your requirement.
Get The Quotation and Video.