Low Cost 1-5 Ton Capacity Floaing Fish Feed Pellet Extruder Machine Price In Ghana
How much are 1-5t/h fish feed line floating fish feed production equipments in Ghana? Today we will talk about "Low Cost 1-5 Ton Capacity Floaing Fish Feed Pellet Extruder Machine Price In Ghana ".
Global aquaculture production reached 82.1 million tons (without aquatic plants), accounting for 46% of total aquatic product production and 52% of human fish consumption; the main cultured species are grass carp, silver carp, tilapia, carp, bighead, Kerala barb, etc.; the main breeding countries are China, India, Indonesia, Vietnam, Bangladesh, Egypt, Norway and Chile.
The world's production, consumption and trade of aquatic products will continue to grow, but its growth rate will remain at a low level for a long time. By 2030, the total output of fisheries and aquaculture will increase to 204 million tons, and the annual per capita consumption of aquatic products will be 21.5 kg. Aquaculture production will continue to grow, although the growth rate will slow down, it can still fill the gap in the supply and demand of aquatic products.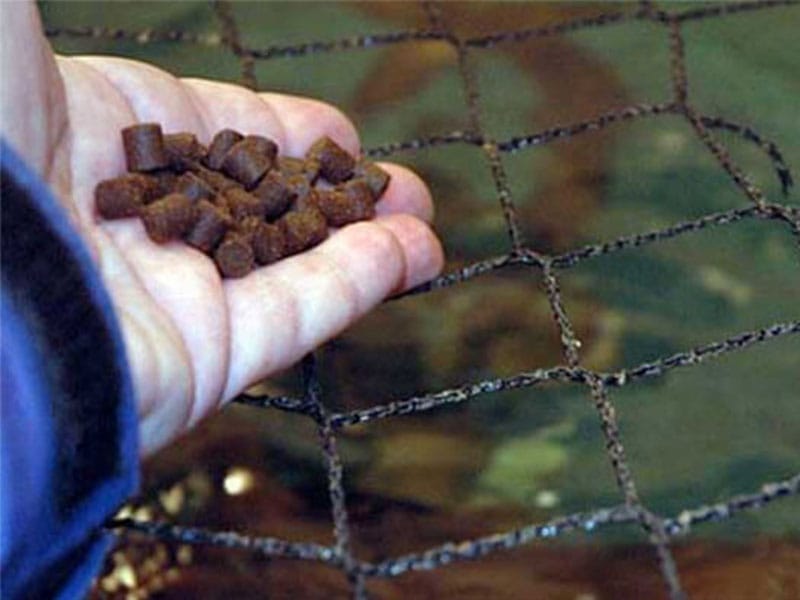 1.Aquaculture Market in Ghana
The growing global and national demand for fish and the dwindling supply of the Ghanaian economy is another reason for the development of aquaculture. In Ghana, more and more people are shunning red meat as a source of protein and turning to fish because of the health effects.
These are the main drivers of the market and the industry. Also due to the role of fisheries in its contribution to GDP, the government has promoted aquaculture as a means of increasing the annual decline in ocean fishing, providing food and employment to the population.
Ghana has a high domestic demand for fish and one of the highest per capita consumption rates in the world (20-25 kg/year). Rapid population growth and urbanization mean that Ghana's aquaculture market is also expanding, un-habitat predicts. Currently, 87% of households in Ghana are recorded as consumers of tilapia, especially smokers. Ghana also spends heavily on hotels, restaurants, and other food services.
2.Material Needed For Fish Feed Production In Ghana
The protein requirement of fish feed is relatively high, so the protein raw material ratio in the raw material will be higher. The main protein raw materials are: fish meal, soybean meal, ddgs, and various oil crop seeds that are actually pressed. In addition, the main raw materials commonly used in feed are: corn, wheat bran, secondary flour, rice bran, etc.
3.Why start 1-5 ton per hour aquatic floating fish feed production business in Ghana?
Feed constitutes the highest production cost (above 60%) in fish farming, especially in cage farming where complete floating feeds are used. Floating feeds are partly imported and produced in Ghana. The price of fish feeds fluctuates depending on the availability and prices of raw material on international markets. Locally manufactured feeds are on average 30% cheaper than imported feeds.
In Ghana, fish feed is imported duty-free and operated by the private sector. All imported feeds are float-expanded feeds with particle sizes ranging from 0.3 mm to 6 mm.Powder/shredded fish feed is also imported.
Beside commercially produced feeds, farm-made feeds and supplemental feeds (agriculture by-products) are being used locally, mainly in pond farming. The formulation of farm-made feeds is mainly depending on the costs of ingredients rather than the nutritional requirement of the fish. Feeds are pelletized using simple other purpose build electric devices and presented to fish either as wet doughs and moist feeds during the rainy season and as dried feeds during the dry season. Very few farmers use premixes in the feeds. Farm-made feeds are poorly bound and quickly disintegrate in contact with water. They are also poorly digestible. Small-scale pond farmers practice supplemental feeding additional to pond fertilization. Common supplemental feed ingredients are wheat bran, maize bran, rice bran, and other cereal brans, which are readily available on the market. A minority of pond farmers use commercial floating feeds.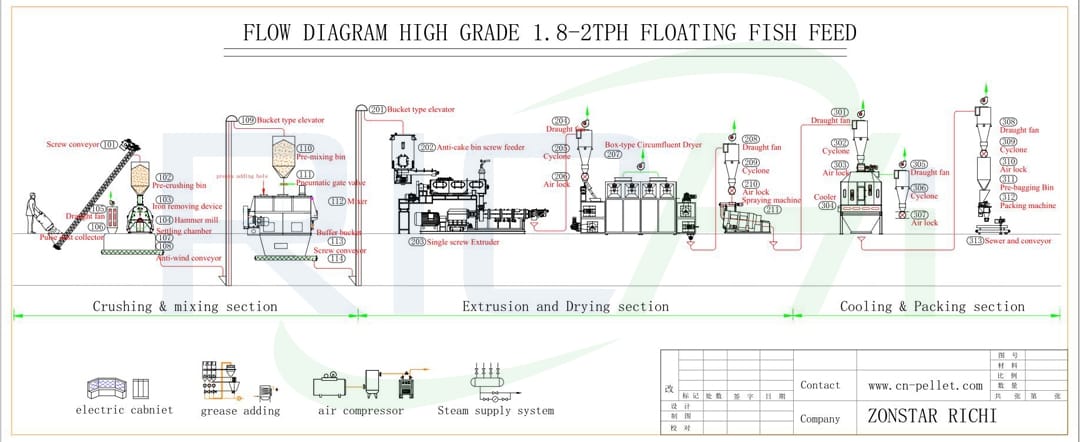 4.How to make fish feed by floating fish feed extruder machine in Ghana?
Floating fish feed extruder also can be used to produce extruded pet food, (floating) extruded aquatic feed and extruded animal feed.The extrusion cooking process will lead to a large number of starch gelatinization, so the feed has good water stability. It can produce both "extruded" floating feed and sinking feed. The process also improves the digestibility of the product.
Fish feed pellets that contain ingredients such as soybean meal and cereal grains are more digestible and therefore more nutritious. Floating fish feed is made by fish fodder mill extruder, and sinking feed with high water stability can also be made by fish feed extruder machinery. In some cases, extruders are used only to prepare feed materials, such as the dry extrusion of soybeans.
Basically, the 1-5 ton per hour capacity floating fish feed extruder is a long barrel with an auger that is specifically designed to expose the incoming mixture to high heat and steam pressure. When the feed comes out of the die at the end of the barrel, the captured steam is quickly blown away, and the soft warm pellets expand, producing a low-density floating pellets. The extruder is widely used and can be made into feed with many different characteristics.
1-5 ton per hour fish feed extruder machine price is usually between 20000USD-80000USD.
5.How to start low cost 1-5tph capacity fish feed production plant in Ghana?
To make different fish feed pellets for setting up fish feed plant, the production process, required equipment and investing cost are different!The following RICHI will share "1-5 ton per hour capacity floating fish feed plant manufacturing process".
(1)Raw Material Selection
Besides the nutritional value, the processing characteristics of aquatic feed raw materials should also be an important factor to be concerned about. The ideal processing characteristics of aquatic feed raw materials are not only manifested by larger output and less energy consumption in crushing, mixing or granulation, the more important point is that the final produced fish feed pellets must have good stability in water.
(2)Crushing
Crushing process can reduce raw material size to desired particle size. For even larger aquatic fish feed manufacturing factory, the crushing process adopts secondary crushing technology, that is: first normal crushing, and then fine crushing.
(3)Mixing
Mixing is one of the most important processes in 1-5tph ce high quality aquatic feed production plant. If the physical properties of feed ingredients are the same, mixing is very simple. But as a matter of fact, the physical properties of feed ingredients are varied, and the problem of mixing and separation coexist. These physical properties include: particle size, particle shape, density or specific gravity, hygroscopicity, static charge and viscosity.
(4)Conditioning (optional)
Conditioning is to add water and heat to the powdery material before making fish feed, it can: improve the digestibility and water resistance of feed, kill pathogenic bacteria. Usually this process is realized by wet type fish feed extruder, but its price is much higher. So, for ordinary fish feed production, this process is not necessary.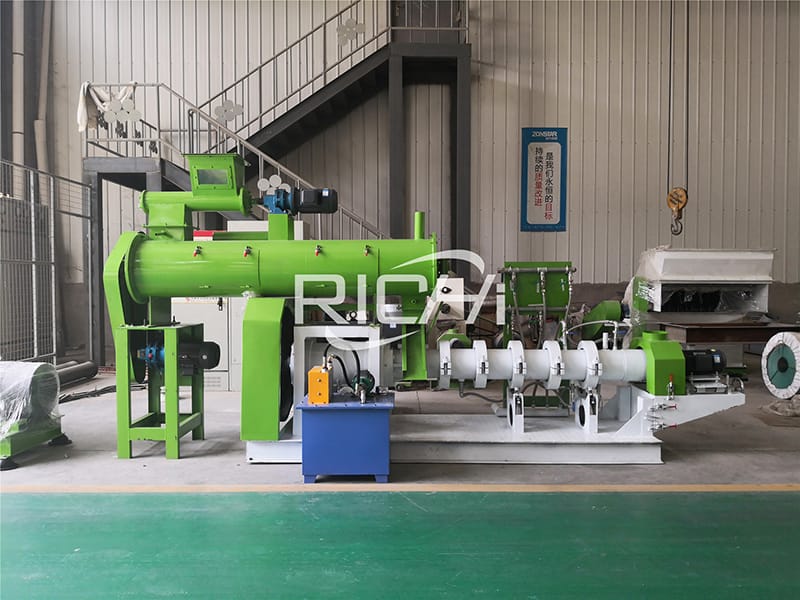 (5)Floating Fish Feed Pelletizing or Extruding
For making fish feed pellets, there are mainly 2 types of fish feed processing machines can be adopted: Common Feed Pellet Mill & Fish Feed Extruder,today we are talking about extruders suitable for the Ghana market.
(6)Floating Fish Feed Pellets Drying
In order to prevent mildew of fish feed, aquatic feed must have good anticorrosive property. For fish feed factories, the most economical way is to reduce feed moisture, this is realized by dryer. The 3-layer drying machine can improve drying space and efficiency, at the same time screen fish feed pellets and seprate the powder. After heating and drying, the moisture content of the product is controlled below 11.5%, plus a well sealed outer package, generally, the feed can be stored safely for a long time. This physical anticorrosion method does not change the composition of feed, change the pH value of feed, nor affect the water quality of and feed quality. It is a safe and effective method.
(7)Out-spraying
In fish or aquatic feed production, the edible oil and heat-sensitive components are usually sprayed by drum-type sprayer. When feed pellets fall, the vaporous liquid material is sprayed to them, so feed pellets can fully contact with droplets in the air. The main technical points of this external sparying technology are:
(1) make the liquid atomized as much as possible. The smaller the droplets of atomization, the more uniform the distribution of liquid in the particles. To do this, the design of the spray nozzle is very important;
(2) the weight of the particles and the liquid material match. The outside spraying process is a continuous operation process, so the water solubility of spraying liquid must be considered to avoid loss into the water.
(8)Floating Fish Feed Pellets Cooling
The fish feed pellets, after spraying liquid, are conveyed to counter-flow cooler. The counter-flow cooler has many advantages in fish feed pellets processing, such as high automation, small air volume, low power consumption and small floor area.
1-5 Ton per hour capacity low cost floating fish feed making plant price is usually between 30000USD-400000USD.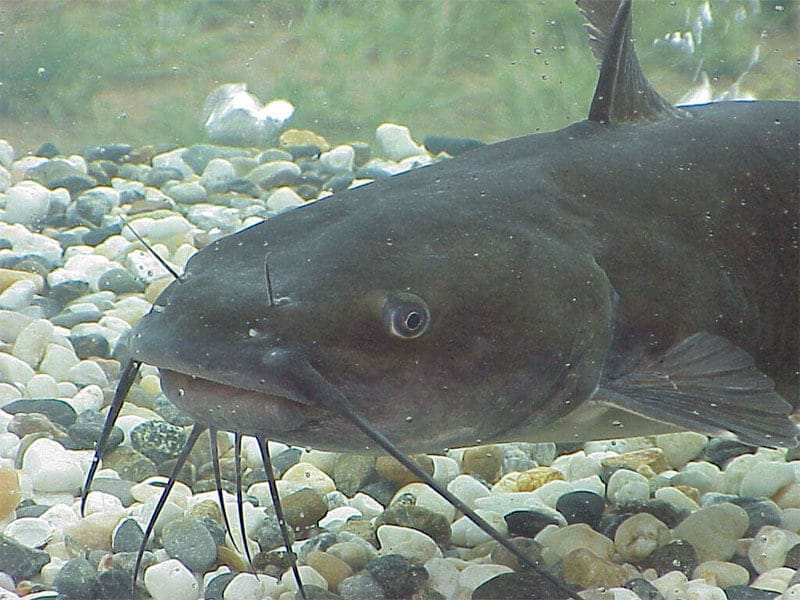 6.Feeding Your Fish in Right Way
Fish pellets come in different sizes to accommodate the size of your fish. There are nursery feeds and grow out diets suitable for a wide range of fish jaws. You can crush the fish feed pellets in large size with a pair of pliers to feed small fingerlings and also can feed larger fish directly, but on the whole it.s necessary to get the pellet to match the size of your fish. Mature fish older than 12 months have no problem feeding on larger sized pellets when they hit the water. Fish feed pellet machine is the indispensable equipment to make fish feed pellets.
(1)How Many Fish Feed Pellets Do You Need?
A 10 kilo bag of fish feed pellets will last about 6 months. You can hand feed your fish three times per day just enough feed to disappear within a minute or two. After a while you will get a feel as to how much feed your fish will tolerate. Fish tend to eat more during their preferred climate conditions. Fish like warm tropical conditions and eat more feed over summer than they do in winter. Sometimes due to barometric weather conditions, an approaching storm etc, they will go off their feed for a day or two.
(2)Sinking Or Floating Pellets?
When making fish feed pellets you can specify what type of fish pellet you required – floating or sinking. Some fish feed best on sinking pellets. There is no difference between the two types of pellets. The fish feed pellets made by the fish feed extruder is either pressurized more densely, so it causes the pellets to be more compacted which causes them to sink rapidly or they are lightly pressurized in the extruder. So they expand slightly, trap more air, and are termed as floating fish feed pellets. Around 10% of floating fish pellets however do tend to sink.
(3)Big Feeds Or Small Feeds?
Lighter feeds more frequently throughout the day rather than one big feed once a day. Dumping a heap of fish pellets into your fish tank will cause an ammonia spike that can cause problems if your system is new. Some larger systems use commercial fish feeders that drop a small portion of feed directly into your tank numerous times throughout the day. This is really a great idea to encourage your fish to strike quickly and an easy way to fatten them up quickly if you are unable to fuss around the tank all day. Ad-hoc backyard feeding methods will mean your fish will take longer to grow out. Giving your fish the necessary protein, keeping your fish pellets fresh and frozen at regimented serving portions throughout the day and into the year is a great way to fatten your fish quickly.
If you want to build your own 1-5 ton per hour capacity reasonable design low cost fish feed production line, welcome to learn more about Richi Machinery——A professional fish feed making machine plant manufacturer from China.
If you want to built one complete pellet production line in your country, pls send the inquiry to us. We will customized design according to your requirement.
Get The Quotation and Video.