How much do you know about China factory offer new design small pellet production line?
Small scale wood pellet plant is a complete set of equipment for wood pellets making. Usually, there are two types of small pellet plant. One is mobile pellet plant that is welded by the manufacturer; another is complete pellet plant that needs to assemble by yourself.The mobile pellet plant has very few applications, while the small complete biomass wood pellet plant type is quite flexible, allowing you to choose according to different needs.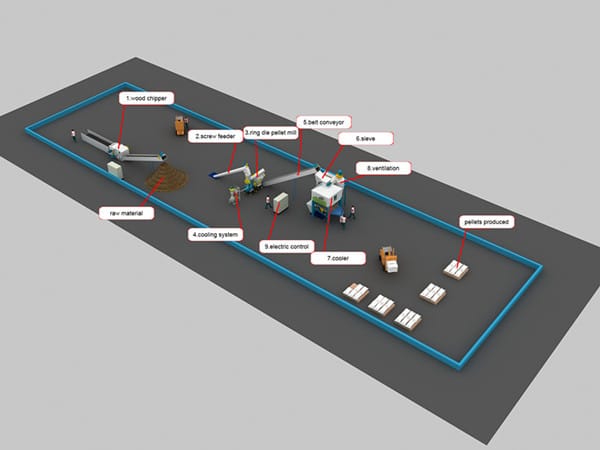 1. What is the configuration of the small wood pellet factory you can think of?
(1) Relatively complete technological process
Crushing-Crushing-Drying-Screening-Granulation-Cooling-Screening-Packaging
Corresponding equipment: Crusher-Crusher-Dryer-Drum Screen-Granulator-Cooler-Vibrating Screen-Tonnage Scale-Sewing Machine, and some of its auxiliary equipment, such as belt conveyor , Bucket elevator, Shaker, dust collector, fan, silo and so on.
(2) Simple process
Granulation-cooling-packaging
Equipment used: belt conveyor, pellet machine, etc.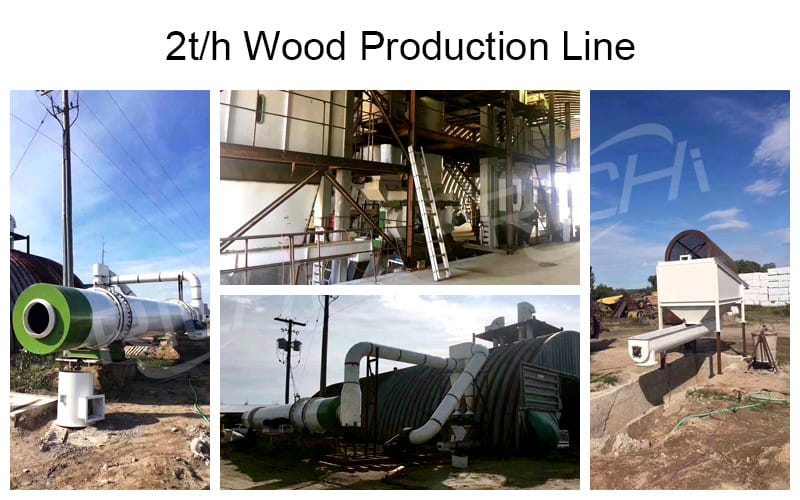 2、Main machine of small biomass fuel wood pellet production line
Complete biomass pellet plant is a complete set of equipment to make wood sawdust pellets. It is made up of crushing equipment, mixing equipment, feeding equipment, granulation equipment, cooling equipment etc.
(1)Crushing equipment is wood hammer mill machine. If the granularity of raw materials is less than 6mm, high capacity hammer mill will be needed.
(2)Mixing equipment is wood sawdust mixing machine. It is mainly used to mix various raw materials to make the wood pellet balanced.
(3)Granulation equipment is biomass energy sawdust pellet machine. It is the central equipment to make pellets. It is a must to make wood pellets.
(4)Cooling equipment is cooling roller sorting machine. The pellets made by pellet mill are heated and need to be cooled to package. It is suitable for customers who do not have enough space for drying.
However, in actual production, we do not need such complete equipment unless we have a large-scale feed mill or breeding factory. Customers can choose suitable equipment according to their need. The combination of wood pellet plant is completely flexible. Customers with small-scale production usually choose wood pellet mill press machine and wood shredder, while other customers think dying machine is useful, so they choose dryer machine, wood hammer mill grinder and fuel pellet machine. Different raw materials, different outputs, different budgets need different combinations of equipment.
Besides, we have a new combination of equipment for feed pellets making, including wood crusher, mixing machine, feeder, stock bin, wood pellet mill, conveyor, and cooler. It is very practical for large or medium-sized farmers, and feed factory.
RICHI will provide you with the most proper plan for your wood or feed pellets production line, allowing you to spend the minimum money getting the most suitable equipment. Beside Recommend pellet mill types as follows:
Small pellet mill: Capacity from 50-450kg/h. Apply for home use or small pellet manufaturer.
Complete wood pellet plant for sale: Capacity from 1-20ton/h. Apply for large scale of farm and commercial pelletizing factories.
Wood pellet machine for biomass: Apply for biomass pellet making.
Want to learn more about how to process biomass wood pellets?Or are you looking for best price good wood pellet machine,CE high quality wood pellet line?Welcome to pay attention to Richi Machinery!
If you want to built one complete pellet production line in your country, pls send the inquiry to us. We will customized design according to your requirement.
Get The Quotation and Video.