China supplier offer 6-8mm white oak wood sawdust pellet machine with capacty 2-3 tph
The list of biomass raw materials that can be processed by the wood pellet making equipment are: Rice Hull, Bamboo, Wood Shavings, Sawdust, Waste Paper, Wood Sticks. Other Bio-fuel materials would include: Manure, Hops, Hay,Alfalfa,Wet Grass, Straw, Wood, Sawdust,Chips.
There are many different diameters of biomass pellet fuel.At present, biomass pellet fuels on the market mainly have diameters of 8 mm, 10 mm, 6 mm, etc., mainly 8 and 10 mm, and 6 mm is mainly used for fireplace fuel.Today we will talk about 6-8mm white oak wood sawdust pellet mill machine with capacty 2-3 tph.

1.White Oak Wood Pellet Mill Exported to Taiwan
Recently, a set of 2-3 ton per hour white oak wood pellet mill was manufactured and exported to Taiwan,China. This factory price 2-3 ton per hour biomass white oak sawdust machine is designed with regular color scheme. This client bought this good white oak wood pellets fuel making machine for processing oak wood pellets. He wants to make BBQ pellets from oak wood residues.
Model:MZLH520 High Performance CE Vertical Ring Die Oak Wood Pellet Mill
Power:160KW
Capacity:2-3 T/H
Weight:4500KG
Pellet Size:6-8mm
To ensure that RICHI factory price 2-3 ton per hour biomass white oak pellet machine works well with hardwood. We arranged a test-run before shipping. The raw materials is 100% oak wood. We prepare some oak wood blocks. After crushing by hot sale oak wood chipper crusher , the wood blocks are grinded into sawdust. The moisture content is adjusted to around 12.3%. Then the powder oak wood materials are ready for pelletizing. The final oak wood pellets produced in the test-run is great.
Oak wood pellets are used in wood pellet stoves as a medium to light it up as you roast your meat over a barbeque. The unusual characteristics of oak wood pellets were isolated and studied only to reveal how much they stand out when compared to the rest. Oakwood pellets stand out as a premium product because how well they perform when used in a wood pellet stove, leaving their quality to be questioned by none.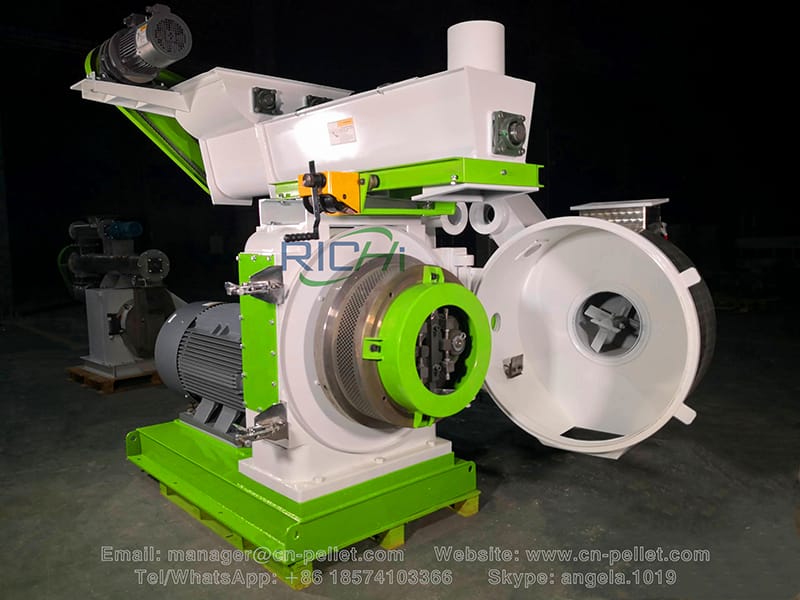 2.Oak Wood Is Ideal Biomass Material For Making Fuel Pellets
For starters, Oak wood made by China 6-8mm white oak pellet machine is not only produced from its sawdust but also does minimal to no damage to your dirty chimney openings. A lot of this relates to its molecular structure and its genetic makeup. It is no doubt that oak wood is one of the best types of wood for making wood fuel pellets, rendering it as useful even in the construction of furniture and flooring. For this very reason, pellets made out of oak wood stand out as the best.
3.Features Of Oak Wood Pellets
Oak wood pellets made by low consumption biomass oak wood pellet machine are easily distinguishable by the brown tint present in their composition. Oak wood pellets are very naturally made and contain no fillers, binders, sprays, oils, scents, or artificial ingredients. The pellets are very light and burn in an immaculate manner, leaving a minuscule untraceable amount of ash. Oakwood pellets are capable of providing you with a burning flame for an extended amount of time when compared to other pellets, all owing to their high quality once again.
4.How To Identify High-Quality Oak Wood Pellets?
When picking a 2-3 ton per hour pellet machine for oak wood pellets, you are suggested to test it your material, and then check the quality of final pellets. It is crucial to identify the factors that are contained within high-quality pellets. This will serve you as validation as you compare and contrast with the bag of pellets that you have purchased.
(1)Firstly, high-quality pellets will uniformly share a single tone of colour, with no dark or light spots spread forth throughout the pellet. The surface should furthermore be compact and shiny at the same time.
(2)The type of ce certificated compressing pellet machinery for bio-pellets also serves as an indicator of their quality. High-quality pellets are known for their hardness, which is left as a sign of top quality at the manufacturing stage.
(3)The heating power, water content and ash content all play a considerable amount of impact on the level of quality to be contained in the finished product.
5.How to make oak wood pellets from white oak wood waste?
Please visit https://www.richimachinery.com/solution/wood-pellet-machine.html for more detailed oak wood pellet manufacturing process
6.New technology 2-3 ton per hour white oak wood pellet mill price
China factory directly offered 2-3 ton per hour white oak wood pellet machine price is around 40000-50000USD.
If you want to built one complete pellet production line in your country, pls send the inquiry to us. We will customized design according to your requirement.
Get The Quotation and Video.