Biomass alfalfa grass pellet mill for 5 ton per hour customized biomass grass pellet production line project
Regarding the grass pellet machine, many people will search the Internet for "napier grass pellet machine","giant king grass pellet mill","rod grass pellet machine","portable grass hay pellet mill plant","green grass pellet making machine", "alfalfa pellet making machine for sale","hay pellet machine for sale canada","where to buy a machine to make lucerne ","hops pelletizer machine for sale","china forage grass pellet machine price","ring die grass pellet processor foe sale",etc.
Like the wood fuel pellet production machine, the current grass pellet press machine is a kind of biomass pellet machine with very broad application prospects. The topic of today's article is "Biomass alfalfa grass pellet mill for 5 ton per hour customized biomass grass pellet production line project".
1. Introduction of alfalfa grass pellets
In terms of raw materials, this is a kind of biomass pellets, so many people think that alfalfa pellets are used as fuel. But in terms of use, alfalfa pellets can also be used as animal feed.because the nutrients of alfalfa grass pellets include Protein,Dietary Fiber,Vitamins,Minerals,Immunocompetence,Saponin,Isoflavones,etc.
Alfalfa is getting more and more people's attention because of their excellent quality for making biomass pellets fuel. Alfalfa belongs to the angiosperm (Angiospeimae), Dicotyledoneae (Dicotyleoneae), legumes (Leguminosae), Papilionoideae (Papilionoideae), alfalfa (Medicagolinn). The wild species mainly spread in Mediterranean, South-West Asia, Middle Asia and Africa. Alfalfa originated in Asia Minor, the Caucasus, Iran and Turkmenistan highlands. Alfalfa is known as the "king of grass", because of its adaptability, high yield, excellent quality of grass, palatable, nutritious, easy to digest for poultry and many other characteristics.
The key of alfalfa grass pelletizing is the water content of the raw grass. First of all, we must measure the moisture content of the raw materials. Then, regulate it to an appropriate value by adding water or sun-dry. Researches show that the best moisture content for leguminous forage grass pellets is 14% to 16%. For Gramineae forage grass pellets it is 13% to 15%.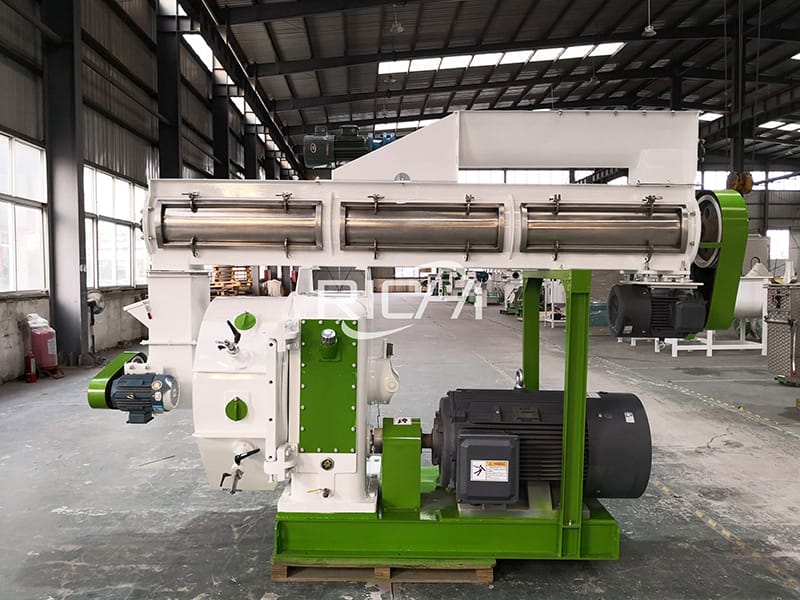 2.Ring die alfalfa grass pellet making machine for 5t/h pelletizing plant
(1)Ring die alfalfa hay pellet machine granulator parameters
Model:MZLH520 good quality alfalfa grass pellet machine(need 2 sets for a 5t/h pellet processing line)
Capacity:3000-4000 KG/H
Size of alfalfa pellet granulator: 3000*1260*1860 mm
Anti-caking Feeder Power:2.2KW
Forced Feed Power :0.75 KW
The alfalfa pelletizing machine power: 160KW
The Final Pellet :6-12mm
The Weight : 4500KG
(When grass pellets are used as feed,you can follow the nutritional requirements of different livestock and poultry and make specific ingredient for the grass pellets. The pellet size is adjustable by changing pellet dies.)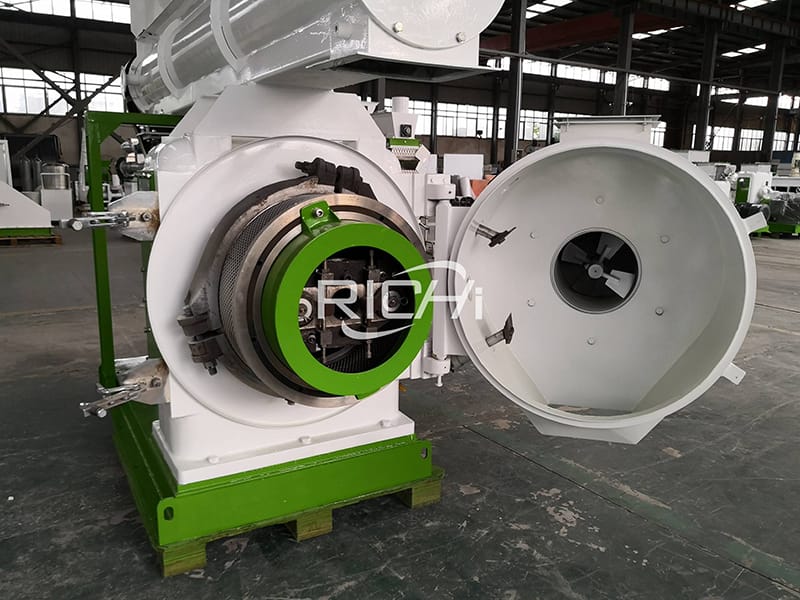 (2)Factory price of alfalfa grass pelletizer machine for 5t/h grass pellet manufacturing plant
Cost to build a alfalfa pellet mill for 5t/h pellet making plant is usually between 40000USD-50000USD.(Please note that the 5 tons grass pelleting line requires two such alfalfa pellet makers and the price needs to be doubled)
3.5TPH high quality alfalfa lucerne pellet manufacturing plant production process and cost
(1)Producing process
The alfalfa lucerne pellet making machine for 5 ton per hour feed pellet production line or 5t/h biomass fuel pellet line is needed to make alfalfa grass pellets. During the 5t/h alfalfa grass pellet production plant pelletizing process, the alfalfa grass materials will be mixed and extruded. Under normal circumstances, the temperature of final pellets can reach 80 ℃ when they come out of the alfalfa grass pellet press. When cool the pellets to room temperature, the water content generally will be reduced by 3% to 5%. After cooling, the moisture content is about 11%-13%. Due to the very low water content, alfalfa pellets are suitable for long-term storage without moldy.
(2)5T/H grass pellet line price
Cost of setting up a 5 tons per hour alfalfa grass pellet making plant is usually between 100000USD-500000USD.
(3)What machinery is needed to make aifalfa lucerne pellets in 5t/h alfalfa grass pelletizing line?
Alfalfa forage grass grinding machine,alfalfa lucerne grass straw hay pellet mill,professional factory new biomass rotary dryer,grass crusher machine,grass pellet cooling machine,packing machine,etc.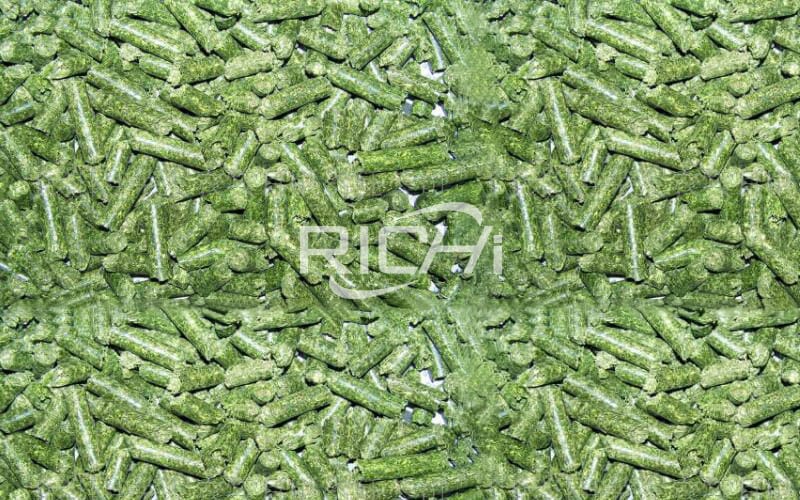 4.The Advantages Of Alfalfa Grass Pellets
The growth of alfalfa forage grass is highly affected by the seasons. It is withered and yellow, lack of nutrients for livestock. However, the alfalfa grass grows vigorous with rich nutrient in summer. By mowing, sun-dried, crushed and processed into pellets, the alfalfa grass can be stored well for winter. In this way, we can make the best of grass resources in summer and make up the resources shortage in winter. Besides, there are also many other advantages listed as below:
★ High Feed Conversion Rate: less alfalfa grass, more meat, eggs and milk.
★ Small in Size: the volume of alfalfa grass pellets is only about 1/4 of raw hay. They are more convenient for storage, transportation and feeding.
★ Good to Health: The feeding process of alfalfa grass pellets has less dust and it is beneficial to both human and animal healthy. By making the raw grass into pellets, the breeding procedure can be simplified and it can create conditions for the improvement of intensive and mechanized livestock production.
★ Increase Palatability; Improve Forage Quality: In some cases, the palatability of pellets forage is better than fresh forage. Sweet clover for example: fresh sweet clover has a special smell of coumarin which most animals do not like to eat. But after been pressed into grass pellets, they become palatability and have high nutritional value.
5.Difference between alfalfa grass pellet manufacturing machine and wood pellet making machine
The biggest difference between them is the conditioner. The wood pellet processing does not need a conditioner, while the alfalfa grass pellets do. This is because many grass pellets are used as animal feed, so they have more similarities with the animal feed pelletizer, and can be equipped with one-layer, two-layers or three-layers conditioner.
How to build your own alfalfa grass pellet machine?How to pelletize alfalfa?How much is a alfalfa pelletizer machine?Contact Richi Machinery for details.
If you want to built one complete pellet production line in your country, pls send the inquiry to us. We will customized design according to your requirement.
Get The Quotation and Video.