RICHI 1-100 ton per hour new technology pig animal feed pellet making line for sale
With the increasing improvement of residents' income level and consumption expenditure, the demand for high quality products in the Chinese market has increased dramatically. Especially in recent years, Chinese consumers pay more and more attention to food safety.
As far as pork is concerned, it is a common food on the table. Due to the change of consumption consciousness, green pollution-free pork products have become the choice of more and more people.
As the source and foundation of the quality safety of animal derived food, feed is receiving more and more attention and supervision from the state, which also accelerated the transformation and upgrading of Chinese feed production and pig breeding enterprises to safety, efficiency and specialization.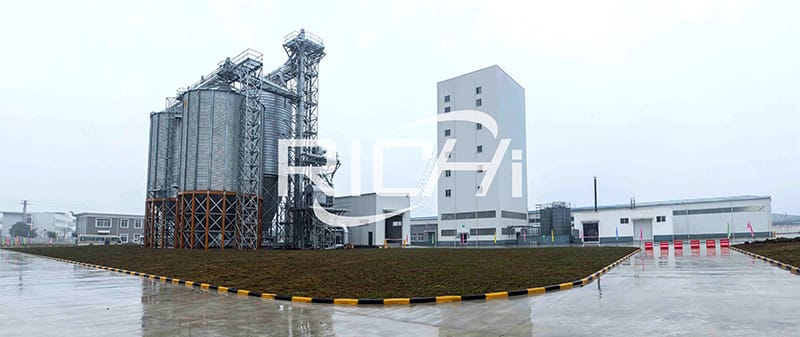 1.Comprehensive evaluation of customers
(1)3D digital accurate design creates a comprehensive pig feed production factory project
The overall layout is reasonable and the process flow is strong. It can effectively avoid cross contamination and ensure feed quality.
There are safety measures for workshop design, conveying line and pelleting section, which can eliminate the safety hazard of feed enterprises and reach the national standards for safety and clean production.
(2)Professional and high-efficiency maturing technology pig feed processing line 1-100t/h
①Growing fast, no diarrhea, full nutrition
②Eliminate anti-nutrition factors in raw materials, reduce the urease enzyme in soybean meal, and there is no diarrhea, the survival rate of piglet is high.
③Keep the activity of the functional material in raw materials, improve the digestibility of feed, realize the value of nutritionist formula, make pig feed taste well, sweet, crisp and nutritious. There's no excessive internal heat, and pig grows fast after eating it.
Increase piglet feed intake, the total amount of feeding reaches 525-700g, improve the absorb ability of piglet's digestive tract. Usually, piglet can increase their weight with 1kg and pig can increase 10kg.
(3)Stable and reliable 1-100tph capacity turnkey pig feed pellet manufacturing line, continuous effect
①Humanized and automatic operation, the productivity is increased by more than 15% compared with same power one.
②It has stable performance and long service life.
③Complete ancillary equipment, good feed quality, and the pork quality is controlled from the source.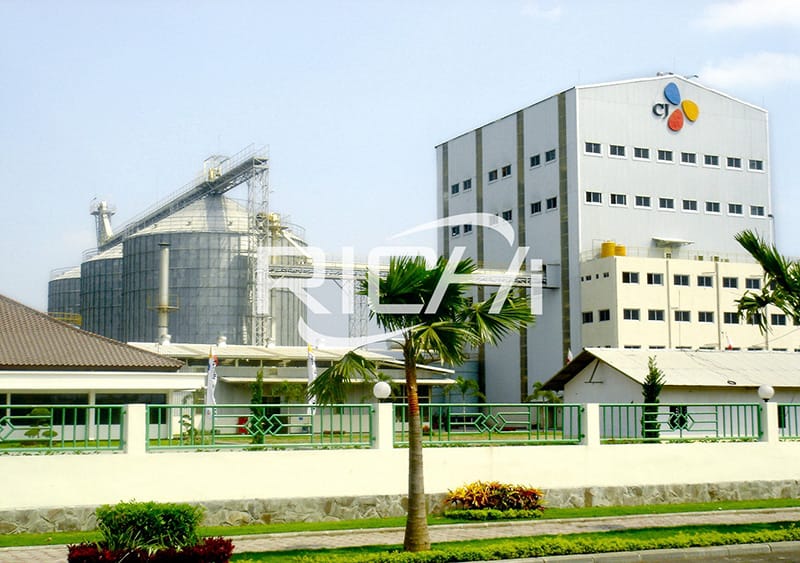 (4)Machinery needed in 1-100t/h complete ce good quality pig feed mill plant
To ensure GMP cleaning is an important aspect. Different type of cleaner used for this purpose.
All transportations like bucket elevator, screw & chain conveyor etc. for conveying RM & Finished goods.
Raw materials need to be grinded as 225 m/microne perticle size for different type of feed.
Different R/M are mixed here with additives, oil/fat, medicines, etc. Good mixer ensure good quality.
⑤Pig feed pelletizer machine with ce
Produce final pig pellet feed. A good pellet means "A complete feed" and a good pig feed pellet mill can ensure that.
Extruded feeds are about 70-90° C. Cooler bring down it at normal temperature (+4° max).
⑦Screening machine
To ensure supply of quality and perfect size feed, screener plays a vital role. Uneven sizes screaned-out.
Ready feed need to be packed. It can be manual or automatic bagging depends on requirement.
If you want to built one complete pellet production line in your country, pls send the inquiry to us. We will customized design according to your requirement.
Get The Quotation and Video.