RICHI large scale poultry livestock feed mill plant project with an annual output of 400,000 tons is expected to be completed in mid-2021
With the start of the construction of RICHI's annual production capacity of 360,000 tons of poultry feed plant project, this time we will turn our attention to another large-scale feed mill plant project of RICHI in Hainan, China.Recently, RICHI's annual production of 400,000 tons of high-protein livestock and poultry feed production project is stepping up construction, and it is expected to be completed and put into use in July 2021. (Related news:RICHI annual output of 360,000 tons of livestock and poultry feed production plant project in Hainan began construction)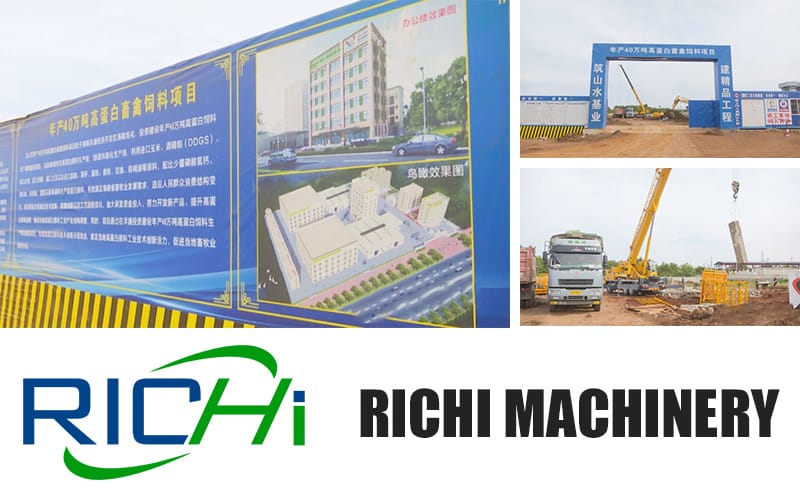 Nowadays, in the 400,000 tons per year high-protein livestock and poultry feed pellet production plant project, there are busy construction scenes at the site, and workers are using large scale feed processing machinery to carry out foundation excavation operations. The construction of the large capacity 400,000 tons high-protein livestock and poultry feed mill factory project started on July 30 this year, and the main structure is expected to be capped before the end of this year. Now they are speeding up the progress of the big feed production project, increasing manpower and equipment, and the peak construction peak will reach 160 people to ensure the smooth completion of the project on schedule.
It is understood that the large scale 400,000 ton per year high-protein livestock and poultry feed pellet producing plant project has a total investment of about 120 million yuan, covers an area of ​​60 acres, introduces 3 modern high-protein raw material production lines, 2 raw material expansion production lines, and uses imported corn, barley, and vegetables. Raw materials such as seeds, palm oil, and a small amount of calcium hydrogen phosphate, zeolite powder and other auxiliary materials are used to produce high-protein raw materials, which can effectively meet the development needs of animal husbandry in Hainan Province in the future. In addition, the project attaches great importance to technological innovation, management innovation and technological process innovation, forming a demonstration effect of high-protein raw material technology innovation, further stimulating the vitality of the high-protein raw material industry in Hainan Province, and promoting the transformation and upgrading of Hainan's animal feed industry.
Do you want to learn more about this large animal feed production project?Click to see:
Business proposal for 400000 tons per year poultry and livestock feed manufacturing plant project
If you want to built one complete pellet production line in your country, pls send the inquiry to us. We will customized design according to your requirement.
Get The Quotation and Video.